Bradie James suffers sprained ligament
Updated:
October 11, 2010, 10:32 PM ET
By
Calvin Watkins
| ESPNDallas.com
IRVING, Texas -- Dallas Cowboys starting inside linebacker Bradie James has a sprained posterior cruciate ligament in his right knee and is day to day in terms of practice time.
James injured the knee in the first half of the Cowboys' 34-27 loss to the Tennessee Titans on Sunday. He missed a few plays but returned.
James was in the trainer's room getting treatment Monday and was not available for comment.
More From ESPNDallas.com

Breaking news, analysis, report cards, predictions ... everything you need to know about the Dallas Cowboys' matchups can be found right here. Cowboys Center
If James is unavailable for the Week 6 game at Minnesota, rookie Sean Lee and possibly Leon Williams could take his place in the lineup.
In other injury news for the Cowboys, tight end Martellus Bennett has a sprained right ankle and has been wearing a walking boot since leaving Cowboys Stadium on Sunday. It's unknown how long he will have to continue to wear it.
Bennett missed practice time after he sprained his left ankle before the start of training camp in July. He reinjured the left ankle in a Week 3 win over Houston.
Right guard Montrae Holland is still recovering from a slightly swollen right eye and a cut across his nose that required four-five stitches. Holland had replaced Leonard Davis in the starting lineup, only to leave the game because of his injury.
Calvin Watkins covers the Cowboys for ESPNDallas.com. You can follow him on Twitter or leave a question for his weekly mailbag.
ESPN.com
Calvin Watkins covers the Houston Rockets and the NBA for ESPN.com. He joined ESPNDallas.com in September 2009. He's covered the Dallas Cowboys and Texas Rangers as well as colleges, boxing and high school sports.
WEEK 5: TITANS 34, COWBOYS 27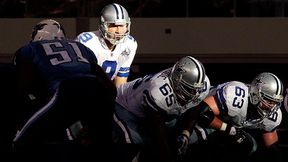 Follow ESPNDallas.com's coverage

of the Dallas Cowboys on Twitter
DALLAS COWBOYS CENTER
Check out ESPN Dallas' home for complete Dallas Cowboys coverage before and after each week's game, including analysis, commentary, videos, predictions, report cards, leaders, photos and more.
Cowboys Center »
MORE COWBOYS COVERAGE
Get the latest news and analysis by checking out ESPNDallas.com's Cowboys Blog.
Former NFL scout Bryan Broaddus breaks down film for the Scout's Eye series.
Submit questions for Calvin Watkins to answer in his weekly Cowboys Mailbag.
NFL BLOG NETWORK