Jerry Jones against celebration rule
Updated:
October 14, 2010, 4:29 PM ET
By
Tim MacMahon
| ESPNDallas.com
IRVING, Texas -- If Dallas Cowboys owner/general manager Jerry Jones got his way, nobody would call the NFL the No Fun League.
Jones wants the league to loosen up its excessive celebration rule, if not get rid of it altogether. He believes it results in calls that aren't "fair to the overall game." Jones said he felt strongly about the issue long before right tackle Marc Colombo's 15-yard penalty played a major role in the Cowboys' 34-27 loss Sunday to the Tennessee Titans.
"Almost the entire time when I served on the competition committee for eight or nine years, that was always debated how much celebration we were going to have, and I've always been on the side of more celebration," Jones said Thursday. "I think it's fun. I think it's fun for the fans. I do not think it takes away from the players or the sanctity of the game."
More on the Cowboys

Tim MacMahon, Todd Archer and Jean-Jacques Taylor have the Dallas Cowboys blanketed.
Blog » ESPN Dallas »
Top 50 Cowboys

Colombo was penalized for falling to the ground while celebrating Jason Witten's touchdown, which resulted in the score being tied after the extra point, with 4:30 remaining in the fourth quarter. Witten handed the ball to Colombo to spike, and they then exchanged a leaping chest bump. Colombo lost his balance after landing and accidentally did a reverse somersault.
That violated the NFL rule which forbids players from going to the ground while engaging in celebrations. As a result of the penalty, the Cowboys kicked off from the 15-yard line, essentially eliminating the possibility of a touchback. Tennessee's Marc Mariani's 73-yard return set up the Titans' winning touchdown.
NFL vice president of officiating Carl Johnson said Monday that the officiating crew made the correct call. The crew is not supposed to judge intent on such calls.
"Spiking the football is OK, the chest bump is OK; however, going to the ground -- all part of that celebration -- is a foul," Johnson said. "[It's] just like if a guy would go to the ground and do pushups or a guy who would simulate shooting a shotgun in a recoil and knocking them down to the turf and doing a somersault. It all falls in the same category. It is a foul for going to the ground as part of the celebration."
The Cowboys intend for the rule to be discussed by the competition committee. Team executive vice president Stephen Jones, Jerry's son, is a current member of that committee.
Jerry Jones doesn't like the spirit of the rule, but he especially takes issue with an accidental fall during a celebration playing a significant role in changing the momentum of a game.
"Any time that you legislate a rule or legislate behavior, if you live by that, then it can have unintended consequences," Jones said. "And I really don't think that somebody falling down was an intended consequence of the rule to have that dramatic effect on a ballgame. I don't think that was intended.
"But I know that every time, whether it's the rules of the NFL or all rules, whether it's on-the-field rules or off-the-field rules, you know when you draw bright lines -- those real bright lines -- that you've got a chance to have calls or have some decisions that just in the grand scheme of things weren't right or weren't fair to the overall game. That was one of them."
Tim MacMahon covers the Cowboys for ESPN Dallas. You can follow him on Twitter or leave a question for his weekly mailbag.
ESPNDallas.com
Joined ESPNDallas.com in September 2009
Covers the Dallas Cowboys and Dallas Mavericks
Appears regularly on ESPN Dallas 103.3 FM
WEEK 6: COWBOYS (1-3) AT VIKINGS (1-3)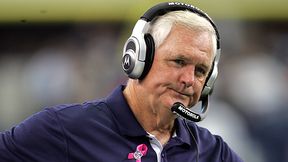 Follow ESPNDallas.com's coverage

of the Dallas Cowboys on Twitter
DALLAS COWBOYS CENTER
Check out ESPN Dallas' home for complete Dallas Cowboys coverage before and after each week's game, including analysis, commentary, videos, predictions, report cards, leaders, photos and more.
Cowboys Center »
MORE COWBOYS COVERAGE
Get the latest news and analysis by checking out ESPNDallas.com's Cowboys Blog.
Former NFL scout Bryan Broaddus breaks down film for the Scout's Eye series.
Submit questions for Calvin Watkins to answer in his weekly Cowboys Mailbag.
NFL BLOG NETWORK