Jerry Jones on 1-4: 'We are not that'
Updated:
October 19, 2010, 4:24 PM ET
By
Richard Durrett
| ESPNDallas.com
Dallas Cowboys owner Jerry Jones again expressed confidence in his team, saying that he doesn't see a 1-4 team and added -- once again -- that he trusts head coach Wade Phillips and his staff.
"A lot of people say the old saying, 'You are what you are,' when you look at 1-4," Jones said Tuesday on his weekly radio show on KRLD-FM in Dallas. "We are not that. Our team is doing some very good things."
It was a departure from Jones' comment that he was not optimistic right after Sunday's 24-21 loss to the Minnesota Vikings.
More From ESPNDallas.com

Breaking news, analysis, report cards, predictions ... everything you need to know about the Cowboys' game against the Vikings can be found right here. Cowboys Center
The Cowboys are third in the NFL in total offense and fourth in total defense, yet have won just one of their first five games.
"I believe we can turn things around," Jones said. "While the odds are against us, we can make all the things happen that we wanted to do this year."
Jones said the 1-4 record was "improbable" and that his team has had some bad luck. He said to get back to being competitive in the NFC the Cowboys need to "reel off six, seven ballgames in a row, and we've got to start against New York."
The Cowboys host the New York Giants at Cowboys Stadium on Monday night.
Jones said the team has to eliminate mistakes, and he says those are problems that can be fixed. He said the staff went through the film and looked at every player and their effort and "looked at the things that we're doing, and those usually win ballgames."
"I believe in these guys," Jones said. "I believe in the coaching staff. I believe in Wade Phillips."
Jones acknowledged it won't be easy for his team to get back in the playoff race, but he sees a team that he says is improving.
"It's going to be quite a challenge to be in the playoff hunt," Jones said. "Just look at it mathematically. We have a high percentage of our remaining games to win. This is a league that is real close. All you've got to do is look at the scores and see how close these teams are. So it's a real challenge.
"On the other hand, we've got a team that is playing well. This isn't a rationalization, but we're actually better each week. And we are playing better with the exception of the one thing that's got us in this position, and that's these unfortunate penalties. It's not just the rack up of the yards, but it's the plays being called back."
Richard Durrett is a reporter for ESPNDallas.com. You can follow him on Twitter.
WEEK 7: NY GIANTS 41, COWBOYS 35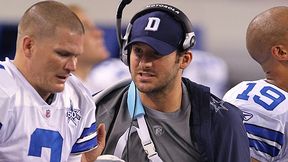 Follow ESPNDallas.com's coverage

of the Dallas Cowboys on Twitter
DALLAS COWBOYS CENTER
Check out ESPN Dallas' home for complete Dallas Cowboys coverage before and after each week's game, including analysis, commentary, videos, predictions, report cards, leaders, photos and more.
Cowboys Center »
MORE COWBOYS COVERAGE
Get the latest news and analysis by checking out ESPNDallas.com's Cowboys Blog.
Former NFL scout Bryan Broaddus breaks down film for the Scout's Eye series.
Submit questions for Calvin Watkins to answer in his weekly Cowboys Mailbag.
NFL BLOG NETWORK