Cowboys trying to fix penalty problem
Updated:
October 20, 2010, 1:03 PM ET
By
Calvin Watkins
| ESPNDallas.com
IRVING, Texas -- Coach Wade Phillips said the Dallas Cowboys are considering bringing in referees to practices in an effort to help fix the team's penalty problems.
The Cowboys (1-4) are tied with the Tennessee Titans for third in the NFL with 49 penalties, and the offense leads the league with 30.
More From ESPNDallas.com

Breaking news, analysis, report cards, predictions ... everything you need to know about the Cowboys' game against the Vikings can be found right here. Cowboys Center
During preseason, referees come to NFL training camps for a few days to go over new rules changes and to help offenses determine if formations are set up correctly and if players are onsides or offsides.
"We may. That's a possibility," Phillips said. "The officials we get [during camp], all they do is stand there and watch and see if we line up onside or offside. ... But there are some other things we're going to explore."
Phillips blames some of the calls on the Cowboys' offense having the ball more than any other team, creating opportunities for more penalties. Dallas leads the NFL in time of possession with an average of 33:47 per game.
"We've had the ball a lot more than everybody else," Phillips said. "I still think -- and I may be wrong -- but I think you have more penalties if you have more offensive plays. There's more things that can happen offensively.
"There's a line where you have too many that cost you drives or field goals or touchdowns. There is a fine line there. We've gone over the line."
The Baltimore Ravens are second in time of possession (33:34), but have been penalized 38 times (12th in NFL). The Atlanta Falcons are third (33:29), but have been flagged just 27 times -- 26th in the NFL.
Only the Detroit Lions (59) and Oakland Raiders (55) have been penalized more than the Cowboys. Both teams have losing records.
Calvin Watkins covers the Cowboys for ESPNDallas.com. You can follow him on Twitter or leave a question for his weekly mailbag.
ESPNDallas.com
Calvin Watkins joined ESPNDallas.com in September 2009. He's covered the Cowboys since 2006 and also has covered colleges, boxing and high school sports.
WEEK 7: NY GIANTS 41, COWBOYS 35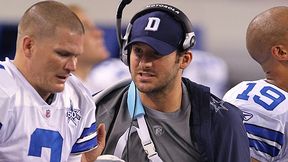 Follow ESPNDallas.com's coverage

of the Dallas Cowboys on Twitter
DALLAS COWBOYS CENTER
Check out ESPN Dallas' home for complete Dallas Cowboys coverage before and after each week's game, including analysis, commentary, videos, predictions, report cards, leaders, photos and more.
Cowboys Center »
MORE COWBOYS COVERAGE
Get the latest news and analysis by checking out ESPNDallas.com's Cowboys Blog.
Former NFL scout Bryan Broaddus breaks down film for the Scout's Eye series.
Submit questions for Calvin Watkins to answer in his weekly Cowboys Mailbag.
NFL BLOG NETWORK