Jerry Jones stands behind Wade Phillips
Updated:
October 26, 2010, 12:27 PM ET
By
Calvin Watkins
| ESPNDallas.com
ARLINGTON, Texas -- More than an hour after the Cowboys' 41-35 loss to the New York Giants on Monday night, Cowboys owner/general manager Jerry Jones was again asked about his confidence level in coach Wade Phillips' ability to turn his 1-5 team around.
More Giants-Cowboys Coverage

ESPN.com
The Giants were trailing 20-7 after Tono Romo's early exit, but then they ran off 31 unanswered points to put the Cowboys out of their misery -- at least for the 2010 season, Matt Mosley writes. Blog
• Mosley: Rapid Reaction

---

ESPNDallas.com
It's time for the Cowboys to focus on the draft instead of thinking about the playoffs, writes Calvin Watkins. Story

---

The Cowboys' hopes for 2010 were shattered Monday night when Tony Romo broke his left collarbone, writes Tim MacMahon. Story
• Watkins: Rapid Reaction
• Cowboys Center | Cowboys blog

Jones said he understood the question but thought it was unfair because no matter what he said it would be deemed negative for his coach.
"I don't think about doing anything differently having only played six ball games, period. I don't," Jones said. "I just don't want to answer the question, and any way I answer the question can be termed negative and it shouldn't be."
Phillips is 35-22 in four NFL seasons with the Cowboys and most likely is headed to his first losing season in Dallas. Phillips has compiled only one losing season as a head coach -- in 1994 in Denver, when he went 7-9. He was fired after that season.
The 2010 season likely represents Phillips' biggest challenge. He runs a one-win team that many pegged as a Super Bowl participant but now has lost its starting quarterback Tony Romo for an extended period of time with a fractured left collarbone.
"We've got a big challenge here and I don't need to be mixing and matching at this stage, I just don't," Jones said of making a coaching change. "We got a long way to go."
If Jones does decide to fire Phillips, who he chooses to replace him is a major issue. Jason Garrett is the assistant head coach/offensive coordinator and, while he was a hot assistant coach after the 2007 and 2008 seasons when he interviewed for five head coaching vacancies, he did not get a single interview after the 2009 season.
It would appear Jones might not have the confidence in giving Garrett the job. This, and the reality he's never replaced a coach in midseason, gives him pause.
Jones also dismissed the notion he wanted Phillips to remain coach because these are his players and his defense.
"I look at what [Phillips] brings," Jones said, "I look at what Jason Garrett can bring. Who might bring more. I look at it from that standpoint. ... You have to have people who can play with anybody or any team out here. That's pro football, whether it be because of injury or because of the nature of contracts in pro ball or the nature of coaches and the business of coaches."
While he was in the locker room after the game, Jones encouraged the players to finish the final 10 games of the season strong. He told some players he might not be around for the next 10 games and that's how they should be thinking. Jones said he wasn't concerned about the playoffs before Monday night's game and isn't now.
If anything, the only thing Jones is thinking about is fixing this season.
"This is not [just] another year for me," he said.
Calvin Watkins covers the Cowboys for ESPNDallas.com.
ESPNDallas.com
Calvin Watkins joined ESPNDallas.com in September 2009. He's covered the Cowboys since 2006 and also has covered colleges, boxing and high school sports.
WEEK 7: NY GIANTS 41, COWBOYS 35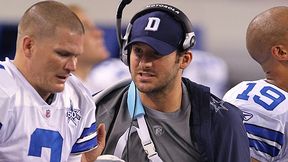 Follow ESPNDallas.com's coverage

of the Dallas Cowboys on Twitter
DALLAS COWBOYS CENTER
Check out ESPN Dallas' home for complete Dallas Cowboys coverage before and after each week's game, including analysis, commentary, videos, predictions, report cards, leaders, photos and more.
Cowboys Center »
MORE COWBOYS COVERAGE
Get the latest news and analysis by checking out ESPNDallas.com's Cowboys Blog.
Former NFL scout Bryan Broaddus breaks down film for the Scout's Eye series.
Submit questions for Calvin Watkins to answer in his weekly Cowboys Mailbag.
NFL BLOG NETWORK
Nike Men's Away Limited Jersey Dallas Cowboys Morris Claiborne #24 Shop »