Igor Olshansky criticizes Dallas offense
Updated:
November 5, 2010, 9:01 AM ET
By
Tim MacMahon
| ESPNDallas.com
Defensive end Igor Olshansky offered two strong suggestions for the Dallas Cowboys' offense: Stop committing so many turnovers and start running the ball more often.
Those two issues are directly related, according to Olshansky.
"Don't give the ball away," Olshansky said during linebacker Bradie James' weekly show on ESPN 103.3 FM. "I mean, there's a lot of things that can go wrong when you pass the ball. You can get sacked, the ball can get tipped, you can get an interception. If you run the ball, you can get tackled and get a forced fumble. See, there's a lot more things [that can go wrong on pass plays]. ... You've got to run the ball."
The 1-6 Cowboys have committed 15 turnovers, the 11th most in the NFL. They rank 31st in the NFL in rushing offense, averaging only 80.9 yards per game. They also rank second to last in rushing attempts with 155.
Olshansky said the NFL is a "finesse league," but he doesn't think the Cowboys are committed enough to the run this season, essentially calling out offensive coordinator Jason Garrett for his pass-happy play-calling and approach.
More From ESPN Dallas

Everything you need to know about the Cowboys' game against the Packers can be found in our Team Center.
• Check out the Cowboys blog
The Cowboys ranked seventh in the NFL in rushing offense last season, when they averaged 131.6 yards per game. Dallas averaged 27.3 carries per game in 2009, 5.2 more than this season.
"You've got to be stubborn about it," said Olshansky, who signed with the Cowboys as a free agent before last season in part due to his relationship with head coach Wade Phillips. "You've got to be stubborn about who you are. If you're a running team, run the ball in OTAs, minicamp, training camp and all that."
Olshansky also mentioned the importance of stopping the run, something the Cowboys' defense has failed to do on a consistent basis this season. Dallas ranks 24th in the league in run defense (121.9 yards per game) and has allowed a 100-yard rusher in four of the last five games.
Olshansky isn't the only player to suggest that the Cowboys should be running more.
"We have to be able to run the football and keep our defense off the field," receiver Roy Williams said Thursday. "Guys have been running too many plays on defense."
Tim MacMahon covers the Cowboys for ESPNDallas.com You can follow him on Twitter or leave a question for his mailbag.
ESPNDallas.com
Joined ESPNDallas.com in September 2009
Covers the Dallas Cowboys and Dallas Mavericks
Appears regularly on ESPN Dallas 103.3 FM
WEEK 9: COWBOYS (1-7) AT PACKERS (6-3)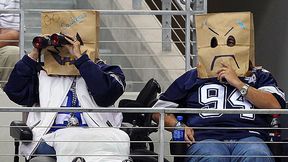 Follow ESPNDallas.com's coverage

of the Dallas Cowboys on Twitter
DALLAS COWBOYS CENTER
Check out ESPN Dallas' home for complete Dallas Cowboys coverage before and after each week's game, including analysis, commentary, videos, predictions, report cards, leaders, photos and more.
Cowboys Center »
MORE COWBOYS COVERAGE
Get the latest news and analysis by checking out ESPNDallas.com's Cowboys Blog.
Former NFL scout Bryan Broaddus breaks down film for the Scout's Eye series.
Submit questions for Calvin Watkins to answer in his weekly Cowboys Mailbag.
NFL BLOG NETWORK