Jason Garrett takes over Cowboys
Updated:
November 11, 2010, 9:05 AM ET
By
Calvin Watkins
| ESPNDallas.com
IRVING, Texas -- The first day on the job is always the hardest and Jason Garrett, the new interim coach of the Dallas Cowboys, had to get through it.
Calling it a day of transition, Garrett set the tone early by asking his players to attend a Wednesday morning meeting at 8:15 a.m., 45 minuets earlier than what former coach Wade Phillips asked.
Garrett also had his team practice in full pads for the first time since training camp and expected an increased tempo. Garrett, who was named the interim coach on Monday after Phillips was fired, was direct and clear in his message to the players. Garrett wouldn't reveal what that message was but several players liked what they heard.
More From ESPN Dallas

Everything you need to know about Dallas' game against the N.Y. Giants can be found in our Cowboys Center.
• Check out the Cowboys Report
• Cowboys Midseason Report
"It was better," cornerback Mike Jenkins said of the overall day. "A different tempo [to practice], something we got to get used to. There was a lot of energy out there today. I think our main thing right now is we got to believe in Jason and his theory in what he's bringing to the table. Anything he asks of us we have to do 100 percent."
During his meeting with the players, Garrett spoke about how he wanted the defensive players to perform and create turnovers. Jenkins said the defense did that during Wednesday's practice.
Garrett also spoke about accountability and making sure players do the little things to become better. Just because the team is having struggles there is no excuses when it comes to losing football games.
The message is new to some players, especially on the defense, who had little interaction with Garrett because as the offensive coordinator, he spoke mainly to the offensive players.
"Beating a drum," wide receiver Roy Williams said of Garrett's message. "It was concise, specific and to the point. Everybody is tired of the losing."
Garrett had casual talks with the defensive players during his times as the offensive coordinator/assistant head coach.
But several players noted Garrett was involved in all aspects of the team on Wednesday.
The Cowboys are 1-7 and mired in a five-game losing streak, the longest since 1997 and team owner/general manager Jerry Jones is asking Garrett to fix things. There are no promises Garrett will become the full-time head coach in 2011. How the Cowboys finish the next eight weeks and whether or not some other coach can wow Jones during the interview process will determine the future status of the head coach.
During his nearly 15 minute briefing with reporters, Garrett, standing behind the same lectern he used when promoted, was guarded when asked about specific lineup changes and any other things he might do.
He spoke quickly and loudly.
When asked about his emotions of getting the interim job, Garrett would only say, "excited about the opportunity."
Garrett also told the players to forget about the first eight weeks of the 2010 season, however difficult that may be.
"I think we have to," tight end Jason Witten said. "We're accountable for what's happened in the past. We've got to learn from those mistakes and what we didn't do well, but we need to build on the good too. I've always said I think he does a great job of living in the now and moving forward and how we're going to handle whether it's from the last play to the next play from the last series to the next game."
Calvin Watkins covers the Cowboys for ESPNDallas.com. You can follow him on Twitter or leave a question for his weekly mailbag.
ESPNDallas.com
Calvin Watkins joined ESPNDallas.com in September 2009. He's covered the Cowboys since 2006 and also has covered colleges, boxing and high school sports.
WEEK 10: COWBOYS 33, NY GIANTS 20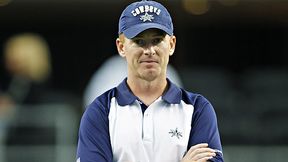 Follow ESPNDallas.com's coverage

of the Dallas Cowboys on Twitter
DALLAS COWBOYS CENTER
Check out ESPN Dallas' home for complete Dallas Cowboys coverage before and after each week's game, including analysis, commentary, videos, predictions, report cards, leaders, photos and more.
Cowboys Center »
MORE COWBOYS COVERAGE
NFL BLOG NETWORK