Marion Barber won't hide dreadlocks
Updated:
November 25, 2010, 2:00 AM ET
By
Calvin Watkins
| ESPNDallas.com
IRVING, Texas -- Despite being yanked to the turf by his dreadlocks last Sunday, Dallas Cowboys running back Marion Barber doesn't plan to hide his hair during Thursday's game against the New Orleans Saints.
[+] Enlarge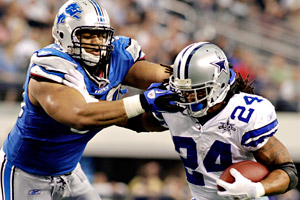 AP Photo/Sharon EllmanThe Lions' Ndamukong Suh was called for a horse-collar penalty after yanking the hair of Cowboys running back Marion Barber. NFL rules state a player can pull another player's hair while tackling.
Detroit Lions rookie defensive tackle Ndamukong Suh was called for a horse-collar penalty after grabbing a handful of Barber's long dreadlocks to make a tackle early in the fourth quarter of the Cowboys' 35-19 victory Sunday.
NFL rules state a player can pull another player's hair in the process of tackling. Barber said it was the first time in his career that another player had pulled his dreadlocks.
The 15-yard penalty resulted in a first down at the Detroit 5, setting up Jon Kitna's 4-yard touchdown pass to Miles Austin as the Cowboys took a 28-19 lead.
"They said he didn't pull his hair, that they got a horse-collar," Lions coach Jim Schwartz said. "I saw what you saw. That was a huge penalty. It gave them another chance."
During practice Monday and Tuesday, Barber covered up his dreadlocks -- even going so far as to tie them into a ponytail and tuck them into his jersey Tuesday.
But he won't cover them up for Thursday's game against the Saints.
More on the Cowboys

Tim MacMahon, Todd Archer and Jean-Jacques Taylor have the Dallas Cowboys blanketed.
Blog » ESPN Dallas »
Top 50 Cowboys

Cowboys interim coach Jason Garrett sees no problem with his starting running back's hair.
"I'm fine with that," Garrett said. "I'm fine with his hair being out. It seems to be a trend in the league."
Several NFL players, including Pittsburgh Steelers safety Troy Polamalu, have long hair -- be it braids, dreadlocks or that it's just long (see, Green Bay Packers linebacker Clay Matthews) -- that emerge out of their helmet.
The horse-collar rule, often referred to as the "Roy Williams Rule" for the former Cowboys safety, is defined as an open-field tackle in which a defender uses the shoulder pads or jersey to immediately bring down a ball carrier from behind.
Calvin Watkins covers the Cowboys for ESPNDallas.com. You can follow him on Twitter or leave a question for his mailbag.
ESPNDallas.com
Calvin Watkins joined ESPNDallas.com in September 2009. He's covered the Cowboys since 2006 and also has covered colleges, boxing and high school sports.
WEEK 12: SAINTS 30, COWBOYS 27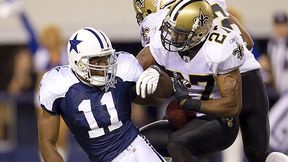 Follow ESPNDallas.com's coverage

of the Dallas Cowboys on Twitter
DALLAS COWBOYS CENTER
Check out ESPN Dallas' home for complete Dallas Cowboys coverage before and after each week's game, including analysis, commentary, videos, predictions, report cards, leaders, photos and more.
Cowboys Center »
MORE COWBOYS COVERAGE
NFL BLOG NETWORK