1:00 PM ET, October 27, 2013
Ford Field, Detroit, MI
Top Performers
Passing: M. Stafford (DET) - 488 YDS, 1 TD, 2 INT
Rushing: R. Bush (DET) - 21 CAR, 92 YDS, 1 TD
Receiving: C. Johnson (DET) - 14 REC, 329 YDS, 1 TD
Matthew Stafford's TD run caps rally as Calvin Johnson, Lions win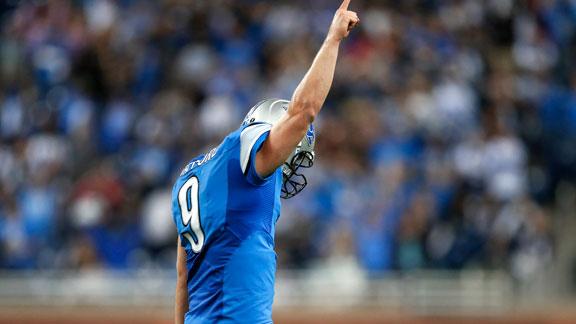 Sunday Blitz: Cowboys-Lions Recap
Prim Siripipat and Tom Waddle break down the Lions' Week 8 win over the Cowboys.
Sunday Blitz: Cowboys-Lions Recap
VIDEO PLAYLIST
DETROIT -- Calvin Johnson thought Matthew Stafford was going to spike the ball for at least another snap.
The Dallas Cowboys did, too.
More Cowboys-Lions coverage

There was nothing Dallas could do -- especially single coverage -- to stop Calvin Johnson on Sunday as his 329 yards helped Detroit stun Dallas, Michael Rothstein writes. Story
---

If the Cowboys can't consistently close out games, the frustrations seen Sunday in Detroit will only escalate, writes Jean-Jacques Taylor. Story
• Radio: Cris Carter | Mike & Mike
• SportsNation: Playoffs for Lions?
• Radio: Mike Ditka weighs in
Stafford's 1-yard lunge over a pile of linemen with 12 seconds left and Johnson's 329 yards receiving lifted the Detroit Lions to a 31-30 win over Dallas on Sunday.
"I was yelling that I was going to spike the ball," Stafford recalled. "But their linebackers were just standing there."
The Cowboys weren't just standing around letting Johnson make catch after catch, but he made them look helpless.
Johnson almost broke an NFL record, and could celebrate the feat because of a comeback from a 10-point, fourth-quarter deficit that some people who entered Ford Field didn't see because they had left.
"Even our fans didn't think we could pull this one out," he said. "They were leaving, but we knew we could do it."
Johnson's total trails only the 336 yards receiving Flipper Anderson had for the Los Angeles Rams against New Orleans on Nov. 26, 1989, in a game that went into overtime.
The Cowboys dared Detroit to throw to Johnson with a lot of one-on-one coverage. They usually asked cornerback Brandon Carr to do the improbable by defending him by himself, and sometimes attempted to slow him down with a zone.
"He had his way," Carr said. "And, we couldn't find a way to keep him from rolling."
Johnson noticed.
"It was crazy," he said. "We had a lot of one-on-one coverage today, and we were able to take advantage and hit some deep balls. Matt made some great throws to me."
Tweeted Lions teammate Reggie Bush after the game:
Calvin Johnson is the greatest receiver in the history of the NFL! #dropsthemic

— Reggie Bush (@ReggieBush) October 27, 2013
The Lions (5-3) overcame four turnovers without forcing a turnover, becoming the first team to do that and win since New England did against Miami in 2007, according to STATS.
On their last drive, Stafford threw a 22-yard pass to Johnson to set up the winning score. The quarterback caught at least some Cowboys by surprise, including linebacker Sean Lee, who appeared to expect him to spike the ball to stop the clock.
"He kind of caught us off-guard," defensive tackle Jason Hatcher acknowledged.
Dallas (4-4) seemed to set itself up to win three straight for the first time this year to build a bigger lead atop the NFC East when Tony Romo threw his second touchdown -- and third of the game -- to Dez Bryant with 6:45 left to take 27-17 lead.
The Cowboys, though, allowed Bush to cap an 80-yard drive with a 1-yard TD with 3:33 left. They also had to settle for Dan Bailey's third field goal with 1:02 left after Tyron Smith was flagged for holding on third down, a mistake that stopped the clock even though Detroit declined the penalty.
Megatron's Mega Day
Calvin Johnson finished just 8 yards shy of breaking Flipper Anderson's NFL single-game record of 336 receiving yards. Johnson also tied a league record with his fifth career 200-yard game.
Highest Single-Game Receiving Totals in NFL History
| Player | Yards | Year |
| --- | --- | --- |
| Flipper Anderson | 336 | 1989 |
| Calvin Johnson | 329 | 2013 |
| Stephone Paige | 309 | 1985 |
| Jim Benton | 303 | 1945 |
| Cloyce Box | 302 | 1950 |
| Jimmy Smith | 291 | 2000 |
| Jerry Rice | 289 | 1995 |
"If we don't get called for a penalty, I think they probably had 20 seconds or so left," Romo said.
With no timeouts, the Lions went from their 20 to the Cowboys end zone thanks in large part to a 17-yard pass to Johnson, a 40-yard connection with Kris Durham and Johnson's 14th reception that gave them the ball at the Dallas 1.
Instead of spiking the ball, Stafford took the snap and leaped with his arms extended to beat the team he rooted for growing up in Highland Park, Texas.
"I was just as fooled as the defense was," Lions offensive guard Larry Warford said.
Stafford was 33 of 48 for 488 yards -- his second-highest total -- with a 2-yard TD pass to Johnson in the first quarter and two interceptions. Bush had 92 yards rushing and a score.
Romo was 14 of 30, failing to complete half his passes for the first time since 2009, for 206 yards without a turnover.
Dallas began the game without two starters on both sides of the ball: DeMarco Murray and Miles Austin on offense and DeMarcus Ware and J.J. Wilcox on defense.
Late in the first half, Romo threw two straight passes to Bryant -- after not making him the intended receiver once -- and he caught the second one with his left hand, pinning it against his shoulder pad for a go-ahead, 5-yard TD with 46 seconds left in the first half.
Despite leading by six in the third quarter, Bryant didn't look happy. He flapped his arms and screamed at Romo on the sideline. After the loss, Bryant insisted his demonstrative actions were a result of his positive passion.
"People who have a problem with me are the people that don't understand what is going on," he said.
Game notes
Lions DE
Ezekiel "Ziggy" Ansah
(left ankle), WR
Ryan Broyles
(Achilles tendon) and CB
Bill Bentley
(knee) and Cowboys RG
Brian Waters
(triceps) were hurt during the game. ... The Lions have a bye next week while Dallas plays on the road against the
New York Giants
.
Information from The Associated Press was used in this report.
Copyright by STATS LLC and The Associated Press
Photo Wire
DETROIT, MI - OCTOBER 27: Tony Romo #9 of the Dallas Cowboys warms up prior to the start of the game against the...
(Photo by Leon Halip/Getty Images)
Team Stat Comparison
| | DAL | DET |
| --- | --- | --- |
| 1st Downs | 13 | 29 |
| Passing 1st downs | 8 | 17 |
| Rushing 1st downs | 3 | 11 |
| 1st downs from penalties | 2 | 1 |
| 3rd down efficiency | 3-13 | 3-11 |
| 4th down efficiency | 0-0 | 1-2 |
| Total Plays | 56 | 78 |
| Total Yards | 268 | 623 |
| Yards per play | 4.8 | 8.0 |
| Total Drives | 15 | 14 |
| Passing | 206 | 480 |
| Comp-Att | 14-30 | 33-48 |
| Yards per pass | 6.9 | 9.8 |
| Interceptions thrown | 0 | 2 |
| Sacks-Yards Lost | 0-0 | 1-8 |
| Rushing | 62 | 143 |
| Rushing Attempts | 26 | 29 |
| Yards per rush | 2.4 | 4.9 |
| Red Zone (Made-Att) | 1-1 | 4-5 |
| Penalties | 2-31 | 8-61 |
| Turnovers | 0 | 4 |
| Fumbles lost | 0 | 2 |
| Interceptions thrown | 0 | 2 |
| Defensive / Special Teams TDs | 0 | 0 |
| Possession | 24:49 | 35:11 |
Scoring Summary
No Scoring Summary available
Research Notes
The Cowboys became the first team this season to lose a game with a +4 turnover margin (teams were previously 10-0). Since the Cowboys entered the NFL in 1960, teams have a .942 winning percentage with a +4 turnover margin in a game. The Cowboys are now 44-2 in their history when they have a +4 turnover margin.
Tony Romo
wasn't sacked Sunday, but he was put under duress on 38% of his total dropbacks. That's the highest pressure rate for Romo in a game this season (season average: 22% of dropbacks).
Matthew Stafford
completed all three attempts at least 15 yards downfield on the final drive Sunday, and was 5-of-6 in the fourth quarter. Stafford had four such completions in the first three quarters of the game.
Calvin Johnson
was tackled inside the 5-yard line four times Sunday. That's the most a receiver has been tackled inside the 5-yard line in a game since the start of 2001.
Calvin Johnson
had 329 receiving yards today... There are 16 TEAMS that haven't thrown for 329 yards in a game yet this season... That includes the Cardinals, who haven't done it since 2009, and the Chiefs and Redskins, who haven't done it since 2010.
Tony Romo
has his 21st straight game with a TD pass, breaking his own record:
Cowboys LB
Sean Lee
has 2 interceptions today vs Lions, the 2nd multi-Int game of his career (also recorded 2 interceptions on Dec. 5, 2010 at Colts).
ESPN Stats & Information