Commentary
Sun shines on former Stars coach
Tippett returns for first time since firing, poised to take Phoenix to a warmer place
Updated:
January 31, 2010, 2:29 PM ET
By
Richard Durrett
| ESPNDallas.com
When former Dallas Stars coach Dave Tippett accepted the job as head coach of the Phoenix Coyotes, some of his friends wondered if he was dodging the harsher side of Mother Nature.
"They said, 'Don't you ever coach in a place that has some snow?'" Tippett said.
Tippett certainly knows his way around the rinks in the Southwest. In the minor leagues, he was a head coach in Houston before getting his first NHL head-coaching job with the Stars. And now he's taken his act a little more to the West, trying to position the Coyotes for their first playoff berth since the 2001-02 season. Going into Saturday's games, Phoenix was 31-18-5 and fourth in the Western Conference.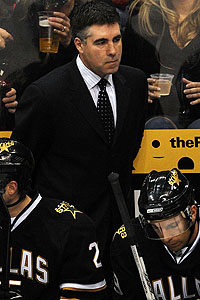 Ronald Martinez/Getty ImagesDave Tippett was let go last June after six seasons behind the Stars bench.
Tippett returns to American Airlines Center on Sunday for the first time since he was let go as Stars coach in June, after six seasons at the helm. It will be a quick trip, as Phoenix played Saturday night and 24 hours later was scheduled to face a Stars team that has won five straight at home and is 13-2-2 in its last 17 games at the AAC.
"I have great memories there," Tippett said on a conference call Friday. "I have real good friends. My daughter lives there. I really enjoyed my years there. It was my first head-coaching job in the NHL. I was very grateful that Doug Armstrong took a chance on a young guy and that I was able to spend a long time there."
In the NHL, It seems that nearly every coach is on the hot seat -- or at least one that is pretty warm. So lasting six seasons is an achievement. When Joe Nieuwendyk was hired as the general manager before this season, he felt the team, which did not make the playoffs for the first time in Tippett's tenure, needed a new voice and a new approach. So out went the defensive-minded Tippett and in came Marc Crawford, who has installed a more aggressive offensive system.
Tippett went back to his Minnesota home -- see, he doesn't have anything against snow -- and waited to see what opportunities might be available. That's when the Coyotes called looking for a coach to replace Wayne Gretzky.
"When I first starting digging around, I thought they had some good parts," Tippett said. "I would say our success is the sum of the parts, not the parts themselves. We play a good team game, we've got strong goaltending and we've got a group that's committed to [playing] well together and find ways to win. We've been able to do that enough times."
Tippett has applied many of the same philosophies he witnessed in Dallas in an effort to build a team that hasn't finished above fourth in the Pacific Division since 2001-02.
"I think we've done a real good job and the players have done a good job of getting it to the point where it's stable," Tippett said. "We brought a few more veteran players and let the young players learn to be better in the minors. It's similar to what Dallas did and [what former co-GM] Les Jackson and his staff did with [James] Neal, [Loui] Eriksson and [Nicklas] Grossman. Those are homegrown, very good NHL players."
Tippett also talked about the importance of getting out in the community to increase the fan base.
"I look at it as sound principle of a strong organization," Tippett said. "You have to have a presence in the community that is viewed upon as very positive. I look at the Dallas Stars and they are that. They are a model Sun Belt franchise partly because they have tradition from winning, but because of the grass-roots hockey aspect that they have in Dallas that is second to none."
More Dallas Stars coverage

Can't get enough hockey? ESPNDallas.com has all the latest on the Stars from Richard Durrett. Blog
Tippett said he hasn't had time to watch too many of the Stars' games, except as part of preparing to play them.
"I've watched individuals more than the group," Tippett said. "The situation with Turks [goalie Marty Turco] is interesting. He's played well at times and not well at other times. There are different dynamics when you used to coach guys and aren't anymore. You know the players so well and you see where they are and what roles they're cast in."
Tippett still thinks about his time with the Stars every once in a while, but is focused on what he can do for the Coyotes this season.
"I think they've moved on and I've moved on," Tippett said about the Stars. "The one thing about an NHL coaching job is you've got lots to do in the future. You don't have to worry about the past. You worry about the past, you're going backward."
Richard Durrett covers the Dallas Stars for ESPN Dallas. You can follow him on Twitter or leave a question for his weekly mailbag.