Andre Gurode's Celebrity Weekend
Updated:
May 13, 2011, 6:51 PM ET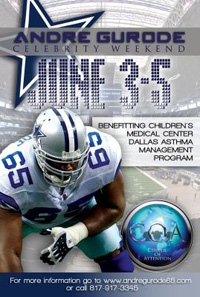 Join Andre Gurode for his 2nd Annual Celebrity Kickball game benefiting Children's Medical Center Dallas' Asthma Management Program.
General Admission tickets $10.00 and can be purchased at ticketleap.com.
Doors open at 3:30 p.m. and the game kicks off at 5:00 p.m. Some of the confirmed guests are: Donald Driver, Tony Hill, Wallace Wright, Akin Ayodele, Felix Jones, Patrick Crayton, Jesse Holley, Bobby Taylor, ND Kalu, Sean Smith, Emmanuel Sanders, Manuel Johnson, DeMarco Murray, Jason Witten, Marcus Spears, L.A. Laker Trey Johnson, and more ...
For more information go to andregurode65.com or email info@andregurode65.com
What: Andre Gurode's 2nd Annual Celebrity Kickball game
Where: Desoto High School, 600 Eagle Drive
Desoto, TX 75115
When: Saturday, June 4 from 3:30 - 7 p.m.