CJ Wilson's "Strike Out" Bowling Event
Updated:
June 30, 2010, 4:02 PM ET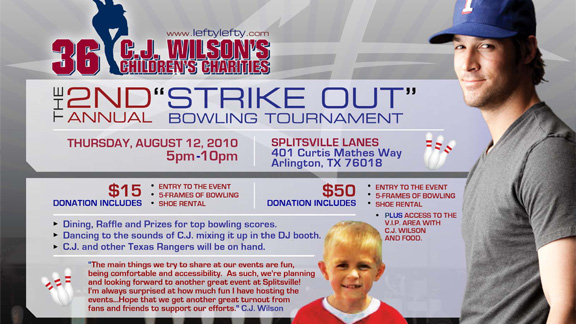 CJ Wilson's Children's Charities is planning its second annual "Strike Out" bowling tournament to benefit the Children of North Texas. The event will be held on Thursday, August 12, 2010, from 5 to 10 pm at the Splitsville Luxury Lanes and Dinner Lounge, 401 Curtis Mathes Way, in the Arlington Highlands Shopping Center at Interstate 20 and Matlock Road in Arlington, Texas. The evening's festivities will include dining, bowling, with prizes for top bowling scores, and dancing to the sounds of CJ mixing it up in the DJ booth. Donated items will be raffled, and Wilson and other Texas Ranger players will be on hand to meet participants.
"The main things we try to share at our events are fun, being comfortable and accessibility. As such, we're planning and looking forward to another great event at Splitsville! I'm always surprised at how much fun I have hosting the events...Hope that we get another great turnout from fans and friends to support our efforts" stated Wilson.
A $15 donation allows entry to the event and includes 5-frames of bowling and shoe rental. A portion of the proceeds from the sale of select food items also benefits the program. A VIP area is included this year for a donation of $50.00 which includes the same as the general donation plus food along with entry into the VIP area with C.J. VIP tickets are limited. Tickets will be available on C.J.'s website leftylefty.com and at the door the night of the event.
"I couldn't be more proud of the steps and progress we've taken in the community the last few years ... Each event is a learning experience for me: I continue to be impressed by the attendees who open up and share their story, their time, and their hope for the causes we've decided to pull for. It's amazing what children are capable of, and as I want every child to have the full opportunity they deserve, I love directing my philanthropic efforts to children as well." feels Wilson.
CJ Wilson's Children's Charities was co-founded by Wilson and Robert Champagne, whose son Micah suffers from severe hemophilia and aspergers. The Charity serves the purpose to raise funds, awareness, and most importantly youth participation in community service and charitable giving. All funds that are raised will directly benefit children and their families that are affected by chronic, life-threatening illnesses, or those dealing with financial and social issues. For more Information on the upcoming event at Splitsville and C.J. Wilson's Children's Charities please visit C.J.'s Wilson's website at leftylefty.com and click on the charity tab or email at CJWChildrensCharities@gmail.com