103.3 FM & Mavs 10th Anniversary Party
Updated:
April 12, 2011, 11:06 AM ET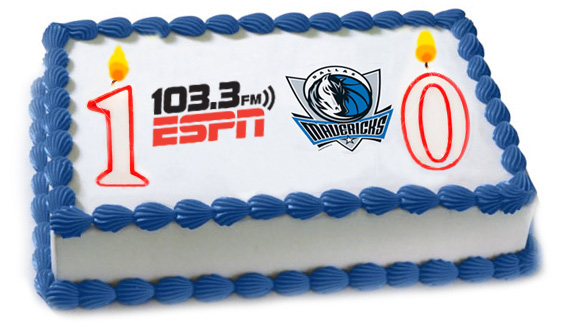 It's our birthday! 103.3 FM is 10 years young and we're celebrating with a live broadcast of Mike and Mike in the Morning from center court at the American Airlines Center On Wednesday from 5a-9a. Free parking in lot F and free admission to the show at the AAC. Fans can enter thru the south plaza.
That's not all! It's also our 10-year anniversary as radio partner of the Dallas Mavericks and to commemorate, we're giving you the chance to win first-round playoff tickets, autographed Mavs memorabilia, mini-season ticket plans for next season and much much more!
Later that afternoon, join us for a live broadcast of Galloway & Company from the AT&T Plaza starting at 4 p.m. as we get you ready for the Mavs' final regular-season game of the season! The Mavs are rolling into the playoffs and we want to send them in with style.
Galloway and Co. will also have your chance to win more Mavs memorabilia and tickets to that night's game! Listen all week for your chance to win tickets to the ESPN Party suite and hang with ESPN host like Ben & Skin, Ian Fitzsimmons, Kelly Webster and more!
What: Mavs 10th Anniversary Party
Where: American Airlines Center
Dallas, TX 75219-7601 -- (214) 222-3687
When: Wednesday, April 13 5 a.m. to tipoff