168lbs and counting!
Updated:
September 15, 2010, 12:04 PM ET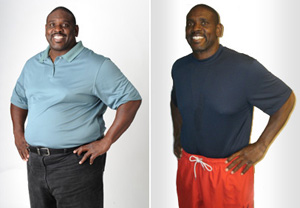 NATE IS NOW NINE POUNDS AWAY FROM HIS GOAL WEIGHT!!
Hello all you ESPN Sports Junkies this is Big Nate Newton!
I had gastric sleeve surgery on Monday, April 19th. Thanks to Dr. David Kim and his staff at Live Life Again Bariatric for a successful surgery.
I had to stay in the hospital for 2 days and then take it easy at home for four days. On Monday, April 26th I was back at work and already 20 pounds lighter!
I wish to thank Dr. Kim, David Kellenberger and the staff at Forest Park Surgery Center for treating me so well. I also wanted to give a special thank you to my nurse, Sandy McCoy. She really took very good care of me and my family with anything we needed.
I went to Dr. Kim because I needed help loosing the weight I had put on over the years. I was told by my doctor that I was now diabetic and had to take blood pressure medicine and I needed to do something about my weight. I knew he was serious but I did not really want to listen.
NATE'S WEIGHT
Check out the week-to-week weight loss Nate is experiencing after having gastric sleeve surgery from Live Life Again Bariatric!
| Week | Weight |
| --- | --- |
| Week 1 | 396 |
| Week 6 | 313 |
| Week 22 | 228 |
I wanted to keep on keeping on until one day I went out in the front yard to play with my son and I couldn't.
I talked with my wife and we decided that we, no I needed to do something about this.
I went to Dr. Kim and now the weight is falling off. I feel better, look better and I am even off my blood pressure medicine ... heck I was told by the doctor that my diabetes is gone!
I am now below 280 pounds and I feel great! I am working out twice a day. In the morning I get up at 4:00am to work out. I do about 2 hours of cardio with a combo of running and walking. Now get this in the evening I ride my bike, yes the kind with pedals, 30 to 40 miles. Then I do run sprints to really get that heart pumping! I am telling you people FAT is an option not life. Get up, go see Dr Kim and live life again!
I am going to keep posting my progress on Facebook so make sure you tune in and watch me change from Big Nate to Nate the guy that used to be Big Nate but did something about it!
WFAA's Janet St. James recently did a story on me and my weight loss surgery. Click here to check it out!