Win a copy of NBA 2K11
Updated:
October 4, 2010, 4:14 PM ET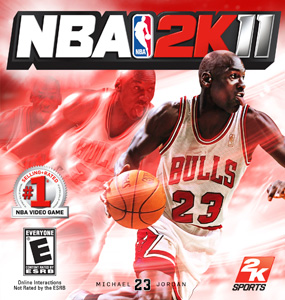 NBA 2K11 from 2K Sports, features the greatest NBA player of all time, Michael Jordan!
Re-live and play through 10 of Michael Jordan's most famous games in NBA 2K11 !!
Play and collect all of the original 23 Air Jordans and many more in NBA 2K11!
Create a Player and become the Greatest ... play NBA 2K11, the #1 rated and selling NBA video game from 2K Sports!
NBA 2K11 is the only NBA game with Michael Jordan, the all new Jordan Challenge mode, Historic Bulls teams and MJ: Creating a Legend -- where you can play as a rookie Jordan, and create a new career for him!
This year, play as Michael Jordan and become the Greatest in ... NBA 2K11, now out for all video game consoles and PC!
NBA 2K11 from 2K Sports has Iso-motion dribbling controls, Dynamic Shot Control and an even deeper Career Mode !!
NBA 2K11 from 2K Sports has the best soundtrack ... Big Boi, Drake, Kid Cudi, and an exclusive original track from Snoop Dogg!
103.3 FM ESPN Insiders, click below to register to win a copy of NBA 2K11 the video game!


If you're not already a 103.3 FM ESPN Insider, click here to sign up now. It's free and easy to join, and once you're an Insider, you're just one click away from every contest we have at 1033espn.com.