Commentary
Parents, fellow coaches among those who inspired Stringer
As the country celebrates Black History Month, you ask Rutgers coach C. Vivian Stringer whom she has most admired in her life. And on this day, you might receive a pretty wry answer. She admires anyone who can get a good night's sleep.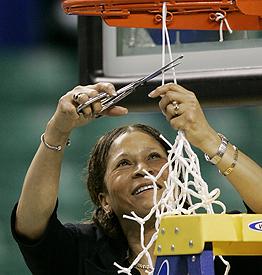 AP Photo/Mary Ann Chastain Rutgers coach C. Vivian Stringer was the first coach in women's or men's college basketball to lead three different programs to the Final Four.
That's one thing that Stringer has never particularly excelled at, catching many Z's. She might want her brain to power down, but it typically resists. After more than three decades of coaching -- making Final Four trips with Cheney, Iowa and Rutgers -- Stringer still can't easily let go of any win, loss or … well, that rare, weird game like Monday in Tennessee that felt like both. "It is hard for me; I've got a lot of things pushing on me," Stringer said. "The kids seem to be fine, though." The "kids" have been a primary concern for Stringer since she got into coaching. That came at a time when she really had no obvious role models -- specifically, African-American women -- to follow in that profession. "I didn't have that opportunity," she said. "You can more easily imagine yourself to be what you see already in front of you. It's not too far-fetched. I wished I had that." What Stringer, who was born in 1948, did have, was constant encouragement from her parents, Thelma and Buddy Stoner. "My mom and dad were great inspirations to me," said Stringer, whose father died when she was in college but whose mother is still living. "They always told me just to work hard and that you are to follow your own destiny. If you've given the greatest effort that you can expect of yourself, you always get what you deserve." Some might say after all these years, Stringer "deserves" an NCAA title. But that hasn't happened -- yet. She's still in the game, though, and said the other lesson her parents instilled is that you have to be fully aware of the cost of what you're going after.
FEEL FAMILIAR?
Some controversial women's hoops history might have flashed through your mind after seeing the ending of the Tennessee-Rutgers game Monday night.
As everyone who watched on TV saw, the game clock froze on two-tenths of a second. It appeared time should have expired before Rutgers' Kia Vaughn was called for a foul on Nicky Anosike, sending the Tennessee player to the line for two free throws that won the game 59-58. That figure -- 0.2 -- is infamous in NCAA Tournament lore. Go back to 2004, and a Sweet 16 game in Norman, Okla., between Tennessee and Baylor. The score was tied 69-69, and Tennessee got a steal and two shots at the basket. After the second miss, Tennessee's Tasha Butts and Baylor's Jessika Stratton collided on the rebound. Official Charles Gonzalez called the foul on Stratton with two-tenths of second left, and Butts made both free throws as Tennessee advanced. I was at Lloyd Noble Center that night, and in 12 years of writing for ESPN.com, that still ranks first in terms of the most e-mail I've ever received after a specific game. Some "issues" have produced more reader response, but no specific game I've ever covered got people so riled up -- both objecting to and defending that call. The other women's hoops moment that popped into my mind Monday was the "Time Stops in Tuscaloosa" game, during the 1998 NCAA Tournament. UCLA led host Alabama by one point with eight-tenths of a second remaining. And then the officials fell asleep. The Crimson Tide ran along the baseline, illegally, before inbounding the ball. But it wasn't called. Then the clock didn't start when the ball was first touched. It stayed frozen until it was tipped to LaToya Caudle, who nailed a 15-footer to win the game. So much more than 0.8 of a second went by that it was utterly absurd, the equivalent of a shot in tennis being 5 feet out but called "in." And the officials immediately raced off the floor, leaving chaos in their wake. The NCAA did take action after that, as its women's hoops rules committee in the summer of 1998 formulated an educational program for officials in regard to clock management. Longtime referee and secretary-rules editor for the women's committee Marcy Weston said back then, "The program will center on what the officials should do if they determine that a problem exists in the last few seconds of a game. "In such a case, the referee will go to the scorer's table and remain at the table until the situation is remedied and the final score is approved. Review of the television monitor and information available from the scorer's table personnel can be used in making this determination. The unfortunate situation at the end of the UCLA vs. Alabama game clearly suggested to the committee the need for fine-tuning of the clock management procedures." Ten years later, though, we see that sometimes "clock glitches" still happen.
-- ESPN.com's Mechelle Voepel
"My parents didn't put any limitations on me; I knew I was capable of all things," she said. "I thought I could be president if I wanted to be. But one thing I did understand is that 'wanting' is not enough. You have to pay a price -- and really know what the price is." Stringer reminds her players of this when they talk about their goals both in college and beyond. The dream is a necessity … but so is the reality of what it takes to achieve it.
"There are a lot of things people say they want to do, but they may not be willing to pay the price," she said. "Most times, they don't even know what the price is. They'll say, 'I want to be an All-American, I want to be an Olympian, I want to play in the WNBA.'"
"They have to know those people who achieve that aren't leaving the court early; they are putting in extra time to work on their games. You have to be sure you're going to the right source to find out what the price is."
Beyond her parents, Stringer was inspired by African-American athletes who came to prominence in the 1950s and '60s, such as tennis stars Althea Gibson and Arthur Ashe, track standout Wilma Rudolph and boxer Muhammad Ali. "Those were people that I saw on television who, in the face of adversity, kept their heads about them," Stringer said, who is 796-264 halfway through her 37th season. "They overcame the odds." Those familiar with the hardships in Stringer's history -- daughter Nina's life-altering illness in infancy, husband Bill's sudden death -- are aware that she has overcome a lot of odds, too. These are things she chronicles in a new autobiography: "Standing Tall: A Memoir of Tragedy and Triumph." In the book, she also acknowledged publicly for the first time that she is a breast cancer survivor. In her profession, Stringer credits John Chaney -- who was her counterpart on the men's hoops side for several seasons when both were at Cheyney State -- as being a priceless mentor. "I learned most of what I ended up becoming as a coach through him, just watching the way he did things," she said. And she gave a nod of gratitude to former Kansas coach Marian Washington, who, like Stringer, was from Pennsylvania. Washington and Stringer stood nearly alone for many years as the prominent African-American women's hoops coaches at the top level of the sport. At Iowa, Stringer was inspired by Dr. Christine Grant, who was then director of the women's athletics department for the school and a prominent figure in the advancement of women's intercollegiate sports. Stringer right now is energized by seeing Sen. Hillary Clinton, D-N.Y. and Sen. Barack Obama, D-Ill., vying for the Democratic presidential nomination. "Nothing touches me more than a person who has convictions and doesn't just go the way the wind blows," she said. "I can't help but be inspired by them. We recognize them as true leaders."
Mechelle Voepel of The Kansas City Star is a regular contributor to ESPN.com. She can be reached at mvoepel123@yahoo.com.
espnW.com
Mechelle Voepel joined ESPN.com in 1996 and covers women's college hoops, the WNBA, the LPGA, and additional collegiate sports for espnW.
BLACK HISTORY MONTH
ESPN.com celebrates Black History Month with a series of stories that reflects on the contributions to the world of sports by African-Americans.
BLACK MAGIC
The two-part ESPN Original Production of a Dan Klores film will air Sunday, March 16, and Monday, March 17, at 9 p.m. ET on ESPN. For more information, visit
espn.com/blackmagic
.
Feb. 29
•
Jackson: The Young Guns of Chicago softball
•
Nelson: Angels GM Reagins earns his way
•
Dyer: Catching up with Christian Okoye
•
Hunt: Moore didn't see himself as pioneer
•
Adande: Tisdale relishes act as musician
Feb. 28
•
Hammann: Mavs scout has Senegal connection
•
Tanber: Agents address challenges in business
•
Lapchick: Charlie Scott's Tobacco Road odyssey
Feb. 27
•
Tanber: Solomon works for MLB diversity
•
Dyer: Robeson a vibrant presence at Rutgers
Feb. 26
•
NYC sees resurgence in amateur boxing
•
Buckheit: Catching up with Dominique Dawes
Feb. 25
•
Kreidler: Inside Webber's historical collection
Feb. 22
•
Drehs: Payton's legacy raises donor awareness
•
Buckheit: Travis Grant a scoring machine
Feb. 21
•
E-ticket: Kareem's 'On the Shoulders of Giants'
•
Keri: Bob Gibson's season for the ages
Feb. 20
•
McNeil: Joe Louis a reflection of his era
•
Lapchick: College athletes courageous
Feb. 19
•
Houston: McVey was tough, 'game to the core'
Feb. 15
•
Voepel: Parents, fellow coaches inspired Stringer
•
Schlabach: Teammates restore Patterson's place
•
O'Neil: No easy solution to plight of HBCUs
Feb. 14
•
O'Neil: A weekend on Alcorn State's tough road
•
Rittenberg: Edmonds first to monogram at ND
Feb. 13
•
Weiner: Macalester's Hudson no longer forgotten
Feb. 12
•
Griffin: Jack Trice a strong figure at ISU
Feb. 11
• Granderson: Trying to define Craig Hodges

Feb. 8
• Breaking Barriers: Llewellyn's road to history

Feb. 7
• Buckheit: Kirkland once a gangster, now a legend

Feb. 6
• Dettloff: Remembering great lightweight Joe Gans

Feb. 5
• Breaking Barriers: Willie O'Ree broke the ice

Feb. 4
• Weiner: OU gymnast raises the bar

Feb. 1
• Sylvester: Moments changes lives
• Adande: Trail Blazers live the 'Dream'
• Rhoden: Williams reached NFL promised land
• Dyer: Soccer player overcomes adversity
• Barkow: Spiller on a mission