Commentary
Breaking Barriers: Willie O'Ree breaks the ice
Originally Published:
February 5, 2008
By
Tom Rinaldi
| ESPN
EDITOR'S NOTE: ESPN and ESPN.com present a four-part series this week on sports pioneers, called "Breaking Barriers." The series debuts Tuesday with a feature about Willie O'Ree, the first black player in the National Hockey League. Watch Tom Rinaldi's story on "First Take" and all "SportsCenter" shows.
Sometimes, history happens slowly, even for those who make it.
That night, the big news at the Montreal Forum was the Boston Bruins' 3-0 shutout win over the mighty Canadiens. It was Jan. 18, 1958 -- the night the first black man skated in the National Hockey League.
For the "Jackie Robinson of hockey," there was no commemorative ceremony, no postgame tribute, no banner headline. Even the official scorer got his number wrong.
But Willie O'Ree didn't notice, or care.
"Back then," he says, "it just didn't dawn on me. I was just concerned about playing hockey."
As with history, a perspective on his own sense of accomplishment took some time to develop. Maybe that's because being a pioneer was not the point. At least, not at the start.
---
O'Ree grew up in Fredericton, New Brunswick, as one of 13 children in a town with just two black families. Both families lived on the same block, and O'Ree experienced no sense of prejudice at all.
"Race didn't really enter in the picture," he says.
O'Ree blossomed into a multisport athlete, concentrating primarily on hockey and baseball. As a shortstop and second baseman who later earned an invitation to camp with the Milwaukee Braves, he had a chance as a teenager in 1949 to meet Jackie Robinson at a game in Brooklyn.
[+] Enlarge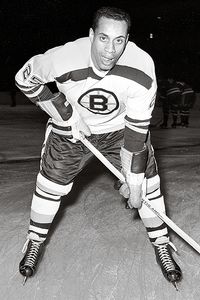 AP PhotoIn 1960, O'Ree was already near the end of his NHL career, but he continued playing for another 19 seasons.
"I knew he broke the color barrier," O'Ree recalls, "and when I actually met him, he said, 'There's no black kids that play hockey.' And I said, 'Yeah, there's a few.'"
The meaning of that encounter didn't become apparent until years later.
Eventually, O'Ree left baseball behind and concentrated on hockey as his primary sport. That he made it to the NHL at all, at a time when the league was comprised of just its original six teams, is remarkable given his secret: He played his entire professional career seeing out of just one eye.
In his final year of Ontario junior hockey in the 1955-56 season, playing for the Kitchener Canucks, he rushed toward the net as a teammate took a shot. Deflected by a defenseman's stick, the puck hit O'Ree in the right eye. He collapsed on the ice and was taken to the hospital, where a doctor told him his retina was shattered. Ninty-seven percent of the eye's vision was gone. O'Ree was told he'd never play hockey again.
Returning home to Fredericton to recover, he told only his sister and one close friend about the loss of vision. The next fall, he earned an invitation to camp with the minor league Quebec Aces. Everyone in hockey who knew about the injury assumed his vision had returned. O'Ree didn't correct them, and was never forced to take an eye exam.
Instead, he played, and scored 22 goals as the Aces won their league title. The next season, with the Bruins in Montreal and suffering from injuries, O'Ree got the call-up to his dream.
"This was a regular National Hockey League game," he says. "I was nervous."
The Willie O'Ree story
Fifty years ago this season, Willie O'Ree broke the color barrier in the National Hockey League, and he's still working to break down barriers. Last month, Page 2's LZ Granderson and ESPN reporter David Amber helped commemorate the anniversary with stories on ESPN.com. Read their reports here.
•
Granderson: Still a pioneer
•
Amber: Q&A with Willie O'Ree
Boston coach Milt Schmidt sat him down before the game and told his new player the entire Bruins organization understood that he was the first player of his race to play in the NHL, and the team was behind him. Just go out and play hockey, Schmidt told him.
"That meant a lot to me," O'Ree says.
In the last-place Bruins' win, O'Ree had no goals and no assists. There were no lines on the stat sheet that indicated the color barrier had just been broken.
"The big write-up was about shutting out the Habs, and that was the big story," O'Ree says. "But it didn't make any difference to me. It really didn't dawn on me."
The dawning came, darkly, a few years later and many miles south.
---
O'Ree played just one more game in the NHL that first season before he returned to the minors. He made it back for the 1960-61 season, and that's when he began to understand the difference his skin color made, in particular to fans and opponents in America. Trips to New York, Detroit and Chicago were the worst, as he played through slurs, taunts and threats.
[+] Enlarge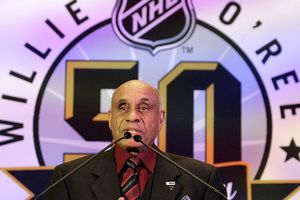 AP Photo/John BazemoreOn the 50th anniversary of the breaking of the NHL's color barrier, the league honored O'Ree.
"In the penalty box, stuff would be thrown at [me], and they'd spit at me," O'Ree says, his voice even, and his memory clear. "I never fought one time because of racial remarks. I fought because guys butt-ended me and speared me and cross-checked me. But I said, 'If I'm going to leave the league, it's because I don't have the skills or the ability to play anymore. I'm not going to leave it 'cause some guy makes a threat or tries to get me off my game by making racial remarks towards me.'"
He played 43 games that season, and never made it back to an NHL roster. His scoring totals were modest (four goals and 10 assists) but his real mark on the ice didn't begin to surface until decades later.
After he left the NHL in 1961, O'Ree continued to play, primarily in the now-defunct Western Hockey League, where he won a league goal-scoring title in the 1964-65 season. He hung up his skates in 1979.
It wasn't until 17 years later, when he was working security for a hotel in San Diego, when the NHL called him, with a job offer.
---
Breaking Barriers
ESPN's series on sports pioneers called "Breaking Barriers" began on Tuesday with the chronicle of Willie O'Ree, who broke the color barrier in the National Hockey League 50 years ago, and continued Wednesday with a story about Kit DesLauriers, who skied the highest peaks on each of the globe's seven continents.
On Thursday, ESPN featured 16-year-old Aaron Fotheringham, who suffers from spina bifida but became the first wheelchair athlete to successfully land a back flip in the sport he calls "hard-core sitting." And it concluded with the Peggy Llewellyn story about the first female minority to compete in Pro-Stock motorcycle drag-racing. •
Breaking Barriers: O'Ree

|
Rinaldi: Breaking the ice
•
Rinaldi: DesLauriers's seven summits on skis
•
Breaking Barriers: Fotheringham

|
Rinaldi: How he rolls
•
Breaking Barriers: Llewellyn

|
Rinaldi: How he rolls
"How long you been skating?" O'Ree asks the boy on the ice. "You playing hockey?"
It's another rink, in another city, and he is spreading his joy for the game, and his story for another group of young players.
For the past decade, he has been the director of youth development for the NHL's diversity program, giving clinics, speaking at schools, introducing hockey to a generation of children who might never have played it before. NHL commissioner Gary Bettman believes O'Ree has shared his message with roughly 40,000 children in the past 10 years.
On the ice and in the classroom, at 72, O'Ree's smile shines and his charm flows, enthralling the children who didn't know his story until he told it.
Of his work with the diversity program, O'Ree says simply, "I give because I care, not because I can. I really care about these kids."
For the man with one good eye, it took 50 years for the rest of his sport to see his accomplishment and recognize its significance. Yet O'Ree opened a door to the rink that has remained open, now more than ever. The second black player to enter the league was the Washington Capitals' Mike Marson, in 1974. A decade later, Grant Fuhr would win the first of five Stanley Cups with the Edmonton Oilers. In the 2000-01 season, the Oilers had five black players on their roster, and the next season, the Calgary Flames' Jarome Iginla was voted league MVP.
This year, the NHL honored O'Ree on the 50th anniversary of his first game. His hometown of Fredericton has built a rink in his name, and the Bruins commemorated his debut with a celebration in Boston. There is now a special game for the best players from the diversity league, named the Willie O'Ree All-Star Game.
All of which makes the Jackie Robinson of hockey, as he is so often called, happy. But for O'Ree, making history still isn't as important as building the future.
"The work I'm doing now is more rewarding to me than breaking the color barrier," he says.
It is work that allows O'Ree to skate off on a sheet of white ice, history in his wake.
Tom Rinaldi is an ESPN correspondent based in the New York City Bureau, contributing to "SportsCenter," "Outside the Lines," "College GameDay" and "NFL Countdown."
SportsCenter, OTL, College GameDay and NFL Countdown correspondent
Tom Rinaldi is an ESPN correspondent based in the New York, contributing to SportsCenter, Outside the Lines, Outside the Lines Nightly, College GameDay and NFL Countdown. He also appears as a reporter, contributing features and interviews from many of ESPN's top event productions, including golf and tennis' major events.
BLACK HISTORY MONTH
ESPN.com celebrates Black History Month with a series of stories that reflects on the contributions to the world of sports by African-Americans.
BLACK MAGIC
The two-part ESPN Original Production of a Dan Klores film will air Sunday, March 16, and Monday, March 17, at 9 p.m. ET on ESPN. For more information, visit
espn.com/blackmagic
.
Feb. 29
•
Jackson: The Young Guns of Chicago softball
•
Nelson: Angels GM Reagins earns his way
•
Dyer: Catching up with Christian Okoye
•
Hunt: Moore didn't see himself as pioneer
•
Adande: Tisdale relishes act as musician
Feb. 28
•
Hammann: Mavs scout has Senegal connection
•
Tanber: Agents address challenges in business
•
Lapchick: Charlie Scott's Tobacco Road odyssey
Feb. 27
•
Tanber: Solomon works for MLB diversity
•
Dyer: Robeson a vibrant presence at Rutgers
Feb. 26
•
NYC sees resurgence in amateur boxing
•
Buckheit: Catching up with Dominique Dawes
Feb. 25
•
Kreidler: Inside Webber's historical collection
Feb. 22
•
Drehs: Payton's legacy raises donor awareness
•
Buckheit: Travis Grant a scoring machine
Feb. 21
•
E-ticket: Kareem's 'On the Shoulders of Giants'
•
Keri: Bob Gibson's season for the ages
Feb. 20
•
McNeil: Joe Louis a reflection of his era
•
Lapchick: College athletes courageous
Feb. 19
•
Houston: McVey was tough, 'game to the core'
Feb. 15
•
Voepel: Parents, fellow coaches inspired Stringer
•
Schlabach: Teammates restore Patterson's place
•
O'Neil: No easy solution to plight of HBCUs
Feb. 14
•
O'Neil: A weekend on Alcorn State's tough road
•
Rittenberg: Edmonds first to monogram at ND
Feb. 13
•
Weiner: Macalester's Hudson no longer forgotten
Feb. 12
•
Griffin: Jack Trice a strong figure at ISU
Feb. 11
• Granderson: Trying to define Craig Hodges

Feb. 8
• Breaking Barriers: Llewellyn's road to history

Feb. 7
• Buckheit: Kirkland once a gangster, now a legend

Feb. 6
• Dettloff: Remembering great lightweight Joe Gans

Feb. 5
• Breaking Barriers: Willie O'Ree broke the ice

Feb. 4
• Weiner: OU gymnast raises the bar

Feb. 1
• Sylvester: Moments changes lives
• Adande: Trail Blazers live the 'Dream'
• Rhoden: Williams reached NFL promised land
• Dyer: Soccer player overcomes adversity
• Barkow: Spiller on a mission