Commentary
Family of Walter Payton works to increase organ donor awareness
Updated:
February 22, 2008, 6:00 PM ET
By
Wayne Drehs
| ESPN.com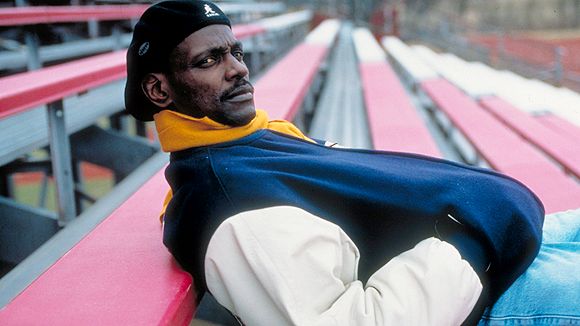 Steve Liss//Time Life Pictures/Getty ImagesWalter Payton, a nine-time Pro Bowl player and Hall of Famer, played for the Chicago Bears from 1975-1987. On Nov. 1, 1999, at the age of 45, he died after battling a rare liver disease.
CHICAGO -- It has been nearly nine years since that emotionally draining, tear-filled fall night. But Brittney Payton remembers it like it was yesterday. Her father had gathered her and her big brother Jarrett in the family's basement, explaining he had something to tell them. It wasn't good.
A group of doctors, Dad explained, had diagnosed him with primary sclerosing cholangitis (PSC), a rare liver disease that meant he would need a liver transplant. In between the emotional breakdowns, Brittney remembers, her dad tried to convince his children that everything would be fine. He was on a waiting list for a transplant, a liver was soon going to become available and then he would have surgery. He would be back to Walter Payton, back to being their dad, in no time.
For Brittney, who was just 13 years old at the time, the conversation was terrifying.
"My dad had always been such a strong and healthy man," she said. "He had always been our rock. And to see him all emotional, too see him crying . . . it was tough. But he tried to be strong. He tried to assure us that it would all be OK. As long as he got the transplant, it would all be OK."
But the transplant never happened. While waiting for a new liver, Payton contracted bile duct cancer, a rare side effect of PSC, which made him ineligible for a transplant. Doctors fought the cancer with chemotherapy and radiation treatment, but in November 1999, almost a year after Payton and his family had that tear-filled conversation in the basement, he was gone.
More on organ donation
The tragic death of University of North Carolina mascot Jason Ray gave new life to four New Jersey families. ESPN.com and "E:60" teamed up to tell the story of Ray and the four recipients of his organs, and brought Jason's parents together with the recipients and their families.
To experience this story, read Wayne Drehs' E-ticket, "Ray of Hope," and watch "E:60".
For more information on organ donation, visit Donatelife.net. To find out how you can become an organ donor in your state, visit Donatelife.net/CommitToDonation.
For more information on the organization Brittney Payton started, visit Youth for Life.
Now, almost a decade later, his legacy continues to live on. Payton knew very little about organ donation before his ordeal, but in the final months before his death, he became an advocate for donor awareness. Even after he found out he was no longer eligible for a transplant, he spoke publicly about the topic, filming television commercials that encouraged people to become donors.
"When I first heard that I would die if they couldn't get me a liver within two years, I thought no problem," Payton wrote in his autobiography, "Never Die Easy."
"What are the odds that won't happen? But then I found out the odds might not be so good. And it doesn't make any sense. If everyone agreed to organ donation, there wouldn't be any list at all."
In the wake of her father's death, Brittney has picked up where Sweetness left off. In 2001, while she was still a high school student, Brittney started Youth for Life, a campaign aimed at increasing donor awareness among teenagers. The results have been staggering. Coupled with an Illinois donor license plate campaign that features a miniature football with the number 34 on it, Youth for Life has helped transform Illinois into one of the nation's leading donor states. The year before Payton died, Brittney said, the state ranked 47th in the number of donors per capita. But every year since her father's death, she said, the state has ranked among the nation's best.
"It's been amazing," Britney said. "Truly remarkable."
Although Brittney's work primarily targets high school students who are about to receive their first driver's license, it indirectly helps raise organ donor awareness among minorities, given her father's high-profile status in the African-American community.
More African-American donors are needed. According to the U.S. Department of Health and Human Services, an increase in the number of minority organ donors would increase the frequency of minority transplants because certain blood types are more prevalent in ethnic minority populations. Minorities have a particularly high need for organ transplants because some diseases of the kidney, heart, lung, pancreas and liver are found more frequently in racial and ethnic populations. For example, African-Americans are three times more likely than whites to suffer from end-stage kidney disease.
But, despite this need, a 2001 study by Case Western Reserve University found that a lower percentage of African-Americans signed their donor cards or were willing to donate the organs of a loved one than whites did.
Having the story of a celebrity like Payton or professional basketball player Alonzo Mourning, a transplant kidney recipient, or Sean Elliott, who received a kidney from his brother, can only help.
[+] Enlarge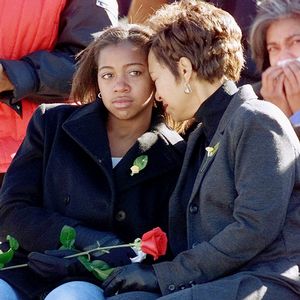 AP Photo/Beth A. KeiserWalter Payton's daughter, Brittney, has become an advocate for organ donor awareness. Brittney, seen with her mother, Connie, at Walter Payton's funeral, organized a campaign to increased donor awareness among teenagers.
"Me being a minority, that can only help others feel comfortable and confident about organ donation," Brittney said. "But this is a huge thing for everyone. The more organ donors, the better."
Before Payton became ill, the family knew nothing about organ donation. Brittney had never heard of it. But in the months that followed his diagnosis, as her father's name was added and then later removed from the waiting list, she picked up on her father's message that there's no excuse not to be a donor.
These days, when she drives the streets of suburban Chicago and sees cars with the orange and blue Illinois donor license plate bearing her father's jersey number, she can't help but smile.
"My dad would be so amazed and so proud of my brother and I and my mom," Brittney said. "While he was here he did as much as he physically could to spread awareness. Even in death, he was out there to help others. He passed that on to us. And all we want to do is continue to live his dream and keep his legacy out there. That's what keeps us going every day. And it's been amazing."
Wayne Drehs is a senior writer for ESPN.com. He can be reached at wayne.drehs@espn3.com.
Senior writer for ESPN.com
Written for ESPN.com since 2000
Three-time Sports Emmy Award winner
BLACK HISTORY MONTH
ESPN.com celebrates Black History Month with a series of stories that reflects on the contributions to the world of sports by African-Americans.
BLACK MAGIC
The two-part ESPN Original Production of a Dan Klores film will air Sunday, March 16, and Monday, March 17, at 9 p.m. ET on ESPN. For more information, visit
espn.com/blackmagic
.
Feb. 29
•
Jackson: The Young Guns of Chicago softball
•
Nelson: Angels GM Reagins earns his way
•
Dyer: Catching up with Christian Okoye
•
Hunt: Moore didn't see himself as pioneer
•
Adande: Tisdale relishes act as musician
Feb. 28
•
Hammann: Mavs scout has Senegal connection
•
Tanber: Agents address challenges in business
•
Lapchick: Charlie Scott's Tobacco Road odyssey
Feb. 27
•
Tanber: Solomon works for MLB diversity
•
Dyer: Robeson a vibrant presence at Rutgers
Feb. 26
•
NYC sees resurgence in amateur boxing
•
Buckheit: Catching up with Dominique Dawes
Feb. 25
•
Kreidler: Inside Webber's historical collection
Feb. 22
•
Drehs: Payton's legacy raises donor awareness
•
Buckheit: Travis Grant a scoring machine
Feb. 21
•
E-ticket: Kareem's 'On the Shoulders of Giants'
•
Keri: Bob Gibson's season for the ages
Feb. 20
•
McNeil: Joe Louis a reflection of his era
•
Lapchick: College athletes courageous
Feb. 19
•
Houston: McVey was tough, 'game to the core'
Feb. 15
•
Voepel: Parents, fellow coaches inspired Stringer
•
Schlabach: Teammates restore Patterson's place
•
O'Neil: No easy solution to plight of HBCUs
Feb. 14
•
O'Neil: A weekend on Alcorn State's tough road
•
Rittenberg: Edmonds first to monogram at ND
Feb. 13
•
Weiner: Macalester's Hudson no longer forgotten
Feb. 12
•
Griffin: Jack Trice a strong figure at ISU
Feb. 11
• Granderson: Trying to define Craig Hodges

Feb. 8
• Breaking Barriers: Llewellyn's road to history

Feb. 7
• Buckheit: Kirkland once a gangster, now a legend

Feb. 6
• Dettloff: Remembering great lightweight Joe Gans

Feb. 5
• Breaking Barriers: Willie O'Ree broke the ice

Feb. 4
• Weiner: OU gymnast raises the bar

Feb. 1
• Sylvester: Moments changes lives
• Adande: Trail Blazers live the 'Dream'
• Rhoden: Williams reached NFL promised land
• Dyer: Soccer player overcomes adversity
• Barkow: Spiller on a mission

MOST SENT STORIES ON ESPN.COM