Commentary
Johnson's impact bigger than tennis
Updated:
February 18, 2009, 9:16 AM ET
By
Joel Drucker
| Special to ESPN.com
Though the late Arthur Ashe was a distinctive individual in a sport filled with solo artists, he spoke frequently of the influences that had made it possible for him to succeed. There had been his father, a local park, a church, a sensibility of humble spirituality and devotion. So many had seen to it that a young African-American could pursue his dreams in a time and place when the roadblocks were considerable.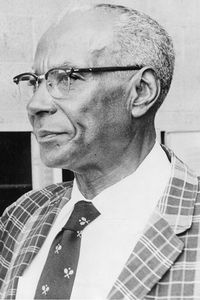 International Tennis Hall of Fame & MuseumDr. Robert Walter Johnson strived to get to the point where the color barrier would be rendered meaningless.
But most of all, there had been Dr. Robert Walter Johnson, a man who this summer will be posthumously inducted into the International Tennis Hall of Fame. From his home in Lynchburg, Va., Johnson created a tennis environment that proved the contemporary adage "think global, act local." As his grandson, Lange Johnson, said, "He was without question a bigger-than-life guy."
In the spring of 1954, Johnson met Ashe, then a slight, eager 10-year-old from Richmond, Va. Recognizing Ashe's talent, Johnson offered him the chance to train for the summer at his Lynchburg home -- which included a backyard tennis court -- and the chance to be part of a retinue that traveled to numerous tournaments. Ashe jumped at the opportunity, which covered all expenses (and also required performing such chores as cleaning Johnson's doghouse).
But while Ashe would emerge as the best of Johnson's proteégeés, he was hardly the first. By the time he met Ashe, Johnson had been plugging away at tennis for more than a quarter century.
He was born in 1899, three years after the Supreme Court's Plessy v. Ferguson ruling made "separate but equal" the law of the land. Operating in a world of Jim Crow segregation and racism, Johnson mastered the alpha and omega that triggered success for African-Americans of his time: hard work and exceptional stoicism. A star running back at Lincoln University, his speed on the playing field led to his nickname, "Whirlwind." But his patience belied the moniker. Said Harry Livas, a Johnson tennis student in the '50s, "He instilled in us the ability to persevere and the will to win."
Competitive tennis throughout the middle part of the 20th century was played mostly at lily-white clubs. Tennis' powers-that-be -- then largely the United States Lawn Tennis Association (USLTA) -- would often decline the entries of African-Americans. Johnson's goal was to build the skills of enough players to the point where the color barrier would be meaningless. His first major chance came in the late '40s, when he honed the skills of a strong 18-year-old New Yorker, Althea Gibson. By the '50s, she had indeed burst on the scene, becoming the No. 1 player in the world in 1957 and '58.
But it was his work with Ashe that most eloquently forged Johnson's legacy. Ashe was so young when he started with Johnson, coming of age a little bit each summer on and off the court. Most of all, Ashe deeply personified Johnson's code. "You were not to lose your temper, not to question line calls, not to ever cheat," said Willis Thomas, Ashe's doubles partner in the juniors. Ashe carried this poker-faced manner right to the top of the world.
Of course no one could have foreseen that happening when Ashe and others were working with Johnson in the late '50s and early '60s. Even as Thomas and other Johnson charges felt out of place at tournaments, even as they avoided using locker rooms, even as they always stayed with black families and respectfully shied away from confrontations, they gradually let their rackets do the talking, in their own way making a case for the nascent civil rights movement.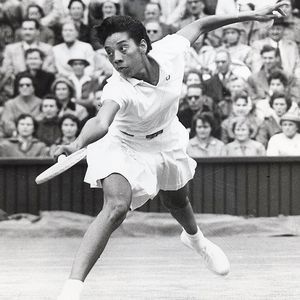 Hulton Archive/Getty ImagesIt's probable that without Dr. Walter Johnson, Althea Gibson would have never evolved into a trailblazing tennis star.
What Martin Luther King had done on a larger scale, Johnson accomplished in tennis: a social and spiritual transformation. Later would come other Johnson students, including such pros as Leslie Allen and future USTA coach Rodney Harmon. As Doug Smith writes in "Whirlwind," his biography of Johnson, "His goal was to get the white establishment to open its doors, if not its heart, to black players. That's what he did, and that's why he deserves a pat on the back, not just from black America but from all Americans."
Johnson died in 1971. But his impact stretches beyond the lines of the court. African-American sociologist Harry Edwards sees a direct connection between Arthur Ashe and President Barack Obama. "In his ability to see all sides, in his ability to bring many people together, Arthur had that too," said Edwards.
In its own small way, the spirit of change and hope that brought America its first African-American president can at least slightly trace its roots to the visions of a patient but ambitious doctor who trekked with dozens of children to tennis clubs located not too far from the Mason-Dixon Line. Obama's slogan was "Yes We Can." Johnson's grandson Lange recalls a photo on his wall with the caption, "It Can Be Done."
Joel Drucker is based in Oakland, Calif., and writes for Tennis Magazine and Tennis Channel.