Douglas, FSU earn respect with UNC win
March, 14, 2009
03/14/09
6:03
PM ET
ATLANTA -- The call, from Florida State to ESPN.com, came sometime in the preseason. The Seminoles knew they had something special in
Toney Douglas
, a player who could be a national honors candidate, and in a team that could be a factor both in the ACC and nationally.
Douglas got on the phone and didn't even attempt to downplay the potential for the Seminoles. They would be a safe pick for the NCAA tournament. Forget that they had lost two starters and were attempting to break in at least three key newcomers. They had Douglas. They had someone who could motivate himself and others. They had a player who could carry a team to a potential NCAA berth.
[+] Enlarge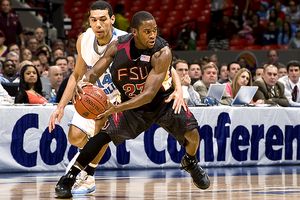 Paul Abell/US PresswireToney Douglas is the guy who makes Florida State go, both on offense and defense.
Douglas could do this, with help from newcomers Derwin Kitchen, Solomon Alabi and Chris Singleton, among others, because of his ability to dominate in any situation.
Douglas was prophetic. So, too, were the Seminoles -- a team that had been the ultimate tease at times under Leonard Hamilton.
On Saturday afternoon at the Georgia Dome, Florida State and Douglas arrived, and they might stay a while in March. While Douglas finished second in the ACC Player of the Year voting behind North Carolina's Ty Lawson, he easily could have finished first. Douglas scored 27 points in FSU's 73-70 victory over the Tar Heels -- who played their second straight ACC tournament game without Lawson (jammed right toe) -- to advance to the ACC tournament title game Sunday.
Douglas, who was also the ACC Defensive Player of the Year, couldn't contain himself after the win. He ran around the court, looking for a few friends and family to congratulate. Few players have been rewarded with a run like the one Douglas is on after he made headlines when he transferred from Auburn after his freshman year because of his desire to play the point.
"Coming to Florida State was the best thing that happened to me," said the fifth-year senior. "I wanted to play in the ACC, to play in a guard's league. I wanted to show I could be a leader on and off the court. But you can't be a leader unless your teammates are willing to follow."
That's not even a question.
"I love Toney. I can't say enough about him," said the well-traveled Kitchen, who was supposed to go to St. John's but ended up at Iowa Western College before transferring to Florida State. "I can't say enough about the example he sets."
Alabi, who has the potential to be a star, has been quick to follow Douglas' lead.
"He's the man," said Alabi, a native Nigerian. "He's carried the whole team. There are a lot of young players here that have confidence to play because Toney is a good leader."
Hamilton scoffs at any negative talk stemming from Douglas' transfer from Auburn. He said he hasn't had one issue with Douglas since the guard arrived in Tallahassee in 2005.
"He would run suicide lines in the gym in the offseason, by himself, with no coaches around," Hamilton said. "He does everything he's supposed to in the weight room, drinking enough water, working on flexibility. He's a matter-of-fact leader, not a rah-rah guy. The young guys respect that. It's been a real enjoyable experience."
But before the win over UNC, Douglas was in danger of being another special Florida State player who didn't get to the tournament -- like four-year player Al Thornton was under Hamilton.
"He's such a tough player," Lawson said. "From the eight-minute mark down he was making every big shot or made the pass to make a big shot. Last year he had a bigger supporting cast. I didn't know he was this good."
Getting the win over North Carolina elevates Douglas and the Seminoles. The Seminoles' seeding will rise for the NCAA tournament next week and so too will the perception of both Douglas and his team.
Florida State missed out on opportunities earlier this season to beat Pitt and North Carolina at home and Duke on the road.
"Florida State had always been one of those schools that would beat a top-ranked team and then lose to teams they're not supposed to [lose to]," Douglas said. And actually the reverse was true this season, as the Seminoles didn't lose games they shouldn't, but didn't win the elite games -- until Saturday.
That's why a win over North Carolina, with or without Lawson, changes the tone when discussing Florida State.
Hamilton said he played the lack-of-respect card for years with his club. But he understood that, in the ACC, teams had to earn respect over a long period of time. Losing 10 straight times to North Carolina added to the perception that the Seminoles were a step below.
"To make our mark, to elevate our position, this is extremely significant," Hamilton said.
Former South Carolina and Wake Forest coach Dave Odom was courtside doing national radio work. He couldn't help but praise Douglas and Kitchen and even called them the best backcourt in Division I. But there was one cautionary theme about Florida State going into the NCAAs, according to Odom: None of the Seminoles had been there in the past. Hamilton and the staff had, and that's a plus. Beating Carolina could change the perception quickly.
"It shows you belong," Odom said. "It gives you credibility that now you're a factor in the league."
Finishing in the top four in the ACC did that to some extent, beating Carolina in the semifinals of the ACC tournament cemented it, and if Douglas can lead this crew to the Sweet 16, he will have a lasting legacy in Tallahassee.