Tale of two halves for Cardinals in first-round win
March, 20, 2009
03/20/09
10:08
PM ET
DAYTON, Ohio -- A distinct pattern has developed in Louisville's past three games.
In the Big East tournament semifinals, the Cardinals trailed Villanova 34-26 at halftime before rallying for a 14-point win. Against Syracuse in the Big East title game, they again were down eight points at the break, but they won by 10. And then Friday night in the Midwest Region first round, Louisville led No. 16 seed Morehead State by only two at intermission. It went on to a 20-point victory.
[+] Enlarge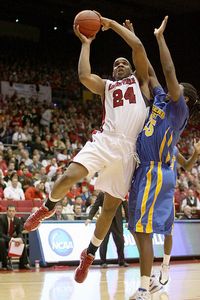 Andy Lyons/Getty ImagesSamardo Samuels scored 15 points to lead Louisville in the Cardinals' win over Morehead State.
Cause for concern or just product of style? Rick Pitino says it's the latter.
"Pressing teams, against good teams, really get their dividends in the second half," Pitino said. "You've got to know what style you are. If we were a different team and we wanted to be up because we can't play from behind, then that's different. But we're down quite a bit. So this is not something that's abnormal."
It might not be abnormal, but it probably also isn't a trend the Cardinals want to continue as they get deeper into this tournament.
"You can't do that all the time," said forward Earl Clark, who missed much of the first half with foul trouble. "There could be a team on their A-game and the second half could go the same way."
Louisville didn't come out flat for its first-round game. The Cardinals shot 50 percent in the first half. But Morehead State, perhaps galvanized by its opening-round win over Alabama State, was confident and poised while battling the game almost to a draw.
Pitino said he reminded his team about the Pittsburgh-East Tennessee State and Memphis-Cal State Northridge games and how close they were until the end. He told the players they'd be fine if they just got back to causing turnovers on the press, closing out on 3-point shooters and rebounding.
Well, OK, maybe he didn't deliver it that calmly.
"I can't tell you what he really said," Clark said. "That might be banned from TV."
In its past three games, Louisville has reversed course in breathtakingly quick fashion after halftime. On Friday, a 17-4 run turned a close game into a 15-point bulge in fewer than seven minutes. Morehead State shot just 32 percent in the second half, missed five of six 3-pointers and turned it over 12 times. Meanwhile, the Cardinals shot 65.4 percent in the second half.
"It's just getting refocused," senior forward Terrence Williams said. "We come back in here kind of disappointed in ourselves for being in that situation. Then we start buying into the whole thing of playing defense, and that's just what we do."
The Cardinals can wear people down with their depth, their pressure and their length. If they get to the point that they don't need to refocus at halftime, look out.
"We've just got to put together two halves like the second half and the games will be easier," Williams said. "There won't even be a close game at all."