Fields sets the tone for Panthers
March, 22, 2009
03/22/09
7:03
PM ET
DAYTON, Ohio --
Sam Young
keeps his eyes peeled on the ball when anyone but
Levance Fields
brings it up the court. When Fields has it, he turns his back and runs up the floor, confident that everything is in good hands.
[+] Enlarge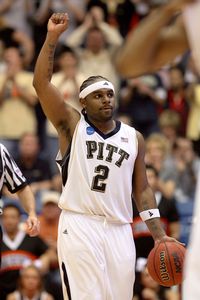 Andy Lyons/Getty ImagesLevance Fields had 13 points and nine assists in Pitt's win over Oklahoma State.
"If he doesn't make the pass, I've got full faith he's going to make the shot," Young said.
Pittsburgh escaped rather than cruised in its first two NCAA tournament games. But the East's No. 1 seed has something invaluable going for it: an unflappable floor general who lives for crunch time.
No. 8 seed Oklahoma State had the look of a team on the verge of a second-round upset Sunday, hitting everything in sight in the first half and making 12 3-pointers for the game. The Cowboys held a 72-71 lead with 3:48 left.
Then here's what happened on Pittsburgh's next three possessions: Fields worked a set play that ended with an assist to Young for a 3-pointer. He drove around a ball screen for a layup and a foul. And on an out-of-bounds play, he banged home a 3-pointer in the corner. Pitt went up 79-74 with 1:29 left, and the game was effectively over.
"As a point guard, that's what you always want," said Fields, who finished with 13 points, nine assists and only two turnovers. "I want the ball."
The stocky senior's game isn't always the prettiest to watch, but he has a crafty streak befitting a guy who learned the game on the streets of Brooklyn. At the end of the first half, for instance, he was the only one who realized that his missed free throw was actually the front end of a one-and-one. He chased down the rebound as everyone else stood still and called timeout before falling out of bounds. On the ensuing play, he knocked down a 3-pointer that tied the game at 49 at halftime.
In the second half, after Oklahoma State snoozed getting back on defense, Fields threw a three-quarter court lob to DeJuan Blair for an easy layup. When Fields went out for two possessions after Pitt took a 64-55 lead, his team failed to score on either trip and Oklahoma State went on a quick 5-0 run to get back in it.
"He's like a player-coach out there," forward Tyrell Biggs said. "When he has the ball in his hands, you know something good is going to happen."
Fields admitted he didn't play well in the Big East tournament against West Virginia, when he had an uncharacteristic five turnovers. He also wasn't happy with his effort in the first round against East Tennessee State, which pressed Pitt into committing 18 turnovers in the near-upset. Oklahoma State forced two straight turnovers late in Sunday's second half by putting on a 1-3-1 press. Though only one of the miscues was assigned to Fields, he took credit for both.
"Being a leader and a point guard, I take the blame," he said. "I'm not trying to take it to be a hero or a scapegoat. It's just the truth. It starts with me."
For Pittsburgh to finish past the Sweet 16, it will need more than Fields' grit. No other No. 1 seed had as difficult a time getting out of its pod than the Panthers.
Blair may have given teams a blueprint on how to slow him down Sunday. Oklahoma State fronted him with a smaller defender, and neither he nor his teammates worked hard enough to counter that most of the game. He had just one point at halftime, though he finished with 10 points and 12 rebounds.
"I didn't really give my team nothing in the first half," Blair said. "I'm going to have games like that. But when we're all clicking, we're going to be tough to beat."
Right now, that's not happening.
"We're not, but it's about getting it done and finding a way to win," Fields said. "That's what we've done this week."