Heytvelt and Hansbrough meet again
March, 26, 2009
03/26/09
7:40
PM ET
MEMPHIS -- When Gonzaga senior
Josh Heytvelt
played North Carolina's
Tyler Hansbrough
the first time, it seemed that Heytvelt was the player on his way to earning multiple All-America honors.
[+] Enlarge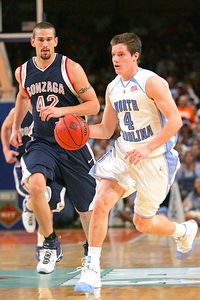 Chris Trotman/Getty ImagesJosh Heytvelt's Gonzaga career has seen its ups and downs since the most recent time the Zags and North Carolina met in 2006.
In the semifinals of the 2006 preseason NIT at Madison Square Garden in New York, Heytvelt scored 19 points and grabbed eight rebounds in the Bulldogs' 82-74 upset of the No. 2-ranked Tar Heels.
Hansbrough, who, like Heytvelt, was a sophomore at the time, scored only nine points on 2-for-5 shooting.
"They just played better than us that night," Hansbrough said Thursday. "And, of course, Josh had a good game. He was hitting some shots and got in the groove of things. I didn't really have my best game. They just beat us."
Heytvelt and Hansbrough will meet again in Friday night's semifinals of the South Regional at FedEx Forum. It's only the second meeting between the No. 1-seeded Tar Heels and No. 4-seeded Bulldogs, and it seems as if neither team has forgotten many of the details of their first encounter.
"We had a lot of underclassmen back then, and right now we have a lot of motivation going into this game," UNC junior Wayne Ellington said. "They got us pretty good last time we played them. We're definitely looking forward to the challenge."
Of course, Hansbrough became one of the most decorated players in North Carolina history over the past three seasons. He is the first four-time first-team All-American in ACC history and is the league's all-time leading scorer.
Heytvelt's career has been marked by injuries and off-court problems. Heytvelt, a 6-foot-11 native of Clarkston, Wash., redshirted during the 2004-05 season and then broke his left ankle only four games into the next season.
Heytvelt was finally healthy again for the start of the 2006-07 season. And his performance against Hansbrough early that season suggested he might blossom into another star player at Gonzaga, following in the footsteps of former Bulldogs such as Dan Dickau, Ronny Turiaf and Adam Morrison.
"It was definitely a big game," Heytvelt said. "Tyler's had a whole bunch of hype his entire career. He's one of the best players in the entire country, and he's shown that over the past four years. That game was definitely one where I had to go in with a little chip on my shoulder, knowing that he is and plays like one of the best players in the entire country. I had to try and match that."
More than anything, Heytvelt's performance against the Tar Heels gave him the confidence to play against anyone.
"I think it probably reinforced to him that he could play with anybody in the country," Gonzaga coach Mark Few said. "Obviously, if you're successful against North Carolina, with as good a job as they do, I think it gave him the confidence he could play with anybody."
Heytvelt averaged 15.5 points and 7.7 rebounds in the first 25 games of the 2006-07 season. He was considered the front-runner for West Coast Conference Player of the Year.
But on Feb. 9, 2007, Heytvelt nearly threw his entire career away. He and freshman Theo Davis were arrested during a traffic stop for misdemeanor possession of marijuana and felony possession of psychedelic mushrooms. They were indefinitely suspended from the team, a day before the Bulldogs played WCC rival Saint Mary's at home.
Heytvelt didn't play for Gonzaga the rest of the season. The Bulldogs still won the WCC tournament without him, but they lost to Indiana 70-57 in the first round of the 2007 NCAAs.
"The immediate thought, at least with me, was anger," Few said. "It was a no-brainer with what we had to do immediately. But the most convincing and compelling part of it for me was to watch how it played out over the next couple of months, with how Josh changed, how he grew as a person."
To be reinstated to the team, Heytvelt had to complete 240 hours of court-ordered community service, among other requirements. He worked in a soup line for the homeless and with sick children at a Ronald McDonald House.
Few said he was also concerned about whether Heytvelt's teammates would welcome him back, after he had abandoned them the season before with his careless behavior.
"The biggest thing that I was most concerned with -- and anybody that's ever been on a team, I think, can relate to this -- was when were his teammates ready to accept him back?" Few said. "Because I think there was some hurt there. I mean, we were rolling right along."
With his life seemingly back on track, Heytvelt rejoined the Bulldogs before the 2007-08 season.
"I was just happy to get the second chance to be able to prove to the guys that nothing was going to happen from it and I wasn't going to mess up again," Heytvelt said.
But Heytvelt missed the first 11 games of his junior season after having surgery on his injured right ankle. When he finally returned to the court, he wasn't as effective as before, averaging 10.3 points and 4.9 rebounds. Heytvelt even lost his starting job late in the season. Gonzaga fans didn't know his ankle was broken again.
Finally, with both ankles healed this season, Heytvelt blossomed into the player many thought he would become. He averaged 14.9 points and 6.7 rebounds and was named All-WCC.
In many ways, Heytvelt's career comes full circle when he faces Hansbrough again.
Even though Hansbrough became the four-time All-American, Few said his star player has accomplished just as much.
"It's one of the neatest things I've seen evolve probably the whole time I've been coaching," Few said. "I mean, he's graduated now. He's working on his master's [degree]. He's going to play somewhere for some money, and he's just so much more engaged in conversation when you have him in the office. He's very enjoyable to talk with."
No. 2 seed Oklahoma (29-5) vs. No. 3 seed Syracuse (28-9)
Playing in the rugged Big East, Syracuse has faced its share of dominating big men this season.
Pittsburgh's DeJuan Blair had 20 points and 12 rebounds against the Orange in the Panthers' 78-60 rout Jan. 19.
Villanova's Dante Cunningham burned Syracuse twice, scoring 43 points and grabbing 21 rebounds combined in the Wildcats' two victories over the Orange in February.
And Connecticut's Hasheem Thabeet had 30 rebounds and 13 blocked shots combined in two games against Syracuse this season, including the Orange's 127-117 victory in six overtimes in the Big East tournament quarterfinals earlier this month.
But Syracuse coach Jim Boeheim said none of them is as good as Oklahoma All-American Blake Griffin, who will lead the No. 2-seeded Sooners against No. 3-seeded Syracuse in Friday night's South Regional semifinals at FedEx Forum.
"He's a better player than those guys, though they're pretty good players," said Boeheim, who will be aiming for his 800th career victory Friday. "Obviously, they're different. Thabeet is different. He's a shot-blocker. Blair is an offensive rebounder. That is what he does, better than anybody, almost.
[+] Enlarge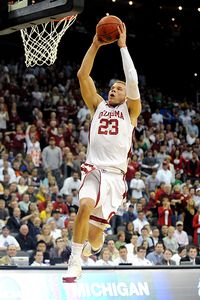 Jerry Laizure/US PresswireSyracuse has seen its share of talented big men this season, but perhaps none has been as dominant as OU's Blake Griffin.
"Blake Griffin is more. He can do both, offensive rebounds and he can score without offensive rebounds. He's a better passer than those guys. So he's unique. He's a different kind of player. Clearly, I don't think anybody has any [doubt] that he's the best player in the country."
And no player was better in the first two rounds of the NCAA tournament than Griffin, who averaged 30.5 points and 15 rebounds in victories over No. 15 seed Morgan State and No. 10 seed Michigan in Kansas City.
"He's a different type of big man," Syracuse forward Arinze Onuaku said. "He's great. The other guys in the Big East, everybody's a little bit different. He's the best we've seen. It's going to be a tough battle from the beginning."
Oklahoma coach Jeff Capel expects Syracuse to defend Griffin the same way other teams have tried to stop him this season: with relentless pressure from double- and triple-teams.
Syracuse's vaunted 2-3 zone was very effective in the first two rounds of the NCAA tournament, holding No. 14 seed Stephen F. Austin and No. 6 seed Arizona State to 31 percent shooting combined.
Michigan tried to defend Oklahoma with a zone defense for much of the game, and Griffin scored 33 points and grabbed 17 rebounds.
"Their 2-3 zone is really good," Capel said. "You have to find different ways to attack it, and we've worked on some different things. We've seen some zone this year. So hopefully, we'll be good at attacking it tomorrow."
If Syracuse is effective in slowing down Griffin, Oklahoma's perimeter players will have to pick up the slack. Freshman Willie Warren scored 16 points in each of the first two NCAA games, but junior Tony Crocker has been mired in a monthlong shooting slump. Crocker, who is second on the team with 53 3-pointers, went 3-for-21 from beyond the 3-point arc in the past seven games.
"In the Michigan game, we had a lot of guys step up and play really well," Griffin said. "I feel like as a team, we have more guys than people kind of give us credit for."
The Sooners will need more than Griffin against the Orange.