Independence preps for season
August, 6, 2009
08/06/09
4:00
PM ET
Independence (Charlotte, N.C.), which used to win North Carolina state titles with regularity back in the days of Chris Leak and then Joe Cox, starts of the '09 season at No. 19 in the ESPN RISE Southeast Regional Rankings, and outside the FAB 50. Looking for the Patriots' first state title since 2006, head coach Tom Knotts speaks with The Charlotte Observer in this video about what kind of team he has this fall.
[+] Enlarge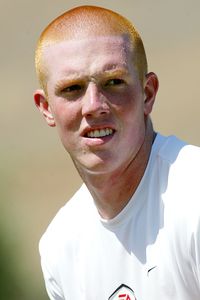 ESPN RISECurrent Georgia starter Joe Cox, seen here at the 2004 Elite 11, was part of Charlotte Independence's 109-game winning streak between 2000-2007.
Led by Florida-bound cornerback Victor Hampton and the experienced and prolific Anthony Carrothers under center, the Patriots begin the year as our No. 1 in North Carolina, but should get stiff regular season tests from both defending South Carolina state champion South Pointe (Southeast No. 18) and Charlotte-area rival Butler, led by star junior QB Christian Lemay.
• Eric Sondheimer of The L.A. Times has some good notes on L.A. City Section football, including the transfer of a notable quarterback to an already loaded Narbonne team and Crenshaw getting ready for an opener against West Region No. 13 Lakewood and USC-bound Elite 11 QB Jesse Scroggins.
• I never would have thought this, but a new study by The Journal of Athletic Training finds that high school football players experience greater acceleration forces to their heads when they collide with other players than college players do, possibly increasing the danger of injuries such as concussions. I think by general assumption most of us would assume that bigger, faster players at both the college and pro levels would lead to greater force, but that doesn't seem to be the case according to this report. Two key elements are poor tackling technique at the high school level (too many kids leading with the crown of their helmets) and also more developed neck strength at the collegiate level to stabilize the head.
• Never too early to start fanning the flames of a rivalry right? That seems to be the case in Maryland, where three students from Brunswick High School were arrested after burning part of rival Middletown's newly installed artificial turf surface, according to NBCWashington.com.
• Also from the crime and punishment file, former Las Vegas Coronado High head coach John Mannion Jr. has now been formally accused of theft, according to Fox 5 News in Las Vegas. The complaint said that between July 1, 2008, and March 31, 2009, Mannion, 50, took at least $2,500 or more belonging to the Coronado High School sports program in Henderson. Mannion appeared in Henderson Justice Court Monday and was freed without bail. He could face up to 10 years in prison.
• One of the better QBs we saw this spring on the Elite 11 tour was Highland Park's (Texas) Luke Woodley, a Louisville commit who passed for 3,700 yards and 41 touchdowns last fall as a junior in leading the Scots to an 11-2 mark. Unfortunately, according to The Dallas Morning-News, Woodley is in danger of missing at least the first game of this year after being charged with DWI this spring.
• Speaking of the Elite 11, be sure to check out Elite11.com, where the first of five webisodes documenting the selection process for the nation's top prep quarterback event debuted today along with the first of three arcade games.