Overheated locker rooms, pregame stunts are all part of the game
Updated:
August 9, 2007, 12:34 PM ET
ESPN.com
Coaches and players will do just about anything to get an edge on their opponents. But when does it cross the line? Is it gamesmanship or cheating? From manipulating home courts, practices and locker rooms to painful pregame intros to questionable maneuvers in the paint, ESPN.com's college basketball experts share their stories.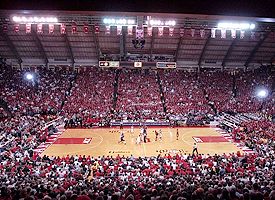 AP Photo/Nick WassMaryland's Cole Field House was a tough venue for visiting teams.
Heat Wave
Maryland's Cole Field House was a tough place for visiting teams in the 1980s. But the Terrapins' talent on the court wasn't the only reason opposing squads felt uncomfortable. "Maryland used to turn up the heat in the visitors' locker room, to the point that we would dress in the hall at times and pry open the back window," former Duke player and current ESPN college basketball analyst Jay Bilas said. For the record, the Blue Devils were 3-1 at Maryland during Bilas' career, with the only loss coming in his junior season.
More from the locker rooms:
• The Cincinnati visitors' locker room is quite a bit farther from the court than the home locker room. The visitors' locker room is downstairs, and the time it takes to get down there and back can shave off a few minutes during halftime. • The Clemson locker room also is a long way from the court. Visiting teams have to go up the tunnel, take an elevator to the concourse level and walk around several corners to get to the tiny room. • A Pac-10 player told Andy Katz that Oregon puts opposing teams down in the dungeon and turns up the heat to 90 degrees. The player said that before games even get started, the heat makes the athletes feel tired.
The Games Before The Game
When Bilas played for Duke from 1982 to 1986, he encountered a few pregame rituals, some of which were of the painful variety.
Cheat Sheet: Baseball And Golf
Here are some cheating anecdotes in college baseball and college golf from former student-athletes.
• "[Stanford] figured out Arizona State's signs in the seventh inning. They'd call out a player's name if it was an offspeed pitch, his number if it was a fastball. Down going into the ninth, Stanford hit two homers to tie it on fastballs they knew were coming, and then three more in the 11th to win."
--
Kyle Peterson, former Stanford pitcher, current ESPN and ESPN.com college baseball analyst
• "I have seen pitchers put pine tar on their uniform pants, having it blend in to the stripe going down the side. This was easy to hide for home games, but most college away-uniform pants don't have a stripe. For away games, the catcher would keep a little pine tar in his glove and brush it against the ball before he threw it back. Better than a rosin bag, this allowed the pitcher to get a very good grip on the ball for curveballs and sliders."
--
Former college baseball player who pitched in the Big Ten from 2000 to 2003
• "On the golf course, the person who scores lowest on the previous hole has the 'honor' of going first on the next tee. When it comes to par 3s, it's not always good to go first. You want to see what club your playing partners are hitting and see how the wind is affecting the ball to help you decide what club to hit. "There are certain players that would go out of their way to not go first on a par 3, even if it was their 'honor.' I know, because these players told me they did it to psych people out or to give themselves an advantage. "There was a golfer from Michigan State who would walk slowly from the previous green, stop to tie her shoes, write down the scores from the previous hole, etc., all while making her playing partners wait. The playing partners would get so frustrated from waiting that they'd either just go ahead or the player would just say, 'Oh, I'm not ready, you go ahead.' "Then she'd watch her playing partners hit and use the information to select the right club for her shot."
--
Women's golfer who played at Michigan from 1998 to 2002
"NC State used to use a different ball for warm-ups than for the game. It was nothing more than a minor annoyance, and I have no idea whether it was done intentionally or simply chance," Bilas said. "I did not consider it cheating, rather, just gamesmanship." Meanwhile, former NC State star Cozell McQueen tried to gain an advantage during the introductions. "Cozell McQueen used to take a wild swing at your forearm during pregame alternating intros," Bilas said. "You would have your hand out to shake, and instead of slapping five, he would slap the hell out of your forearm, and it left a big mark and stung like crazy. I hated that."
More pregame exploits:
• A couple of SEC teams also get into the pregame act, according to Katz. Mississippi State apparently saves money -- and annoys visiting teams -- by turning on only the dimmers in the gym the night before a game so the opposing teams practice in limited lighting. Bulldogs coach Rick Stansbury said he deals with this every day, but the issue has become enough of a problem for opposing SEC coaches that it came up at the coaches meeting this past spring. Coaches from Florida, LSU and South Carolina said they have had trouble seeing their notes. • An SEC coach claimed that Auburn, while under former coach Cliff Ellis, took the air out of the ball for a shootaround. The SEC coach confronted Ellis about it in jest, but he is convinced that a manager did it maliciously.
Game On
Bilas said former Georgia Tech standout John Salley and former Terrapin Cedric Lewis were notorious for their on-court distractions.
"[Salley] would grab your inside arm by the wrist when being boxed out. He would try to pull it behind your back, and while you were trying to free it, you were not concentrating on rebounding. Cedric Lewis was a shorts puller. He used to tug down on your shorts to distract you and win the position battle. "If someone can gain an advantage by holding, it is the officials' job to deal with it."
Share Your Views

The epidemic of cheating in sports isn't so much about the athletes, coaches, commissioners or even sportswriters who let it happen. It's about the fans. How much more can you take? You've read the stories and answered the polls, and now it's time to let your voice be heard. Join the ESPN Conversation and tell us what you think about the past, present and future of cheating in sports. Maybe you think we're overreacting. Maybe you think Barry Bonds should go to jail. Maybe you think professional sports needs to adopt a zero tolerance policy. We want to hear your thoughts, ideas and emotions. Selected comments will be included in a Friday story that will conclude Cheat Wave '07.
More in-game behavior:
• Colorado State used to put the team mascot, a live ram, behind the visitors' bench as a distraction. When the Rams hosted New Mexico a few years ago, the stench was a huge problem for the Lobos players and staff. • A school that played Kentucky Wesleyan was convinced the Panthers put the rims at 9 feet, 5 inches in the second half of a game a few years ago.
Practice Players
Timing is everything. A former Colonial Athletic Association coach told Katz that he manipulated the clock to gain an advantage for his team before day games. The coach said he messed with practice times the night before a game, especially the night before a day game. In one instance, Drexel was booted off the court by the women's team, and there was no time to conduct a shootaround under the shortened time frame before a day game.
More from the practices:
• At one time, East Tennessee State and Chattanooga didn't close the gyms during opposing teams' practices, so students would be running around on the court. • Connecticut officials said students used to come in and heckle Khalid El-Amin during practice in the old Fitzgerald Fieldhouse on Pitt's campus. • When Alabama played at Auburn during Ellis' tenure as the Tigers' coach, Tide coach Mark Gottfried noticed someone looking through the blinds from the coaches' offices during practice. So, Gottfried gathered the team at center court and told his guys to turn around and wave on the count of three. He said that when they did, the person behind the blinds suddenly shut them.
ESPN.com writers Jay Bilas and Andy Katz and men's college basketball editor Kim Baxter contributed to this story.
MOST SENT STORIES ON ESPN.COM