Commentary
For the 1951 point-shavers, a life lived in infamy
In 1951, a series of point-shaving and cheating scandals rocked college sports. Wright Thompson looks at the lives since then of some of the athletes who were caught.
Bill Spivey died in Costa Rica, mostly alone, a damaged man. He withdrew, never really getting over the scandal that took his future. He didn't like to come back to Kentucky those last years and didn't want to do so even in death. His ashes, he requested, should be scattered in two oceans, the Atlantic and the Pacific, far from the bluegrass fields of his youth.
Once, he'd been a 7-foot dominator for the Wildcats, a surefire NBA star. Then came the accusations of point-shaving at Kentucky. And though a perjury case for refusing to testify against his teammates was dismissed, the NBA banned Spivey -- along with Alex Groza and Ralph Beard, who were convicted of receiving money from gamblers to shave points -- for life. That was that. The heartbreak followed him around Kentucky, then down to Central America. "There was no question," says former UK athletic director C.M. Newton, Spivey's college roommate, "it was a burden Bill carried to his grave." In Bill's world, it was always 1951. A lot happened that year. Truman fired MacArthur. Dale Earnhardt was born. McCarthy went after the communists. But perhaps the biggest events conspired to change the way sports fans would view their games forever. In 1951, sports lost their innocence.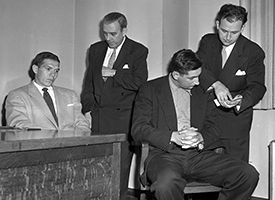 AP PhotoIn October, 1951, former Kentucky All-Americans Ralph Beard, left, and Alex Groza, seated at right, were questioned in Chicago about point-shaving by Det. James Canavan and Jack Doyle of the state's attorney's office.
In just 12 months, a significant part of the dominant West Point football team was dismissed from the academy in a cheating scandal. Army was the best team in the nation; imagine if USC suddenly expelled half the squad. That same year, college basketball saw seven schools and 32 players implicated in a widespread and debilitating point-shaving scandal. Suddenly, it seemed, the cheaters were everywhere. All these years later, no one is more affected by the scandals than the men involved. Both the guilty and the innocent were painted by the scandals of that year. They are old and gray now. Most don't like to talk about it. They have families; their families have families. Many of their lives offer a road map to modern cheaters, an example of how to handle a terrible situation with your head up. In declining to revisit the details for this story, former West Pointer Gil Reich, who later became an All-American at Kansas and an extremely successful businessman, said volumes. "A lot of our guys were less fortunate than me," he says. "I made a mistake, I admitted it, I paid the price and then I went on with my life. And in retrospect, when I add up all that's happened to me in my 75 years, maybe it's the best thing that happened to me because of my own values and my own background. Digging all that up again, I'm very hesitant to do." Other men from 1951's point-shaving scandals echo Reich. They took money to make sure gamblers won their bets on the spread. They have lived with their actions, and the repercussions, for so many years that they have a hard time bringing it all back up. Gene Melchiorre was the first pick in the 1951 NBA draft. An athlete with unlimited potential. Then it all ended with the admission that he, too, shaved points. He pleaded guilty. That was more than 50 years ago. Now, he has five children, 15 grandchildren and two great-grandchildren. "We have been so happy," he says. "We have to pinch ourselves everything is going so well." Or Sherman White, considered one of the greatest players in the history of New York City, the basketball grandfather of Michael Jordan. After being banned from basketball, he spent much of his time talking to kids, making sure they didn't make the same mistakes he made. "I gave them the story I had to give," he says. "I've tried to live a decent life. I talk to kids. I'm retired and I live a very quiet life, and I want to keep it that way."
Wright Thompson is a senior writer for ESPN.com and ESPN The Magazine. He can be reached at wrightespn@gmail.com.
Senior Writer, ESPN The Magazine
Wright Thompson (
@wrightthompson
) is a senior writer for ESPN.com and The Magazine. He has been featured in seven editions of
Best American Sports Writing
and lives in Oxford, Mississippi.
SPONSORED HEADLINES
ESPN TOP HEADLINES
MOST SENT STORIES ON ESPN.COM
CHEAT WAVE '07

Over the next two days, ESPN.com examines the recent wave of sports cheating and assesses the damage done to our trust in the games we watch. Cheat Wave
DAY 2
Perspectives
•
Drehs: Answer to cheating lies within
•
Future cheats: Stem cells and gene dopers
•
Helyar: When owners cheat owners
•
Fish: Jose Canseco's online pharmacy primer
•
Merrill: Playing unfair at the fair
•
Vote: Are the rules of golf golden?
DAY 1
Introduction
•
Drehs: Cheating raises serious questions for sports
•
Forde: We love 'em and can't leave 'em
•
Timeline: Hot Spots Through the Years
Your Voice
•
Vote: Are you a habitual cheater?
•
Vote: What does cheating mean to you?
Baseball
•
Crasnick: Call it cheating, or call it gamesmanship
•
Neyer: Baseball's top 10 cheaters of all time
•
Thompson: Shoeless Joe's redemption
•
SportsNation: What separates cheating from strategy?
•
How do you cork a bat?

•
Dale Murphy chat wrap
Football
•
Chadiha: Players look to gain an edge almost any way they can
•
Notorious image sticks with Raiders
•
Cheating anecdotes: College football
•
SportsNation: Cheating or gamesmanship?
Basketball
•
Thorpe: It's survival of the fittest in the NBA
•
Cheat Wave: Pushing the Envelope

•
Cheat Wave: Pushing the Envelope 2

•
David Thorpe chat wrap
•
Cheating anecdotes: College basketball
•
Thompson: Point-shavers, a half-century later
NASCAR
•
Newton: Cheating might be a dirty word, but so is losing
•
Blount: Cheating in NASCAR? You be the judge
•
Newton: Evernham forces NASCAR's hand
•
McGee: Bill France Sr. vs. the mob
Hockey
•
Burnside: The NHL's cheat sheet
•
Burnside: Competition committee is league's best line of defense
Page 2
•
Zumsteg: "Cheater's Guide to Baseball"
Tennis
•
Garber: Players police themselves in tennis
•
Inside the ATP Gambling Scandal

Golf
•
Harig: Golf's honor code limits 'cheating' incidents
•
Sobel: Ten famous rules invocations in golf history
Boxing
•
Thompson: Jake LaMotta's choice