He is simply...the greatest
Updated:
May 10, 2006, 2:00 PM ET
By
Larry Schwartz
| Special to ESPN.com
"If you had told somebody in 1968 that in 1996 Muhammad Ali would be the most beloved individual on earth, and the mere sight of him holding an Olympic torch would bring people to tears, you'd have won a lot of bets," says Bryant Gumbel on ESPN Classic's SportsCentury series.
He boasted he was "The Greatest," and in the prime of his charismatic career, many agreed. But as brilliant as Muhammad Ali was in the ring, perhaps his true greatness was outside it, when he fought the United States government. His refusal to accept induction into the armed forces on religious grounds cost him millions and his heavyweight title,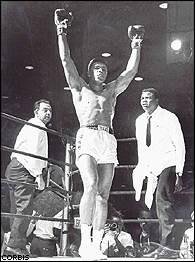 Vince Lombardi took a look at Ali's speed and power and thought one thing: "linebacker."
but, in the end, Ali came up victorious in the most significant battle of his life.
Sports is filled with showmen, and with great athletes, but perhaps never were they better combined than in the young man who began life as Cassius Clay and became a worldwide phenomenon as Muhammad Ali. The man who bragged about his ability to "float like a butterfly and sting like a bee" went from being a curious oddity in the early 1960s to a national villain to an international hero. And now he reigns as one of the most beloved men on the planet.
He was born on Jan. 18, 1942, in Louisville, Kentucky. Clay, who started fighting at the age of 12, won two national Golden Gloves middleweight championship and an AAU national light-heavyweight title. Soon after graduating Central High School as a D student, 376th in a class of 391, Clay showed he was an A student in the ring when he won the light-heavyweight gold medal at the 1960 Olympics in Rome.
In his early pro bouts, Clay showed unbelievable hand and foot speed for someone 6-foot-3 and about 190 pounds. As he developed, he displayed a stinging jab and an improving right. With his hands held low, he avoided punches to the head by bobbing out of the way.
The brash youngster was a terrific self-promoter, mugging for the camera and boasting that not only was he the greatest fighter, he also was the prettiest. He predicted in rhyme, with unerring accuracy, the round in which he would knock out his opponent ("They all fall/in the round I call"). In a period when interest in boxing had waned, Clay revitalized the sport.
While he had brought life to the sport, the boxing press was not convinced he was ready to dethrone heavyweight champ Sonny Liston. Before their Feb. 25, 1964 fight in Miami Beach, 43 of 46 writers predicted a Liston victory. A 7-1 underdog, Clay scored a stunning upset when Liston didn't come out for the seventh round, claiming a shoulder injury.
The next morning he confirmed he had joined the Nation of Islam. On March 6, the sect's leader, Elijah Muhammad, gave a radio address in which he declared the name Cassius Clay lacked a "divine meaning." He gave him the Muslim name "Muhammad Ali." Muhammad meant one worthy of praise and Ali was the name of a cousin of the prophet. The popular opinion was that the heavyweight champ shouldn't be preaching what was considered a "hate religion." Ali's popularity nose-dived.
Promoters shied away from his rematch with Liston, and it was held in front of only 2,434 fans at the Central Maine Youth Center in Lewiston on May 25, 1965. Liston never made it past the first round, Ali scoring a knockout with what some claim was a "phantom punch." Six months later, Ali unmercifully punished former champ Floyd Patterson before the fight was stopped in the 12th round.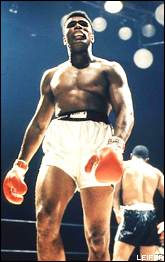 Celebrate Ali's 65th Birthday all day Wednesday on ESPN Classic.
Ali successfully defended his title seven more times through March 22, 1967. But his TKO of Zora Folley was his last fight in the ring for 3½ years. Now, Ali's opponent was Uncle Sam. When the military attempted to draft him, Ali said he was a conscientious objector. "I ain't got no quarrel with them Viet Cong," he had said in 1966.
Appearing for his scheduled induction on April 28, 1967 in Houston, he refused three times to step forward at the call of his name. An officer warned him he was committing a felony punishable by five years in prison and a fine of $10,000. Once more Ali refused to budge when his name was called.
That day, the New York State Athletic Commission suspended his boxing license and stripped him of his title. Other boxing commissions followed suit.
At the trial two months later, the jury, after only 21 minutes of deliberation, found Ali guilty. The judge imposed the maximum sentence. After a court of appeals upheld the conviction, the case went to the U.S. Supreme Court. During this time, the country turned against the war, and support grew for Ali.
Eight months before the Supreme Court ruled, Ali returned to the ring. There was no state commission in Georgia, and on Oct. 26, 1970, Ali scored a third-round TKO over Jerry Quarry in Atlanta. Six weeks later, he registered a 15th-round TKO over Oscar Bonavena in New York.
Two undefeated heavyweights stepped into the ring in Madison Square Garden on March 8, 1971 in what was billed as "The Fight of the Century." Joe Frazier and Ali each received then-record purses of $2.5 million. Remarkably, the fight lived up to the hype.
The two punched at a furious pace, with Frazier applying unrelenting pressure, and Ali answering with rapid combinations. A sweeping left hook by Frazier decked Ali in the 15th round. While Frazier left with a battered face, he also exited with the unanimous decision and his title.
Ali, though, took a bigger decision three months later when the Supreme Court ruled in his favor.
After winning 10 fights, Ali dropped a 12-round decision to Ken Norton, who broke his jaw in the second round. Ali reversed that decision later in 1973.
The second Ali-Frazier fight, on Jan. 28, 1974, didn't live up to the standards set by the first competition, but it still was an interesting encounter. Ali gained a unanimous decision, setting up a match with George Foreman, who had knocked out Frazier for the title.
"You think the world was shocked when Nixon resigned?" Ali said. "Wait till I whup George Foreman's behind."
The Rumble in the Jungle was fought in the pre-dawn hours of Oct. 30, 1974, in Kinshasa, Zaire. Ali, a 7-1 underdog, introduced the Rope-a-Dope, where he stood flatfooted against the ropes and covered up as Foreman flailed away. By the eighth round, the unbeaten champion was exhausted, and Ali knocked him out. He had become the second heavyweight (Patterson was the first) to regain the title.
Ali had become America's champion. The most vilified athlete of the sixties had become the most heroic of the seventies. A man denounced as anti-America in 1967 was invited to the White House in 1974.
Eleven months after whupping Foreman came the Thrilla in Manila, on Oct. 1, 1975. Ali took the early rounds before Frazier hammered away in the middle rounds. But Ali showed the heart of the champion in the late rounds. He staggered Frazier in the 13th and, with the challenger's eye swollen shut, pummeled him in the 14th. When the bell rang for Round 15, Eddie Futch, Frazier's trainer, threw in the towel.
An overconfident Ali lost his title on Feb. 15, 1978, when Leon Spikes, a 1976 Olympic gold medalist who had only seven fights as a pro, took a split decision. Ali regained the title from Spinks seven months later, winning a unanimous decision. He had become the first three-time heavyweight champion. It would be his last victory.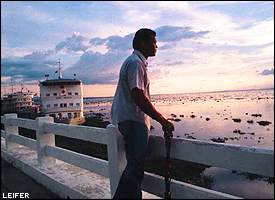 Ali was the first three-time heavyweight champion.
The following June, Ali announced his retirement. But money brought him back and Larry Holmes and Trevor Berbick beat him in his last two fights. Ali, with a 56-5 record, retired for good in 1981.
Unfortunately, all the punches he suffered had taken an effect. In 1984, he learned he had Parkinson's disease, a neurological syndrome characterized by tremors, rigidity of muscles and slowness of speech and movement. While the disease has left him a shadow of his former self, he still attempts to spread goodwill. Only now he does it with smiling eyes rather than his Louisville Lip.
At the 1996 Summer Olympics in Atlanta, Ali again stood alone in the spotlight. With the world watching, his hands trembling, he steadied them to light the flaming cauldron to signal the start of the Games. Tears were shed by many as the man whose beliefs had once divided a nation was now a unifying - and beloved - force.