Bowden knows how to coach
Updated:
January 10, 2007, 10:32 AM ET
By
Bob Carter
| Special to ESPN.com
"Talk about a guy who isn't what he does. Bobby Bowden isn't what he does. His self-esteem has nothing to do with being a good football coach. Which maybe is what makes him one of the greatest football coaches of all time," says Sports Illustrated writer Rick Reilly on ESPN Classic's SportsCentury series.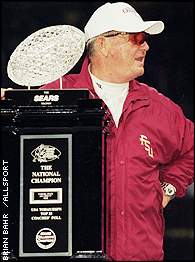 Bowden won his first national championship in the 1993 season.
A saint? They don't make football coaches that way, and Bobby Bowden knew it. The longtime Florida State coach never asked for the label, never wanted it when it came his way. Saint Bobby never quite fit, even for a deeply religious man, and fans seeking perfection wouldn't allow it. Bowden also was too earthly, too much the kindly neighbor next door, for sainthood. And too funny. People couldn't stop laughing at his folksy humor, no matter how old the jokes. Parents trusted him, so they turned their boys over to him. His coaches admired him, staying for years. Players respected his straightforward style. The media loved how he didn't shut up. Bowden's devotion to football tested his wife Ann and their six children, constantly pulling him from them, but they expressed few regrets. Three of four sons followed him into coaching. Beloved Bobby. He'd have a hard time erasing that tag, especially after all those recruiting trips, meetings, interviews, all the people he touched & and, yes, winning some games. In 2003, Bowden became major college football's all-time wins leader with 339, passing Joe Paterno. He hadn't planned on the record. "To be honest," he said, "it doesn't really feel like I should be there." Bowden got there, and after 2006 was still on top: 366-113-4 over 41 years, 293-81-4 at Florida State. He has a 20-9-1 bowl record, with his 20 victories being second only to Paterno's 22. The only Division I-A coach to post 14 consecutive 10-win seasons (1987-2000), Bowden turned a faltering program into a power that won national titles in 1993 and 1999, the second when he was 70. After a 5-6 record in his first year at FSU, he had 30 consecutive winning seasons. No saint could have done all that. There were pitfalls, too. Bowden built a reputation of running a clean program at FSU, then survived an NCAA investigation in the mid-1990s and much embarrassment over player transgressions. From the start, Bowden succeeded where others had failed, blending toughness with a soft hand, showing you could both win and care. And his offenses were as creative and tricky as any.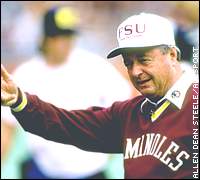 Bowden is the only Division I-A coach to post 14 straight 10-win seasons (1987-2000).
"He's always been ahead of most people when it comes to being innovative," Paterno said. "You'd think the guy would run out of ideas, but, geez, he doesn't." Robert Cleckler Bowden was born on Nov. 8, 1929, in Birmingham, Ala., and grew up in a family of strict Baptists. He was a spirited youngster who climbed fire towers and explored caves. He went to football games with his father Bob, a banker, and began playing at nine. After contracting rheumatic fever four years later, his doctor said he'd never play football again. He eventually went to another doctor, who cleared him to play. At 5-foot-5 and 115 pounds, Bowden was too small early on for the Woodlawn High School football team. But he gained weight and played his final two years as a halfback and defensive back, serving as a co-captain in 1948. He went on to Alabama, but never played there. Missing his girlfriend, Ann Estock, he lasted a semester. Bobby, then 19, and Ann, 16, eloped in April 1949, and he enrolled at tiny Howard College (later to become Samford University) in Birmingham that year. Bowden played halfback one season, then moved to quarterback, where he starred as a senior. He was an assistant coach at Howard in 1954 and 1955, before becoming the head man at South Georgia, a junior college where he won three state titles. In 1959, he became head coach at Howard, which had had six consecutive losing seasons. Howard went 31-6 with 13 shutouts in his four years. "He's recognized as an offensive innovator," said Ed O'Toole, a halfback at Howard in 1959, "but defense was first with him." After four seasons as an assistant coach at Florida State, Bowden became the offensive coordinator at West Virginia in 1966. Four years later, he was promoted to head coach. Bowden went 42-26 in six seasons, although he ran into trouble his fifth year (1974). A deep, experienced team sank to 4-7, and fans hung Bowden in effigy. The Mountaineers rebounded with a young team the next season, going 9-3 and winning the Peach Bowl, Bowden's first bowl victory.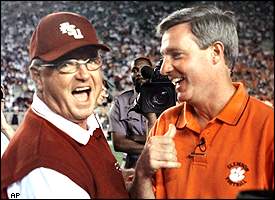 The competition between Bobby (left) and Tommy Bowden extends beyond the playing field.
In 1976, he returned to Tallahassee, and for the third time became a head coach at a school where he had been an assistant. He took over a team that been had been 4-29 over the three previous seasons. Bowden's priorities at Florida State: recruit better and change attitudes. "You're not ordinary, you're not average," he told his team. "You're something special." He expected neat hair, ties on trips, regular church attendance and on-time arrivals for meetings. The Seminoles had won two of 19 games against Florida, and Bowden's cry became "Beat the Gators." After losing to Florida in a 5-6 inaugural season, Bowden beat his rival four straight times. Before his second season, Bowden said, "Florida State is definitely out of the outhouse," and how right he was. A 10-2 record in 1977 included a 37-9 rout of Florida and a Tangerine Bowl win, the first of 28 straight winning seasons (through 2004). His seniors in 1979 represented his first recruiting class, and they generated an 11-1 season, the loss coming to No. 1 Oklahoma 24-7 in the Orange Bowl. "You just don't go to the Orange Bowl for the first time and act like an Orange Bowler," Bowden said. The Seminoles, though, quickly became a big-time act. They won at Nebraska the next year, which Bowden considered his biggest victory, and lost in the regular season only to rising rival Miami, 10-9. Close losses to the Hurricane would frustrate Bowden, costing FSU several shots at national titles. The 1981 "Octoberfest" -- five straight road games against Nebraska, Ohio State, Notre Dame, Pitt and LSU -- led to another Bowden nickname, "The Road Warrior." FSU won three of the five in a 6-5 season.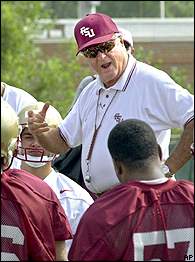 Through 2006, Bowden was the all-time winningest coach in Division I-A history with 366 career wins.
Florida and Miami began competing hard against Bowden on the recruiting front, and with its defense slipping, Florida State's record fell to 46-22-3 from 1981-86. It finished the decade with three straight top-four finishes, losing to Miami twice. FSU, with talented defensive back Deion Sanders, was ranked No. 1 in 1989, but lost to Miami 31-0. In 1991, FSU lost to Miami 17-16 when Gerry Thomas missed a 34-yard field goal. And the next year it lost again to Miami on, yes, another missed field goal. The Seminoles, directed by quarterback Charlie Ward, finally got it right in 1993, beating Miami 28-10 and earning the championship with an 18-16 win over Nebraska in the Orange Bowl. The title glow vanished quickly. A Sports Illustrated story in May 1994 reported that at least seven FSU players had gone on an agent-funded shopping spree during the 1993 season and some also had accepted cash. Bowden said he knew nothing of the incidents, and the NCAA eventually placed the school on one-year probation with no sanctions. The 1990s became a decade of dominance for the Seminoles, who went 109-13-1 and spent only five weeks out of the top 10. Bowden beat coaching pal Lou Holtz and Notre Dame in the 1996 Orange Bowl, and Clemson and coach Tommy Bowden in 1999 in major college football's first father-son matchup. Bowl losses to Florida (1996 season) and Tennessee (1998) deprived him of two more national titles, before winning it all again in the 1999 season when the Seminoles (12-0) beat Virginia Tech 46-29 in the Sugar Bowl. On Oct. 25, 2003, Bowden gained sole possession of No. 1 on the win chart, passing Paterno with a 48-24 home victory over Wake Forest. Full of energy in his 70s, Bowden continues to extend his legacy with an old-school flair that still has many thinking of him as a saint of the gridiron.