Will Brown Ever Settle Down?
Updated:
January 10, 2007, 4:35 PM ET
By
Bob Carter
| Special to ESPN.com
"Larry Brown's long wandering sojourn has never helped his reputation. And that overshadowed what he accomplished," says journalist Woody Paige on ESPN Classic's SportsCentury series.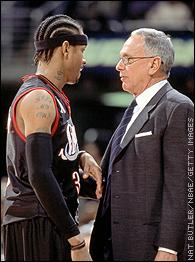 Despite his problems with Allen Iverson, Brown stayed in Philadelphia for six seasons.
A small man guiding giants. A perfectionist in a world of rapid-fire mistakes. A sensitive personality filtering through trash talk and exploding egos.
In theory, so little room for Larry Brown to make it on basketball's biggest stages. In reality, a mastermind who found his place among the game's elite coaches, who would excel at the college and pro levels.
"He loves teaching," said his older brother, Herb, himself a longtime coach. "He loves the practices. He loves creating something. This is his form of expression, his art."
Throughout his career, Brown also loved to job-hop (the New York Knicks, who fired him in 2006, were his 11th team). The continuous moving puzzled even his admirers. He'd develop and elevate a team, build camaraderie and good will, then poof! -- be off to another challenge. Two years in one place, three or four in another. Only with the Philadelphia 76ers, where he lasted six seasons, did Brown stay more than five years.
"He has this tremendous need to be loved, to be adored, to be wanted," said his high school coach, Bob Gersten. "As soon as there's a crack, that's what he hears."
The wanderer also proved to be a winner, highly pursued and skilled at both reviving lowly teams and taking more established programs to the top. He won an NCAA championship with Kansas in 1988 and an NBA title with the Pistons in 2004 -- the only coach to snare that prized double.
Through the 2006 season, he had generated winning records in 29 of 34 years as a head coach, often taking mediocre talent to overachieving heights. In 2006, he became the fourth NBA coach to win 1,000 games.
Brown's "right way" of playing became not only his trademark cliché, but a style revered by his peers. Wherever he landed, his teams shared the ball, took good shots and played aggressive defense, the way North Carolina's did when he was Dean Smith's 5-foot-9 point guard in the early 1960s.
And Brown had Smith-like vision. "He would watch a scrimmage," said Billy Puckett, a recruiter for Brown at UCLA in the early 1980s, "blow his whistle and tell all 10 players exactly what they had done on their last two trips up and down the court. It was as if he had a photograph of it."
The Hall of Fame coach is always quick to trace his success to the men he played for: Smith, Frank McGuire, Hank Iba, John McLendon and Alex Hannum, among others.
The only coach to lead seven NBA franchises to the playoffs, Brown moved into fourth place on the league's all-time victory list in 2004-05, a season in which he underwent hip and bladder surgery and missed 17 games. Detroit went 45-20 with him, which improved his regular-season record to 978-733.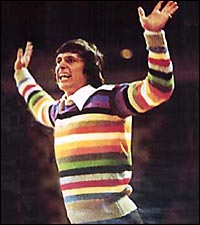 Brown was a colorful figure in the ABA.
The 2004 year was bittersweet, with Brown winning the league title but directing the U.S. Olympic team to a bronze medal, the first time since the inclusion of NBA players that the Americans failed to win gold.
Brown was born on Sept. 14, 1940 in Brooklyn. In April 1947, three months after the family relocated to Pittsburgh, his father, Milton, a traveling salesman, died of a heart attack at 43. His mother, Ann, moved to Long Beach, a Long Island suburb, and worked long hours in her father's bakery. That left Herb, 4½ years older, to look after Larry much of the time.
A three-sport athlete at Long Beach High School, Brown went on to North Carolina, where he played first under Frank McGuire, then Smith. He led the Tar Heels in scoring as a junior (16.2 average) and was all-Atlantic Coast Conference as a senior in 1963.
Brown became the point guard for the AAU Akron Goodyear Wingfoots and played for the U.S. Olympic squad, which won the gold medal in 1964. At 25, he returned to UNC, where he served as an assistant to Smith for two seasons (1965-67) before playing in the American Basketball Association for five. He appeared in three ABA All-Star Games, winning the game MVP award in 1968, and set a league record with 23 assists in a regular-season game in 1972.
Later that year, the 32-year-old became the head coach of the ABA's Carolina team and showed he had joined the right profession. The Cougars, 35-49 a year earlier, went 57-27 in his debut and gained the Eastern Division final.
His penchant for turning teams in the right direction brought suitors whenever wanderlust struck.
"He's a great bench coach," said Donnie Walsh, the Indiana Pacers executive who hired Brown in 1993. "He knows his Xs and Os, and he's a driven guy with a knack for pushing players beyond where they should be."
His NBA resume bursts with the evidence:

After seeing Denver through the transition from ABA to NBA, Brown went to New Jersey. The Nets hadn't won more than 37 games in the five seasons before he arrived, but Brown's teams went 44-38 and 47-29.
Next NBA stop, San Antonio, which had gone 94-152 in the three previous years. Brown went 21-61 in his first Spurs season, then rode newcomer David Robinson to 56-26 and 55-27 records. The 35-win upswing from 1989 to 1990 was the largest in NBA history.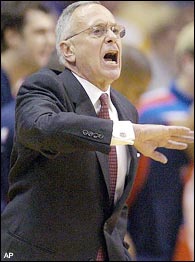 Name the level, name the situation and Brown has coached a winner.
More proof? Brown stepped down as Spurs coach in January 1992 and went to the Los Angeles Clippers, a franchise with 12 consecutive losing seasons. Brown replaced Mike Schuler in mid-season with the team below .500 (22-25) and won 23 of 35 games. By finishing 45-37, the Clippers reached the playoffs for the first time in 16 years, and again made the postseason the next season.

The Pacers and the 76ers embellished the story line, with both rising quickly under the coach who seemingly could fix anything. Part of the success could be attributed to Brown's tireless work before and between games and his perfectionism. "I can't stand it if I don't prepare my team and we lose," he said. "I worry like crazy that we didn't do the things in practice that were necessary to give us the best chance."

Brown was hard on his players, demanding constant effort and precision. He learned how to live with their mistakes as long as they were trying. And he adjusted to their egos.

One of his biggest tests was Philadelphia, where star guard Allen Iverson and Brown clashed intermittently. They'd argue, sulk, sometimes criticize each other in the media. The love-hate affair didn't stop the 76ers from climbing to the NBA Finals in 2001, when they lost to the Los Angeles Lakers and Brown was voted the league's Coach of the Year.

While Brown expected loyalty from his players, sometimes growing close to them, he frequently hurt them by departing. He took the Kansas job in 1983 before his Nets team had even started the playoffs. And he oddly left soon after great achievements.

In his first season at UCLA, he took the Bruins to the 1980 NCAA final (they lost to Louisville), only to be gone after just one more year. He led Danny Manning and Kansas to the championship in 1988, then returned to the pros (Spurs) that year after almost coming back to UCLA.

The quick departures riled his critics, but brother Herb defended him, arguing all his moves were "career-enhancing."

After years of rebuilding NBA teams, in 2003 Brown finally moved to an established winner in Detroit, which had won its division two straight years by utilizing strong defense. Brown found a higher level of defensive intensity and meshed a group filled with rejects. Spurred by shot-blocking center Ben Wallace and new Piston Rasheed Wallace (no relation), Detroit advanced to the Finals, where it jolted the Lakers in five games.

In 2005, the Pistons again reached the Finals, but this time they lost - in seven games to the Spurs. Then Brown underwent another bladder operation, his third surgery in nine months. While Brown said he wanted to return to Detroit, owner Bill Davidson - peeved about Brown looking into a front-office job with the Cavaliers - fired him in July, citing concerns about his availability to coach an entire season. Brown was unemployed for nine days.

The man who had referred to coaching the Knicks as his "dream job" got his wish. The kid who was born in Brooklyn and raised on Long Island had, at last, come home to New York. Although basketball's nomad said this would be his last coaching stop, he knew that he had sung that song before. "I think I've said that everywhere I've been," he said, chuckling.

The 2005-06 season turned out to be a nightmare, not a dream. The Knicks went 23-59 (tying the franchise record for losses), with Brown criticizing the makeup of the roster and bickering with star guard Stephon Marbury and other players. In June 2006, the 65-year-old coach was fired with four years and about $40 million remaining on his contract and replaced by Isiah Thomas, the Knicks' president and general manager. After the team refused to pay out Brown, saying the firing was for cause, the sides eventually compromised and he received $18.5 million.

In January 2007, Brown was re-hired by the 76ers as their executive vice president, less than a month after the team traded Iverson, the player with whom Brown had often clashed, to Denver.