Craig was miracle worker in goal
Updated:
July 5, 2005, 4:13 PM ET
By
Bob Phillips
| Special to ESPN.com
"I, as any excited American caught up in the emotion of the moment, jumped over the glass with the flag and brought it to him and draped it around him," says Peter Cappucilli, the fan who put the flag on Jim Craig's shoulder after the U.S. hockey team won Olympic gold in 1980.
Jim Craig, who was the winning goaltender for the U.S. hockey team in the 1980 gold medal "Miracle on Ice" victory, will be profiled on Friday, March 18, at 7 p.m. ET.
His shining moment couldn't have come at a more opportune time. Jim Craig, the gutsy goaltender for the 1980 U.S. Olympic hockey team, not only led his squad to one of the most improbable gold medals in Olympic history, but in the process helped restore a sense of pride to a country that had precious little to cheer about.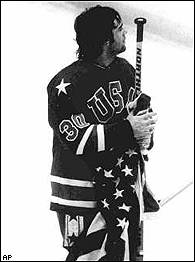 Jim Craig holds the American flag after the U.S. team defeated Finland 4-2 to win the gold medal in 1980.
The United States was trying to shake off the last vestiges of post-Vietnam and post-Watergate aftershock. The Cold War was in full bloom. The Soviet Union had invaded Afghanistan -- an action that carries profound implications to this day. The Arab oil embargo and double-digit inflation had left Americans feeling vulnerable to outside forces for the first time in a generation. And, as if to emphasize the nation's woeful self-image with an exclamation point, American civilians were being held hostage at the U.S. Embassy in Teheran by Moslem militants.
And so it was that in February of 1980, a group of young, talented, American collegiate hockey players took the world stage in the tiny upstate New York hamlet of Lake Placid to compete for much more than Olympic gold.
Coached by the fiery Herb Brooks, the head coach at the University of Minnesota, the U.S. team built an impressive 42-15-3 pre-Olympic record vs. world-class competition. Even so, it entered the Olympics seeded seventh in the eight-team field and faced the toughest draw.
A come-from-behind victory over Sweden and a stunning 7-3 win over Czechoslovakia, the second-best team in the world, earned the U.S. a trip to the medal round. Subsequent victories over Norway, Romania and West Germany set the stage for what would become the most monumental upset in hockey history.
No one in their right mind expected this group of American kids to compete with the powerful Soviet Union -- perhaps the greatest collection of hockey talent and execution in history. Three days before the start of the Olympics, these same Soviets had hammered these same Americans 10-3 in an Olympic tune-up at Madison Square Garden. "But it wasn't that close," said ABC's Al Michaels, who burst into the national spotlight broadcasting the 1980 Olympic hockey tournament. "It might as well have been 20-0."
But somehow, led by the emotional Craig, the U.S. squad entered the third period trailing the mighty Soviets by just one goal, 3-2. "My goal in every game was to keep my team in a position to win," explained Craig. When the Americans first tied the score, then took a 4-3 lead on a goal by U.S. captain Mike Eruzione, the entire nation sensed a date with destiny.
Still, 10 minutes remained. "They could score in 10 minutes what it would take us 60 minutes to score," said Craig. "And I knew that." Undaunted, Craig shut down the Big Red Machine the rest of the way. When the final horn sounded, all Americans, many of whom couldn't tell the difference between a blue line and a clothes line, once again had reason to believe.
After the American's captured the gold medal with a come-from-behind 4-2 victory over Finland, Craig skated around the rink draped in the Stars & Stripes. He scanned the crowd mouthing the words, "Where's my father?" When the two made eye contact, it created the prototypical Kodak moment.
Jim Craig was born on May 31, 1957 in North Easton, Mass., a blue-collar town located between Boston and Brockton. The sixth of eight children (three brothers, four sisters), he began skating at the age of seven and immediately took to playing goaltender. "I started to play goal because I didn't know the rules," says Craig. "I figured, you know, it's not too hard. You're just supposed to keep that puck out of the net."
As a child, he practiced relentlessly in the family driveway. "I painted one side of the house every year, where his brothers and all the other kids in the neighborhood would take shots at him," said his father, Donald Craig Sr., who passed away in 1988. "If I had a dollar for every broken window and lost puck, I'd be driving a Lincoln."
Craig's mother, Margaret, was the driving force in his life. Margaret Craig wasn't just a hockey mother. "His mother was a hockey nut," said Donald Craig. "She was the one who sharpened the skates; things like that." Margaret Craig succumbed to cancer in 1977, an event that brought Jim and his dad closer than most fathers and sons.
"When his mother died, Jim kind of took charge," said his father. Throughout his Olympic experience, Jim would take every opportunity he had to return home and check up on the academic progress of his two younger brothers. "He wouldn't let 'em pull anything," said Donald Craig.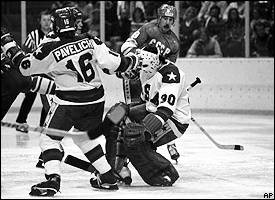 Jim Craig led the U.S. ice hockey team to a 4-3 win over the heavily favored USSR team in 1980.
After starring at Oliver Ames high school, Jim became a veritable hometown hero by leading nearby Boston University to the NCAA Division I hockey championship in 1977. Next came Olympic glory. But immediately after his Olympic success, Craig's career took a turn south -- figuratively and literally.
Six nights after winning the gold medal, Craig found himself in net for the then-Atlanta Flames against the Colorado Rockies. That night, Craig stopped 24 of the 25 shots he faced, leading the Flames to a 4-1 victory before a rare sellout crowd in Atlanta. It would prove to be the highlight of his star-crossed NHL career.
Craig saw action in only four games that season, suffering from an ulcer and nervous exhaustion. He was traded to the Boston Bruins for the 1980-81 season. Boston wanted to send him to the minors to work on his technique -- Craig had trouble handling the puck away from the net -- but he resisted the demotion. The Bruins made an exception, but made him the No. 3 goaltender in a league where two goalies are the norm. Jim Craig was finding that his status as an American hero didn't mean a thing in the National Hockey League, which was heavily dominated by Canadian players.
The following summer, he broke his right index finger while training with Team USA for the Canada Cup. When he reported to Boston, the Bruins promptly sent him to their Erie, Penn. AHL affiliate for more seasoning. He soon returned to Boston when a lump was discovered on his shoulder. The lump turned out to be benign, but while recovering from surgery Craig fell off a ladder while working at his home breaking a bone in his ankle. He finally reported to Erie late in the 1981-82 season, but was quickly sidelined with back spasms after an on-ice collision. With the season nearly over, he was sent home to recuperate.
With his NHL career seemingly suck in neutral, the Bruins advised Craig to contact other teams regarding a possible deal, but Craig found no interest. His professional career ended with a brief stint with the Minnesota North Stars in the 1983-84 season.
Off the ice, Craig's fortunes were just as bleak. In May of 1982, Craig was involved in an auto accident on a rain-slicked highway in Massassoit, Mass., just west of Cape Cod. A passenger in the other vehicle was killed, and Craig was charged with vehicular manslaughter. Soon thereafter he was charged with disorderly conduct for an incident that had occurred three weeks earlier on one of the islands off Cape Cod. Even though he was eventually exonerated of all charges, Craig's moment in the sun had proved to be short-lived. Still, nothing can diminish the magnitude of Craig's accomplishments in the 1980 Winter Olympics.
"We were just a bunch of talented, dedicated, wonderful guys who believed in one goal, and stuck all of their own personal ambitions away to achieve it," said Craig. "If that's a miracle, I believe in that."