Ace Deals Well Under Fire
Updated:
September 14, 2006, 1:58 PM ET
By
Bob Carter
| Special to ESPN.com
"In October, it's about being better than you've ever been. Every pitch, every inning, every out. And that just requires an incredible focus. Not a lot of guys can do it, and I've always believed I could," says Curt Schilling on ESPN Classic's SportsCentury series.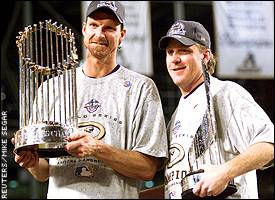 Schilling was dominant during the 2001 postseason -- and teammate Randy Johnson wasn't too shabby, either.
Long before a blood-soaked sock appeared on television screens, before "The Curse" was crushed, before New England fans embraced a new hero, Curt Schilling had established a reputation as a big-game pitcher.
What Schilling, on a severely injured right ankle, accomplished in helping Boston win the 2004 World Series took more grit than his previous achievements, and it will be remembered far longer. The righthander, though, had pitched superbly in three other postseasons. After the Red Sox won their first Series in 86 years and Schilling had his second championship ring, his postseason line read: 8-2 in 15 starts, 2.06 ERA and 104 strikeouts in 109 1/3 innings.
"I'm not afraid to be out there when everybody's watching," said Schilling, the only pitcher to win Series games for three teams. "That's when you find out about people."
Figuring out Schilling has been a longtime test for those trying to sort through his complexity. What to make of a man both giving and egocentric, who sacrifices time and money in charity work, yet has been described as a self-promoter, an attention-grabber? A man who brought people to tears with a speech at 9/11's Ground Zero, and who finds the need to call sports-talks shows to defend himself?
While Schilling, who had a 184-123 record and 3.32 ERA through 2004, looks as comfortable with a microphone as he does a resin bag, his outspoken manner can wear on people. He ripped his bosses in Philadelphia, questioning their commitment to winning in the years after the team's 1993 league championship season, attacks that eventually led to his trade to Arizona in 2000. Phillies general manager Ed Wade called Schilling's comments "clearly self-serving."
GMs and managers, for the most part, looked beyond the talk to his talent. In his early 20s with Baltimore, Schilling appeared as a brash loudmouth who wore an earring and blue-streaked hair. His style irked old-guard manager Frank Robinson, but when the club looked to trade youngsters, Robinson said: anyone but Schilling.
Robinson saw a future for the hard-throwing Schilling, and what a future it was.
After four seasons, mostly as a reliever, and three trades, Schilling became a dependable starter with the Phillies in 1992, then starred with Arizona and Boston, winning more than 20 games three times in four years.
A six-time All-Star and three-time Cy Young Award runner-up, he led the National League in complete games four times, in starts three times and in strikeouts twice. He was voted the co-MVP of the 2001 World Series (with Arizona teammate Randy Johnson).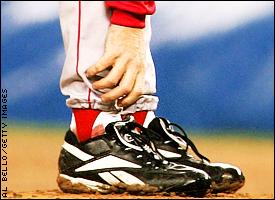 Getty ImagesSchilling's bloody sock in the 2004 playoffs made him a legend in Boston.
Curtis Montague Schilling was born on Nov. 14, 1966 in Anchorage, Alaska, the middle child of Cliff and Mary Schilling. His father was a career Army man, and the family moved frequently before settling in the Phoenix area.
Schilling was close to his father, who loved baseball and predicted -- when Curt was 13 -- that his son would make it to the major leagues. The strong-armed youngster played a lot of third base and didn't pitch much until he made the varsity as a senior at Shadow Mountain High School. He went on to Yavapai Junior College in Prescott, Ariz., where he helped his team reach the 1986 JUCO World Series after being a second-round pick by the Red Sox in that January's draft.
Schilling pitched erratically in the minors. In his second season, he led the South Atlantic League in strikeouts (189) in 1987, but went 8-15 with Single-A Greensboro.
He suffered a much greater loss in January 1988 when his father, whose heart problems had forced his retirement from the military after 22 years, had an aortic aneurysm that ruptured, causing a massive heart attack. He was 55. Curt was at his side when he died.
"My father was the glue that held us together. When he died, I kind of lost my family," said Schilling, who is estranged from his mother and older sister.
Schilling made it to the majors eight months later at 21 after being traded to Baltimore. He was 0-3 in four September starts for the Orioles. After spending most of the next 1½ seasons starting for Triple-A Rochester, he was brought up by Baltimore again and toiled in the bullpen for the second half of 1990.
With the Astros in 1991, he pitched inconsistently as their closer and was in the minors by mid-season before being recalled. Houston gave up on him, trading him to Philadelphia in April 1992.
"It's weird," Schilling said. "People keep telling me that I've got a great arm, one of the top five percent in the game. And I keep getting traded."
Schilling thrived in Philly, where he joined a gregarious group of long-haired misfits who went from losers (70-92) in 1992 to NL champions the next year. "You can't get on this club without a letter from a psychiatrist," Schilling joked.
In 1993 he went 16-7 with a 4.02 ERA before revving up in his first postseason, where his 1.69 ERA against Atlanta helped him win the NLCS MVP despite two no-decisions. He kept Philadelphia alive in the World Series by pitching a five-hit shutout against eventual champion Toronto in Game 5.
The Phillies faded during the decade, enduring losing seasons every year after 1993, while Schilling grew into an All-Star. Despite having two seasons slowed by injuries (elbow, shoulder), he went 101-78 during his 8½ years with the team.
He and wife Shonda also grew into big supporters of the Phillies' top charity, ALS, with Schilling donating money for every strikeout and win. Through the years, he has donated and helped raise more than $5 million.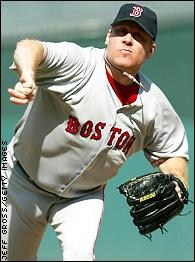 Getty ImagesSchilling is a six-time All-Star and three-time Cy Young Award runner-up.
Pitching in Philadelphia, however, gave Schilling little chance to return to the playoffs. Too often, his spectacular efforts were wasted. Eventually, his rants at management landed him with the Diamondbacks, who traded for Schilling in July 2000. He joined Johnson, and together the power pitchers pushed the expansion franchise to the top.
Before the mission started, Shonda was diagnosed with melanoma, a serious form of skin cancer. She needed several surgeries in 2001, but Schilling didn't lose his focus on the field.
He won 22 games that year, Johnson 21. They finished 1-2 in the NL in ERA, Johnson at 2.49 and Schilling at 2.98. And they became the solution for a team that went 43-56 in games in which they didn't pitch. Arizona won the NL West, then beat St. Louis and Atlanta for the pennant before unseating the Yankees as world champions. Schilling pitched superbly that October, going 4-0 with a 1.12 ERA in six postseason starts.
He pitched similarly well the next year (23-7), but as the team slipped, word slipped out that he wouldn't mind being traded. In November 2003, after going 8-9 in an injury-plagued season, Schilling was traded to Boston for four players. The pitcher had his goal actually written into his contract: If the Red Sox won the World Series, he'd get an extra $2 million in 2005 and the option year on his contract would automatically kick in.
They, of course, cheerfully lost that salary gamble in their history-making ride.
The 6-foot-5, 235-pound Schilling had his third 20-win season in 2004, going 21-6 as the team earned the AL wild card. Then, just as the Red Sox appeared ready to sink again, Schilling helped them become the first team to overcome a 3-0 deficit in baseball's postseason. Making it even sweeter was that they accomplished the feat against the Yankees in the ALCS. Then they ended decades of sadness with a sweep of St. Louis in the World Series.
Schilling won Game 6 against the Yankees and Game 2 against the Cardinals on a bloody ankle that had a displaced tendon hanging together by sutures and would need surgery after the season.
"What he did," said Boston pitching coach Dave Wallace, "puts him with Gibson, Koufax and those guys."