Mr. Mean Becomes Mr. Clean
Updated:
October 13, 2006, 8:54 AM ET
By
Kris Schwartz
| Special to ESPN.com
"I hit him [Muhammad Ali] hard in the side. I mean, I got a good shot. And he said, 'Is that all you got, George?' And I remember thinking, 'Yup, that's about it,' " says George Foreman on ESPN Classic SportsCentury's series.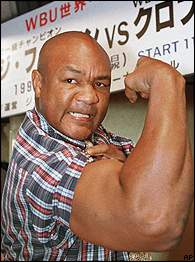 Foreman finished his career 76-5 with 68 knockouts.
At 45, still possessing those wrecking-ball fists, George Foreman knocked out Michael Moorer to become the oldest heavyweight champion ever. He also may have been the most adored -- because of his metamorphosis from menacing bully to everybody's favorite uncle, jovial pitchman and arresting minister. Mr. Mean had become Mr. Clean. In the 1990s, Foreman found a new audience in a new generation, and rekindled his following with those who had forgotten the one-time champ. With his infectious smile and self-deprecating witticisms about his age and weight, his appeal was as wide as his oak tree back. He proclaimed himself spokesman for the seniors and urged them to get up and move.
It was a far cry from his first go-around in the late 1960s and 1970s. Then, Foreman was a devastating puncher who ended most fights before the fourth round. He earned the heavyweight title by smokin' the champ, knocking Joe Frazier to the canvas six times in two rounds in 1973.
Once a sparring partner of heavyweight champ Sonny Liston, Foreman adopted Liston's baleful glower and jailhouse surliness. Few dared venture near Mr. Mean.
Born on Jan. 10, 1949, George Edward Foreman -- the fifth of seven children -- grew up in Houston's Fifth Ward, one of the nation's toughest neighborhoods, and he was one of the roughest of the youths roaming the blocks. His childhood was a volatile mix of poverty and violence.
Foreman didn't meet his birth father until years later. He was raised by his mother Nancy, a cook. Her husband J.D., a railroad construction worker, was hardly ever there. George was an indifferent student and, at 14, dropped out of E.O. Smith Junior High School, preferring cheap wine to books. He turned to a life of crime, partnering with close friends to form a pack of street wolves and muggers. Eventually, he found a way out.
Foreman was inspired by a television commercial in which popular athletes Jim Brown and Johnny Unitas endorsed the Job Corps, a work-program created to aid troubled youngsters. At 16, he joined, and traveled to Oregon and California, learning such trades as carpentry and forestry. But he continued to get into fights. When he finally put his fists into boxing gloves, the fit seemed perfect. He had found his calling.
At the 1968 Olympics in Mexico City, Foreman -- at 19 -- won the heavyweight gold medal. Clutching a tiny American flag in one fist, he waved it. That simple gesture stood out in sharp contrast to the victory stand Black Power salutes by American sprinters Tommie Smith and John Carlos a week earlier. Some found Foreman's action admirably patriotic, others viewed it as opportunistic and premeditated.
After turning pro, Foreman mercilessly tore through his opponents. George Chuvalo described Foreman's punch as "a Cadillac hitting you at 50 miles per hour." When Ken Norton was battered to the canvas by a crashing Foreman blow, boxing writer Bob Waters feared that Norton would never wake up.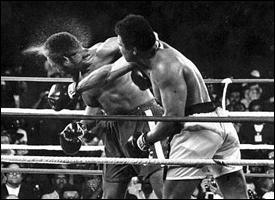 In Zaire Ali bided his time, then came off the ropes to stun Foreman.
Although 37-0, the 6-foot-3, 217½-pound Foreman was a 3-1 underdog when he clobbered Frazier to become heavyweight champion on Jan. 22, 1973, in Kingston, Jamaica. After quickly dispatching Jose Roman and Norton in title defenses, Foreman fought Muhammad Ali in the pre-dawn hours of Oct. 30, 1974 in Kinshasa, Zaire -- the fabled Rumble in the Jungle.
While Ali gained support from the natives with his outgoing personality, Foreman showed up with a German Shepherd at the airport, and terrified the citizens, for whom the dog was a symbol of the police.
A 7-1 favorite, Foreman anticipated knocking Ali out in two or three rounds. But "The Greatest" improvised his Rope-A-Dope, leaning against the ropes while Foreman punched himself out. In the eighth round, Ali knocked out the champ.
Foreman left Zaire confused. The defeat shattered his self-image. He sought comfort in the arms of assorted women while traveling the globe and spending money on cars, a lion and a tiger. "He spent $400,000 in three months," said his brother, Roy. "He was afraid people wouldn't love him anymore."
Worse, the seething rage of his youth re-emerged. He felt betrayed and abandoned. "Now that I'm not the champ, people I thought were my friends passed me by," Foreman said. "Before I was champ, I didn't have any hate. Now there's a lot of hate in me. I don't forgive easily. I'm short with people, and I'm wary, so wary."
Foreman was shocked again soon after losing to Ali. He found out that the only father he had known was not his biological father, and that his true father, Leroy Moorehead, was alive. While they didn't become close, Foreman would be the minister at his funeral several years later.
The former champ fought his way back into contention, beating fighters such as Ron Lyle, as well as Frazier a second time. Hoping to gain a rematch with Ali, Foreman faced Jimmy Young on March 17, 1977 in San Juan, Puerto Rico, but lost a unanimous 12-round decision.
After the fight, Foreman appeared dehydrated in his locker room. Soon, he was out of control, throwing people around, yelling and hallucinating. Foreman says a voice in his head told him, "You might as well die." He couldn't stop thinking of death, envisioning himself in a casket. He felt blood streaming down his forehead, as though a crown of thorns pierced him. He shouted passages from the Bible. He screamed, "Jesus Christ is coming alive in me!" Running into the shower, he yelled, "Hallelujah! I'm clean! Hallelujah! I've been born again!" While the doctor called it heat prostration, Foreman called it a miracle.
His life took an abrupt turn into retirement, and he vowed all his fighting would be for God. He started preaching on street corners. "He would stop his car in the middle of the street when he saw someone he knew, pull out the bible, and start preaching," his brother Roy said.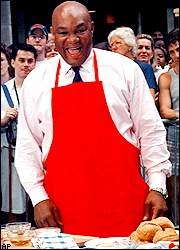 Foreman is retired from the ring, but he's very active on the grill-selling front.
After becoming a preacher at a Houston church and starting a youth center, Foreman made the ring his pulpit. Then 10 years after his last fight, he returned to boxing, saying his comeback was prompted by a desire to raise money for his youth center. He was 38. He walked through token opposition, the punching power still there, but it was his charisma that returned him to the limelight.
Realizing that he alienated the media the first time around, he remade his image, turning his double-wide body into a commercial machine. He was suddenly marketable to television advertisers such as Meineke, KFC, Oscar Meyer, Texaco and Doritos. He even starred in his own ABC sitcom, George.
Foreman could still throw his fists, and they led him back to championship contention. In 1991, he lost a close 12-round decision to Evander Holyfield. Then, on Nov. 5, 1994, after a 17-month layoff following a decision loss to Tommy Morrison, Foreman faced Moorer.
After being out-boxed most of the fight, Foreman, who weighed 250 pounds, flattened Moorer with a right hand in the 10th round. With that knockout, he became the WBA and IBF champ.
But within a year, he was without a title. The WBA stripped him for not fighting No. 1 contender Tony Tucker, and he relinquished his IBF crown rather than give Axel Schulz, whom he beat on a decision in April 1995, a rematch. His boxing career ended with a controversial decision loss to Shannon Briggs in November 1997, leaving his record at 76-5.
He continued doing commentary for HBO boxing matches before stopping in 2004. He pitched products on television, especially his popular line of Lean Mean Low-Fat Grilling Machines. In December 1999, a manufacturer signed him to a $137.5-million lifetime contract to use his name and image to sell the grills.
George Foreman found life as Mr. Clean more rewarding than being Mr. Mean.