Risky Business
Updated:
June 23, 2006, 7:59 PM ET
By
Bob Carter
| Special to ESPN.com
"He's like a matador in FootJoys. He's a guy that it's not enough to have one bull coming at him, he wants two and three bulls. And yet, the whole time as he's doing this, he looks and talks like Wally Cleaver," says Sports Illustrated writer Rick Reilly on ESPN Classic's SportsCentury series.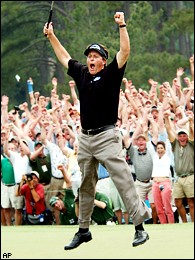 APMickelson jumps for joy after winning the 2004 Masters -- his first major.
It's a wonder Phil Mickelson had any grin left. Few modern athletes have had their form and failures dissected quite like the popular golfer who in the early 1990s was one of the PGA Tour's most anticipated arrivals.
The can't-miss kid from California could charm fans with his friendly chit-chat and booming smile, seduce the media with his intellect and accommodating manner, impress fellow pros with his aggressive shot-making.
Mickelson also could win: three NCAA titles, a U.S. Amateur, and then more than a dozen tournaments on tour. But as the century ended, Can't Miss was slipping slowly into Can't Do.
It didn't matter how high he reached in the rankings or money lists, or how many tour events he won. The bar, set by Tiger Woods and Jack Nicklaus and the legends before them, bore one bold-faced inscription: To stand among the best, you must win majors.
For the longest time, Mickelson couldn't. And lots of folks, from swing coaches to television analysts, provided theories as to why. Mickelson, smile intact, never showed signs of a majors malaise, but the criticism puzzled him. "It's never about what I have done," he said in 2003. "It's always about what I have not done."
In his first 12 years on tour, from 1992 through 2003, the lefthander won 21 events and almost $24 million. He finished 2001 and 2002 ranked second in the world, chasing Woods, and was still No. 15 after a winless 2003. But he had no major titles in 46 attempts, 42 as a pro, despite often being in the chase.
Mickelson became known as the ultimate risk-reward player, someone who could shoot birdies with the best but who made unimaginable bogeys. While he pointed to execution errors, others blamed his failures in majors on course-management lapses. He was overly aggressive and undisciplined, they said, and some even thought his affinity for gambling extended to his play in tournaments. Mickelson reportedly won big as a part of group bets involving several people on long-shot titles by the Baltimore Ravens ($560,000 by the group) and Arizona Diamondbacks ($760,000), though he said his betting frequency was exaggerated by the media.
He insisted he couldn't dumb-down his game. "Playing conservative stinks, so I won't ever change," he said in 2002.
He did change, though. He worked with a psychologist and a personal trainer, and off the tee started using more irons and 3-woods.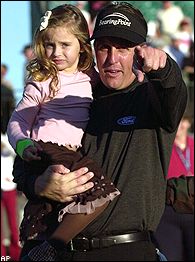 Mickelson supports his family with earnings of more than $30 million on the tour.
In 2003, Sports Illustrated had six expert coaches analyze Mickelson's form, and their highly technical critiques left one wondering how Lefty could ever break par, no less the majors jinx. How had he survived with such a long swing, a late wrist cock and a right knee that jerked out at the top of his takeaway?
"What none of these teachers seem to understand is that Phil is an artist," said his coach, Rick Smith. "If you get too mechanical with him, it's like taking away the paint brush."
A year later, the artist's canvas filled with stunning color at the 2004 Masters, where Mickelson, controlling his play better, overtook Ernie Els with a spectacular back-nine 31. His final, vibrant brush stroke: a winning 18-foot birdie putt on the 72nd hole that produced a picture for the golfing ages, a joyous Mickelson leaping like a kid, a smitten gallery roaring as a backdrop.
When Mickelson slipped on his prize, a plain Green Jacket minus the tag of "Best Player Never to Win a Major," he said he didn't feel relief, only a little disbelief. "It was just so much fun."
Two years later, the fun-lover had three majors in hand, adding back-to-back titles: the 2005 PGA Championship and a second Masters, in 2006.
Mickelson was born on June 16, 1970 in San Diego and grew up in an athletic family. His father, Phil Sr., was a commercial pilot and an avid golfer. His mother, Mary, loved basketball, playing on an over-50 team. His sister, Tina, and brother, Tim, each went on to careers involving golf.
A natural righthander, Mickelson developed a lefty style when he imitated his father's swing as he stood facing him. At seven, he finished second in a 10-and-under tournament and went on to win 32 San Diego County junior titles. At Arizona State, he won NCAA championships in 1989, 1990 and 1992, and at 20 won the U.S. Amateur in 1990 at Cherry Hills in Denver.
Fans enjoyed Mickelson, who signed autographs and unfailingly acknowledged applause with a nod and smile, a routine that some skeptics later suggested looked rehearsed. His playing style was aggressive; some called it reckless and fun to watch.
"You never know if he's going to hit a really good shot," said Rich Beem, winner of the 2002 PGA Championship, "or hit it all over the parking lot."
A powerful swing and exceptional short game made Mickelson an easy fit for the tour. From 1988-91, he played 13 tour events as an amateur, making the cut nine times (4-for-4 in majors) and winning the 1991 Northern Telecom Open.
He bagged four tour titles over his first four pro seasons, then won four events in 1996, surpassing $1 million in season earnings for the first time. "What Phil has got," said Curtis Strange, a two-time U.S. Open winner, "is a sixth sense, a touch, an instinct, a feel, a way to win."
Throw in some confidence, too. "I want to be in the most pressure-packed situations," said Mickelson, who went 3-0 in his first Ryder Cup in 1995 but has been ordinary in match play overall.
While Mickelson won regularly on tour -- 10 wins by age 26 -- he rode an inconsistent path in majors, missing cuts three times through 1995 yet finishing in the top 10 four times. The 1996 season best illustrated the pattern: third at the Masters, 94th at the U.S. Open, 40th at the British Open and eighth at the PGA Championship.
By 2000, he began to compete better in majors, and before his breakthrough in the Masters he had 17 top-10 finishes. The most memorable close call, perhaps, was the 1999 U.S. Open at Pinehurst, N.C., when he dueled Payne Stewart on Father's Day while his wife Amy, back home in Arizona, was about to give birth to their first child.
AP Photo/Chris O'MearaMickelson won the Masters in 2006 -- his third straight year of winning a major.
He carried a beeper and had a plane ready to leave at a moment's notice, and played well. He missed birdie attempts on the last two holes and lost to Stewart by a shot, then flew home in time to see his daughter, Amanda, born.
"I took a chance of missing the birth of my first child coming all the way across the country to play," Mickelson said. "I didn't come for a top-5 or top-10 finish. I came to win."
Closing the deal in majors, though, remained difficult for Mickelson, who was runner-up in the 2001 PGA and 2002 U.S. Open and finished third in three straight Masters (2001-03).
"Phil is a very good player," Nicklaus said, "but great players win championships."
Arnold Palmer said he admired Mickelson's aggressive approach, one similar to his own, but thought more judgment needed to go into shot selection.
After a dropoff in 2003, the golf world wondered if Mickelson would ever win a major. He struggled that year after Amy had a frighteningly difficult labor with their third child, Evan. Mickelson took a month off and fell to 38th on the tour money list, his lowest placing since his rookie season (90th).
The stumbles made 2004 even sweeter, a season that started with a win in the Bob Hope Chrysler Classic and was highlighted by strong showings in each major. After the Masters victory, Mickelson was second in the U.S. Open, third in the British and tied for sixth in the PGA Championship. In November, he shot a 59 while capturing the Grand Slam of Golf, a made-for-TV event featuring the winners of the year's majors.
In August 2005, Mickelson gained his second victory in a major. A remarkable lob wedge shot on the final hole set up a tap-in birdie putt that gave him a one-stroke win at the PGA Championship at Baltusrol.
The man who once was criticized for his failure to win when it counted followed up with a victory in the next major, the 2006 Masters. Mickelson shed a half-dozen close challengers by shooting a final-round 3-under-par 69 to win by two strokes. While others (especially Woods) stumbled on the tricky greens, he neatly maneuvered to short par putts and finished at 7-under 281.
Two months later, the old Mickelson instincts returned at the U.S. Open at Winged Foot. Needing a par on the final hole to become the fourth man in the modern era to win three straight majors, Mickelson gambled with poor-percentage shots, took a double-bogey and lost by one stroke to Geoff Ogilvy. "I just can't believe I did that," he said after his fourth runner-up Open finish. "I'm such an idiot."
Through the years, Mickelson frequently has said that golf isn't the driving force in his life. "I love competitive golf," said Mickelson, an avid pilot who has his own plane, "but I also love spending time with my family and a million other things."