Mourning Glory
Updated:
May 15, 2007, 6:05 PM ET
By
Pat Smith, Jr.
| Special to ESPN.com
"Zo was a beast, an absolute beast. And I say that in a very complimentry way," says Pat Riley on ESPN Classic's SportsCentury series.
Alonzo Mourning has long projected a double image. Many viewed the 6-foot-10, 260-center as a scowling warrior, a no-holds battler at both ends of the floor who averaged 21 points and 10 rebounds in his first eight seasons. Others -- including the usually uncritical Michael Jordan -- detected an emotional Achilles heel behind Mourning's obvious physical talents.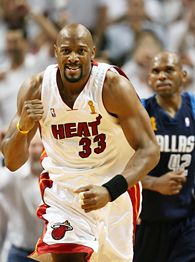 Jesse D. Garrabrant/NBAE via Getty ImagesMourning won his first NBA title with the Miami Heat at age 36.
"There is that mental strength you need, he doesn't have it," Jordan said in 1997. "If you can be taken out of your game by another player, something is missing."
But no matter how thin Mourning's psychological armor may be, he has earned his place among the top rank of big men by being named to seven All-Star teams and twice being voted the Defensive Player of the Year.
Perhaps more than his on-court battles, Mourning will be remembered for his struggle to compete again after being diagnosed with a dire kidney disease. As he waged war with the illness, Mourning won the respect of the sporting community.
He was born on Feb. 8, 1970, in Chesapeake, Va., to Alonzo Mourning Sr., a machinist in the Portsmouth shipyard, and Julia, a Jehovah's Witness. At 11, when his mother and father separated, Alonzo made a decision that foreshadowed the self-preserving nature that eventually would define him. He chose not to live with either parent and moved into a local boy's home.
At night, Mourning lied awake wondering if he had done the right thing. Years later, he looked back at that period as a rite of passage that taught him faith and effort could overcome any obstacle.
When Mourning was 12, life got better. Fannie Threet, who had taken in dozens of foster kids over the years, brought him home into her family. "She taught me how to be a young man," he said.
In high school, Alonzo was a man among boys. Dominating in the paint, he led Indian River High to 51 straight victories, including the Virginia Class AAA championship as a junior in 1987. As a senior, he averaged 25 points, 15 rebounds and 12 blocks.
Heavily recruited, Mourning chose Georgetown, where coach John Thompson became a father figure. He began his career as the starting center his freshman season. By mid-season of his sophomore year, he was moved to power forward to allow Dikembe Mutombo to play center for the next year-and-a-half. After Mutombo's graduation, Mourning again inherited the center position and was an All-American as a senior.
Averaging 21.3 points, 10.7 rebounds and 5 blocks, Mourning was voted the Big East's Player of the Year and Defensive Player of the Year as well as MVP of the conference tournament. He is the only player to win all three awards in the same season.
Despite some concern from NBA teams about a previous friendship with a convicted Washington, D.C., cocaine dealer and a reputation for liking the fast lane, Mourning was selected second in the 1992 draft by Charlotte, behind Orlando choosing Shaquille O'Neal.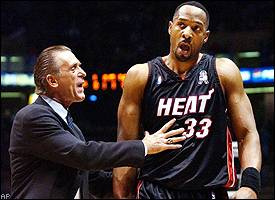 APCoach Pat Riley and Mourning defined the Miami Heat in the latter half of the 1990s.
Mourning quickly established his worth. He was a unanimous choice on the All-Rookie team after averaging 21 points and 10.3 rebounds, the first rookie to go 20/10 since Patrick Ewing in 1985. Mourning also accomplished something in his first NBA season that Ewing didn't; he led his team into the playoffs.
In Game 4 against Boston, his spinning jump shot with less than a second left gave the Hornets a 103-102 victory and moved them into the Eastern Conference semifinals. Although Charlotte was overmatched by the Knicks in its next series, Mourning's play impressed New York coach Pat Riley.
With injury limiting Mourning, who averaged 21.5 points and 10.2 rebounds, to 60 games, the Hornets failed to make the playoffs in 1994.
Mourning stayed healthy the next season and he averaged 21.3 points and 9.9 rebounds in leading Charlotte to 45 wins and another playoff berth. However, it was swept in the first round by Chicago.
In November 1995, Riley, who was Miami's new coach and president, acquired Mourning in a multi-player trade that sent high-scoring Glen Rice to Charlotte. Riley viewed Mourning as the player who would become the cornerstone of the franchise.
Under the Spartan tutelage of Riley, Mourning took his game to a new level, averaging a career best 23.2 points and providing the relentless energy that made the Heat's defense so effective. In August 1996, his financial security was guaranteed when he re-signed for $105 million over seven years.
With Tim Hardaway and Jamal Mashburn as his satellites, Mourning displayed the full range of his game the following season, averaging 19.8 points, 9.8 rebounds and 2.9 blocks as the Heat won 61 games and the first of four straight Atlantic Division titles. In the playoffs, Miami turned up the heat, beating the Magic and, in a tension filled, suspension-laden series, the Knicks. But the Eastern title remained elusive as Miami lost to Jordan's Bulls in the conference finals.
Limited by injuries to 58 games in 1997-98, Mourning averaged 19.2 points and 9.6 rebounds. But in the first round of the playoffs, Mourning's volatile nature hurt the Heat chances against the Knicks. In Game 4, he fought former Charlotte teammate Larry Johnson and both players were suspended for the decisive fifth game. With Mourning in church instead of on the court, the Heat lost by 17 points.
"He realized just how much he let us down," Riley said. "And from that point on, he changed dramatically."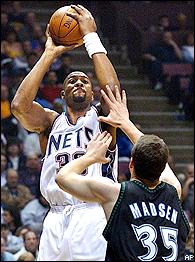 Mourning only played 12 games in New Jersey because his kidney function had dangerously deteriorated.
During the lockout-shortened 1999 season, Mourning's career-high 11 rebounds and 3.9 blocks per game won him the NBA's Defensive Player of the Year award. He also averaged 20.1 points as he was named All-NBA first team.
But the season again ended in defeat for Mourning when the Knicks' Allen Houston's shot at the buzzer in Game 5 rolled in, eliminating the Heat in the first round.
Mourning marched on in 2000, repeating as Defensive Player of the Year, when he again led the league in blocked shots (3.7), and was named second-team All-NBA. But in the playoffs, Mourning's frustrations continued as Miami lost to the Knicks in the second round.
Then on October 16, 2000 -- less than a month after helping the U.S. win the gold medal in Sydney, Australia -- Mourning announced he had focal glomerulosclerosis, a disease that destroys the tiny filters that remove waste from the blood. Determined to keep the chronic ailment at bay, Mourning embarked on a rigorous lifestyle that required he take as many as 14 pills daily.
It wasn't until late in the 2001 season that Mourning returned to the court. In limited playing time he averaged 13.6 points in the season's final 13 games. But he wasn't his old self and it showed in the playoffs when Charlotte crushed Miami in three games. By the next season, Mourning was feeling better and made the All-Star team. He lifted his output to 15.7 points and 8.4 rebounds in 75 games. But after his comeback season, Mourning suffered a relapse. His kidney disease forced to miss the following campaign. It wasn't until May 2003 that doctors gave him the clearance to return to the NBA.
With his Heat contract expired, Mourning was a free agent. He said he would go to the highest bidder. In July, the 33-year-old center rejected an open-ended, one-year contract with Miami and signed a $22.6-million, four-year deal with the Nets. But his season ended after 12 games when doctors told him his kidney function had dangerously deteriorated. On December 19, he underwent a kidney transplant. The donor was an unidentified relative of Mourning (Nets president Rod Thorn said it was a cousin).
While many thought Mourning's career was over, he didn't. When the 2004-05 season started, he was back with New Jersey, but not for long. In December, he was traded to Toronto as part of a package for Vince Carter, but he never reported. He received a buyout from the Raptors in February 2005 and then came home, rejoining the Heat as a free agent. Backing up O'Neal, Mourning helped Miami reach the Eastern Conference final.
A year later, he finally got what he had sought all those years: an NBA championship. His play off the bench helped the Heat defeat the Mavericks in the 2006 Finals - and for the first time since he contracted his kidney disease, Zo had a drink. It was champagne.
The following season Mourning played 77 games, his highest total in seven years, and averaged 8.6 points, 4.5 rebounds and 2.3 blocks. But there was no champagne for Zo as Miami was swept by the Bulls in the first round of the playoffs.