Shaq: Larger Than Life
Updated:
May 15, 2007, 6:15 PM ET
By
Pat Smith, Jr.
| Special to ESPN.com
"Shaq is the greatest center of his time. He's proven that. It took him a while to get to the top. But he worked hard and got to the top and stayed there. That's a testimony to his greatness," says Kareem Abdul-Jabbar on ESPN Classic's SportsCentury series.
Shaquille O'Neal cried when he won his first NBA title. He said it was the wildness of his father trying to get out but the calmness of his mother taking over.
Andrew D. Bernstein/Getty ImagesO'Neal celebrates the 2006 NBA Championship with Dwyane Wade.
He remembers the confetti, purple and gold, glittering down from the rafters. He remembers the fireworks. He remembers Kobe Bryant hugging him at midcourt after the Lakers won the 2000 championship.
The 7-foot-1 center dominated the six-game series, averaging 38 points and 21 rebounds. By winning the Finals MVP award, he became only the third player to gain that honor along with the regular-season and All-Star Game MVPs. But the party didn't end there: In 2001 and 2002 O'Neal again was voted Finals MVP as the Lakers won two more championships. And in 2006, he helped Miami win its first title.
Awards have been a staple of O'Neal's pro career: Rookie of the Year, 14-time All-Star, two scoring titles and selection in 1996 as one of the NBA's all-time 50 greatest players.
But O'Neal's stardom is not merely defined by honors. Behind the personal stats, the championships and the intimidating presence, there is a public perception of a hidden gentleness rare in the hard-talking, tough-walking climate of today's NBA.
Nicknamed "Shaq Daddy" by ESPN's Stuart Scott, O'Neal projects a rare mix of "old" and "new" school that has not been lost on Madison Avenue. In one Burger King commercial, he consumed Whoppers and fries to the 1970s hit "Theme from Shaft." He also has made ventures into acting and hip-hop.
Shaquille Rashaun O'Neal was born on March 6, 1972 in Newark, N.J. He lived with his mother Lucille, who worked at Newark City Hall, and his great grandmother Cillar in a small gray house. His biological father, Joe Toney, was sentenced to federal prison for check forgery when Shaquille was less than a year old and never again was a factor in his son's life.
When Shaq was two, Lucille married Phillip Harrison, whom Shaq considers his father. Soon, Harrison joined the Army and the family was frequently on the move, from New Jersey to Georgia to Germany to San Antonio, Texas.
As a senior at Cole High School, the 6-foot-11 O'Neal led his team to a 36-0 record in 1989. He went to LSU despite coach Dale Brown's warning that he may not get many scoring opportunities because he already had Stanley Roberts and Chris Jackson. After Shaq's freshman season, in which he set a Southeastern Conference record for blocked shots in a season (115), Roberts flunked out of school and Jackson left early for the NBA.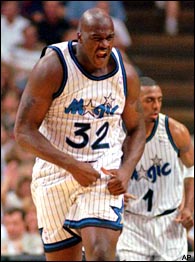 O'Neal led the Orlando Magic to the 1995 NBA Finals.
Shaq became the man and was voted All-America in 1991 and 1992. As a sophomore, he became the only player ever to lead the SEC in scoring (27.6), rebounding (14.7) and blocks (5.0).
Skipping his senior year to turn pro, the Orlando Magic made him the first pick in the 1992 draft. He signed a $41-million, four-year contract, co-starred in the film Blue Chips and played golf with Michael Jordan -- all in one summer. "I was 20," Shaq said, "and my head was spinning."
If he felt dizzy off the court he was the picture of balance on it. His rookie stat line: 23.4 points, 13.9 rebounds and 3.5 blocks. An even better season followed in 1993-94 when he averaged 29.3 points and shot 59.9 percent from the floor.
In his third season Shaq led the league in scoring (29.3) and was third in rebounding (11.4) as the Magic had the best record (57-25) in the Eastern Conference. Orlando reached the NBA Finals, but was swept in four games by Houston. "We got our butts kicked," said Shaq.
In the 1995-96 season, Shaq was third in the league in scoring at 26.6 and averaged 11 rebounds. After a 60-22 campaign, Orlando was swept by Chicago in the Eastern finals.
A free agent, O'Neal left Orlando and signed with the Lakers for $120 million over seven years after Jerry West, vice president of basketball operations, cleaned house to make room for the big man. "It was goodbye small market and hello Hollywood," Shaq said.
He put up outstanding numbers his first three seasons in Tinseltown, but his frustration grew as the Lakers failed to reach the NBA Finals. When Utah swept the Lakers in the 1998 Western Conference finals, Shaq said, "Anyone who doesn't want to play right should get the hell off my team."
In June of 1999, Phil Jackson replaced Kurt Rambis as Lakers coach, and Shaq's hope was renewed. He traveled to Kalispell, Mont., to meet the man who won six NBA titles as Bulls coach. "Shaq, you see that tree?" said Jackson, pointing to a huge tree that had washed up on his lakeside property. "Move it."
O'Neal obliged and a bond between the two was struck. "Our whole championship run began that day in Montana," wrote O'Neal in his autobiography, Shaq Talks Back. "That's what we needed, a man who wasn't afraid to tell a 350-pound multi-millionaire to move a dead tree off his property."
With O'Neal averaging a league-leading 29.7 points, 13.6 boards, 3.8 assists and 3.0 blocks, the Lakers had the best record in the league at 67-15 in 2000. In the Western Conference finals, O'Neal's Achilles heel was highlighted. Portland attempted to exploit his horrible free-throw shooting by continually fouling him when he got the ball in a scoring position. The ploy was called "Hack-a Shaq."
With the series tied 3-3, Shaq said, "It was time to grow up or shut up." With 11 minuets left in the fourth quarter of Game 7 in LA, Shaq had just nine points and the Lakers trailed by 15. After an "R" rated pep talk from Jackson, LA surged and tied the game with four minutes left. Then O'Neal took over, scoring nine of his team's last 10 points -- including shooting 5-of-6 from the foul line -- as the Lakers won 89-84.
LA had an easier time in the Finals against Indiana. O'Neal scored more than 40 points three times as the Lakers won their first title in 12 years.
The following October, Shaq signed an $88.5-million contract extension through 2006.
O'Neal and his Lakers co-star, Bryant, had a strained relationship. Once during a pickup game, O'Neal slapped his younger teammate. In 2001, a year after Jackson called them "two children in a sandbox," a story in ESPN The Magazine contained comments from Bryant that further fanned the flames. He said he thought the offense should revolve around him. Quotes were plastered in the headlines about the rift between the pair.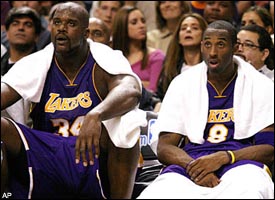 Shaq and Kobe Bryant won three NBA titles together in LA, but they weren't the best of friends.
But when the playoffs came in 2001, peace reigned. Each star went out of their way to praise the other. The Lakers set a postseason record by going 15-1, including beating Philadelphia in five games in the Finals.
They made it a three-peat in 2002 by sweeping the Nets as O'Neal again won Finals MVP, averaging 36.3 points for the series.
A pulled abdomen muscle kept him out of the first 15 games of the 2002-2003 season and LA went 4-11. When he returned, the Lakers fared better as Shaq averaged 27.5 points and 11.1 rebounds. However, the team never jelled as in prior seasons and was eliminated by San Antonio, 4-2, in the second round of the playoffs.
The next season, marked by the resumption of the O'Neal-Bryant feud, Shaq's average dropped to 21.5 points. After the Lakers were upset by Detroit in the 2004 Finals, the once dominant combination of O'Neal and Bryant was broken up. In July, Shaq was traded to Miami for three players and a No. 1 draft choice.
O'Neal was delighted not to be playing with Kobe and overjoyed to have a new running mate, Dwyane Wade. Together, they led the Heat to the best record (59-23) in the Eastern Conference in 2005, with Shaq averaging 22.9 points and 10.4 rebounds as he was named All-NBA first-team for the sixth time. While he was healthy for most of the season, a bruised thigh hindered him in the playoffs and Miami was eliminated by Detroit in Game 7 of the conference final.
The next season, Shaq made good on his promise upon joining the Heat: "Remember this... I'm going to bring a championship to Miami." And he did, though he wasn't the same dominating player who led the Lakers to three titles. With Shaq playing a supporting role (18.4 points and 9.8 rebounds in 23 playoff games) to Wade in the playoffs, Miami won the title, defeating Detroit in the conference final and Dallas in the Finals.
But the 2006-07 season was a disappointment as O'Neal didn't make an all-NBA team or pass the first round of the playoffs for the first time since his rookie year. He suffered a knee injury in the season's opening weeks and missed more than half the season. But even in his 40 games, he was no longer dominant and failed to average 20 points for the first time in his career (17.3 average). He also had a career low in rebounds, snaring just 7.4 a game.
When his playing days are done, O'Neal said he planned to pursue a career in law enforcement, which isn't that much of a stretch from what he's been doing on the basketball court most of his life. Until then, he will continue to guard the lane.