Arnie was a king for the masses
Updated:
April 8, 2004, 9:28 AM ET
By
Ron Flatter
| Special to ESPN.com
"In Arnold's early years, he was not a good driver. And he had to hit it out of the trees and out of the woods, and he kept making the shots. And people loved it because he won doing that," said Jack Nicklaus about Arnold Palmer.
Before he jauntily strolled into our consciousness, golf was a rich man's game. Strictly country club. Golfers who talked to the common folk had to have their noses lowered first.
Then came Arnold Palmer.
Here was a guy who looked like one of us.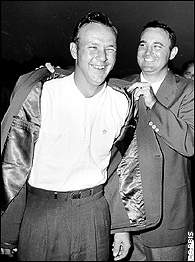 Palmer won the first of his four green jackets at the 1958 Masters.
A guy who was rough around the edges. He was a big hitter with an iffy short game. Just like us.
His contortions looked like ours. He had that wild swing, that crooked smile. There was the way he'd hitch up his slacks.
When he missed a shot, we missed. He was almost always coming from behind, making that charge. Just like we wanted to do.
When he won, we all won.
At a time when television was first coming into our homes, Arnie was the guy next door. He came into our living rooms with an approachability and grittiness and charisma that made us want to watch golf. Heck, it made us want to golf.
"In a sport that was high society," broadcaster Vin Scully said, "he made it 'High Noon.' "
We pulled for him in at the 1960 Masters. It appeared the victory would go to Ken Venturi, who was sitting in the Butler Cabin with a one-stroke lead. But Palmer, with those big drives and pigeon-toed putts, tied him by rolling in a 27-footer on 17. Then another birdie on 18 gave him the stunning victory.
It was the sort of finish that led the legendary Bobby Jones to say, "If I ever had to have one putt to win a title for me, I'd rather have Arnold Palmer hit it for me than anybody I ever saw."
Two months after the Masters, at Cherry Hills Country Club, outside Denver, Palmer overcame a seven-shot deficit beginning the last round to win the U.S. Open. Driving the par-four first green, he went on to shoot six birdies on the first seven holes in firing a blazing 30 on the front nine. His six-under 65 gave him the victory by two strokes over Jack Nicklaus. A toss of his visor into the air galvanized Palmer's legend.
He had become "The King" -- a king for the masses. We became a part of Arnie's Army.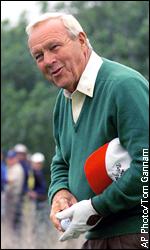 Palmer is a two-time winner of the British Open.
He won seven majors, all between 1958 and 1964. Besides that U.S. Open, he won two British Opens and became the first to win four Masters.
When Nicklaus beat Palmer in a playoff at the 1962 U.S. Open, it may have signaled a changing of the guard. It also marked the beginning of a great rivalry. Nicklaus would end up dominating, but all the while, Palmer was always there to hound him. Arnie . . . and his Army.
"At times we became so hyper about beating each other that we let someone else go right by us and win," Palmer said. "But our competition was fun and good for the game."
Along with the Army came the riches of bigger purses, increasing from $820,360 in 1957 to $3,704,445 in 1966. Palmer became golf's first millionaire. That was on the course.
Off the course, he was becoming the sport's first big-time businessman - everything from the International Management Group agency to golf-course design to clothing to auto dealerships to The Golf Channel.
Golf itself became a financial empire because of Palmer. Veteran golfer Charles Sifford said that every pro should pay homage. "If it wasn't for Arnold, some of these scraggly wimps would be out picking cotton today," he said. "If they realized what he meant to golf, they'd get down and kiss his feet."
Born Sept. 10, 1929, in Latrobe, Pa., he took up golf as a toddler. His father Deacon, the golf pro and greenskeeper at Latrobe Country Club, cut down a set of regulation clubs for his son to use. Arnie quickly took to the game.
By 17, he had won two state interscholastic titles and the first of five West Penn Amateur championships. He received a golf scholarship to Wake Forest, where he became a three-time Atlantic Coast Conference champion.
A promising career, however, was almost cut short in the fall of 1950 when Palmer lost close friend and teammate Bud Worsham in a fatal car accident. Palmer was so mortified by the experience that he quit college during his senior year and joined the U.S. Coast Guard.
Golf was not much of a priority when he began his three-year hitch. Eventually, while stationed in Cleveland, Palmer entered a few amateur events and won some. He left the service, won two Ohio Amateur titles and set out to conquer the golf world in 1954.
That summer the 24-year-old Palmer came from behind to beat 43-year-old Bob Sweeny in the final round of the U.S. Amateur. Five months later he turned pro.
Soon after he married the former Winnie Walzer, Palmer won the 1955 Canadian Open for his first pro tour victory. Two more titles came in 1956; four more in '57.
The next year, at 28, Palmer won his first Masters. At the time, he was Augusta's youngest champion ever. He also finished No. 1 on the PGA Tour money list with just more than $40,000.
In 1961 and 1962, Palmer won back-to-back British Opens. His victories at Royal Birkdale and Royal Troon made it cool for Americans to go to the British Open again.
"When Palmer went," said former U.S. Golf Association executive director Frank Hannigan, "all the other Americans went, too, and the British Open was restored to its former majesty."
Palmer was the leading money winner on the PGA Tour between 1960 and 1963, winning 29 times in that stretch. He also captained the U.S. team to victory in the Ryder Cup in 1963.
When he won his last major, the 1964 Masters, Palmer was golf's career money leader with $506,496.84. It would be another four years before Palmer would just about double that total to become golf's first career millionaire.
Even though Palmer eclipsed that seven-figure milestone at the 1968 PGA Championship, it was a bittersweet achievement. He lost the tournament by one stroke to Julius Boros, and that would be as close as he would come to winning a PGA Championship. It is the only major he's never won.
Palmer's close calls are as legendary as his victories. He needed only a par on the final hole to win the 1961 Masters. Instead, he double-bogeyed, and Gary Player won.
At the 1966 U.S. Open at the Olympic Club in San Francisco, he held a five-stroke lead going to the 69th hole. Incredibly, he lost all five strokes on the next three holes and fell into a tie with Billy Casper. In the playoff the next day, Palmer was ahead by two strokes with eight holes left, but lost 69 to 73.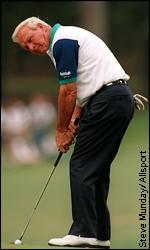 Palmer put the Senior Tour on the map when he joined in 1980.
His putter started to fail him in the mid and late 1960s, but Palmer's business acumen had already begun to emerge. He became sport's preeminent pitchman. By the late 1990s, his annual endorsement income approached $20 million - more than three decades after his winning his last major.
Even with the ups and downs on the course, Palmer's charisma has never waned. His golf career enjoyed a renaissance in 1980, when he won the first Senior event he ever entered - the PGA Seniors Championship. A year later, he became the first former U.S. Open champion to win the U.S. Senior Open.
Arnie's Army was heard from again in January 1997, when it was disclosed he was suffering from prostate cancer. On the mend from surgery early that year, Palmer said, "I've got mail from people that is unbelievable. In some way I would like all the people to know how much I appreciate it."
True to form, he played in the Masters three months later.