Hoops thoroughbred in Louisville
Updated:
March 20, 2007, 3:34 PM ET
By
Mike Puma
| Special to ESPN.com
"I've always seen Rick as a bit of a Gatsby-type figure. At some point he believed that if you work and you dream and you do all these things, you can kind of will yourself to be who you want to be," says Providence Journal columnist Bill Reynolds on ESPN Classic's SportsCentury series.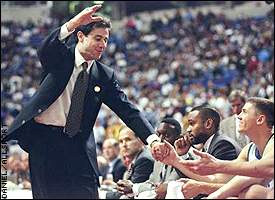 Allsport/Jonathan DanielPitino led Kentucky to the 1996 NCAA championship.
At some point, his name has been linked to virtually every major job opening in basketball. At least it seems that way. Rick Pitino is a successful coach, known as much for his nomadic tendencies as his winning teams.
Pitino guided Kentucky to a national championship in 1996, the highlight of a head coaching career that has included stops at Boston University, Providence, the New York Knicks, Boston Celtics and Louisville.
As a college coach, Pitino has a 494-195 record in 21 seasons through 2006-07. He's among the 10 coaches to have reached the Final Four at least five times and the only coach to have taken three schools to the event. As a pro coach, he had mixed results, leading the formerly downtrodden Knicks to the playoffs two straight years before flopping with the Celtics, going 102-146 with no playoff appearances in 3½ seasons.
But Pitino's legacy with Boston was as much the $50 million contract he signed to become the team's head coach, president and general manager for 10 seasons. "I went not just because they were the Celtics, but because of the $50 million," Pitino said. "When you grow up in Queens, that kind of money still turns your head. But I went for a lot of the wrong reasons."
Pitino considers himself a motivator. And to many, that makes him seem more suited for the college game than the NBA, where multi-million contracts eliminate much of the fear factor.
"I always felt he was a much better coach after we lost, or even after we had won and played poorly," former Kentucky player Sean Woods said in Pitino 's book, Success Is a Choice. "The reason is because it gave him a better opportunity to motivate. A team that's winning big, really playing well is sometimes more difficult to motivate."
In 2001, Pitino returned to college basketball, with Louisville, and stated his intention to finish his career there.
"I wanted to get back to Kentucky," he said. "This is the time period of my life that I enjoyed the most. It's a place where I'd love to see my children grow up and live."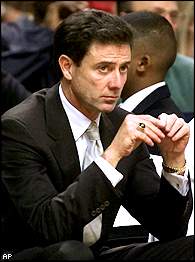 The Pitino Era in Boston was hard to watch.
While he's had mostly success on the hardwood, Pitino has had to deal with tragedy off it. In March 1987, his son Daniel died at six months of congenital heart failure. And on Sept. 11, 2001, his brother-in-law Bill Minardi, whom he considered his best friend, was killed in the terrorist attacks at the World Trade Center. Minardi, an equities trader for Cantor Fitzgerald, worked on the 104th floor of Tower 1.
The youngest of Sal and Charlotte Pitino's three sons, Rick was born on Sept. 18, 1952 in New York City. Sal was a building superintendent and Charlotte was an administrator at Bellevue Hospital. Eight years younger than his closest brother and often separated from parents who worked long hours, Rick endured a lonely childhood.
Pitino filled that void with sports, mostly baseball and basketball. When he was 14, the family moved to Bayville, on Long Island, where Pitino's passion for basketball took over. At St. Dominic's High School, the 6-foot Pitino harbored a dream of earning a college basketball scholarship. He earned the nickname "Rifle Rick," averaging 28 points and 10 assists as a senior to make first-team Long Island Catholic High School.
In 1970, he accepted a scholarship to Massachusetts. In his first year of varsity eligibility, as a sophomore, Pitino showed his fiery side, fighting with teammate Mike Pagliara, who started ahead of him at point guard. Pagliara broke a finger in the January brawl and Pitino was suspended for the rest of the season.
After apologizing to his coach, Pitino returned for his junior season, but was told he was the last man on the team and would have to earn his way back into the rotation. He eventually emerged as the starting point guard for two seasons. As a senior, his 168 assists were the sixth-highest season total in school history.
After graduating from UMass in 1974, he accepted an assistant coaching job at Hawaii, with the goal of becoming a head coach by the time he turned 25. In 1976, the NCAA found the Rainbows guilty of 68 rules violations, citing Pitino in eight of them, including providing players with airline tickets. Pitino denied all charges.
Hawaii head coach Bruce O'Neil resigned because of the scandal, but accused Pitino of trying to steal his job while the NCAA was still investigating. "Rick's always had trouble with loyalties," O'Neil told the Lexington Herald-Leader in 1989.
Pitino married his high school sweetheart, Joanne Minardi, on April 3, 1976 and spent the first night of his honeymoon in a New York hotel listening to sweet talk - from Syracuse coach Jim Boeheim, who had an opening on his staff and was wooing Pitino.
After two seasons with the Orangemen, Pitino - at 25 - became head coach at Boston University. He got immediate results, taking a program that had won only 17 games over its previous two seasons to a 17-9 record in 1978-79. He stayed five seasons, during which he guided the Terriers to a 91-51 mark and a 1983 NCAA Tournament appearance.
Pitino left in 1983 to become an assistant coach with the Knicks. After two seasons, he was named head coach at Providence in 1985. In his second year, the Friars advanced to the Final Four, earning Pitino a five-year contract extension. But six weeks later, Pitino bolted, accepting the Knicks' offer to become their head coach.
Returning to his roots, Pitino considered the Knicks his dream job. New York had missed the playoffs three consecutive years, but then reached the postseason in Pitino's two seasons. The Knicks went 90-74, winning the Atlantic Division title in 1989. But for the first time in his head-coaching career, Pitino wasn't the absolute boss. Disenchanted with his dealings with the front office, he sought an escape. His opportunity came in the spring of 1989, when Kentucky athletic director C.M. Newton approached Pitino about coaching the Wildcats, who were facing NCAA probation for rules violations.
Pitino accepted the challenge, taking the Wildcats to a 14-14 record in his first season and a 22-6 mark in 1990-91. The following year, with the NCAA sanctions lifted, only Duke's Christian Laettner's basket at the overtime buzzer in one of college basketball's greatest games prevented the overachieving Wildcats from reaching the Final Four.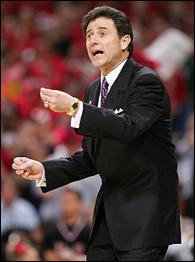 Pitino led Louisville to the Final Four in 2005, becoming the first coach ever to direct three teams to the Final Four.
Still, there was little doubt Pitino had the program on track. In 1993-94, Kentucky went 30-4, which included the school's first Final Four appearance in nine years. The Wildcats lost to Michigan in the semifinals.
Kentucky went 55-12 the next two seasons, but failed to reach the Final Four. In 1996, Pitino led the Wildcats to the promised land with a 76-67 victory over Syracuse for the national championship. Kentucky returned to the title game the next year, but lost to Arizona, 84-79, in overtime.
After eight seasons and a 219-50 record at Kentucky, Pitino took another shot at the NBA when the Celtics lured him to run their entire operation. He pinned much of his trouble in Boston on the failure to land Tim Duncan in the 1997 lottery, when the Celtics, despite having the worst record, missed getting the first pick.
Pitino quit in January 2001 and became a hot commodity in the college ranks. Two months later, he signed a $12.3-million, six-year contract with Louisville. Many of the Kentucky Wildcats faithful branded him a "traitor" with his move.
After guiding the Cardinals to a 19-13 record and an NIT appearance in 2002, Pitino returned to the NCAA Tournament the next two years. However, both rides were short as Louisville was eliminated in the opening weekend. But the Cardinals made some noise in 2005 when they finished 33-5. Pitino went into the record book for taking his third school to the Final Four.
The next two seasons, Pitino's Louisville teams won more than 20 games both times, but in 2006 they weren't selected for the NCAA Tournament and in 2007 they were eliminated in the second round.