Rodman, King or Queen of Rebounds?
Updated:
February 21, 2006, 12:57 PM ET
By
Mike Puma
| Special to ESPN.com
"Dennis said, 'I know that I'll crash. The money will be gone, the fame will be gone. But in my heart, I'll know that I lived the way I wanted to live. And I'm okay. I had nothing before and I'll end up with nothing,' " said Sports Illustrated writer Michael Silver on ESPN Classic's SportsCentury series.
Dennis Rodman brought color to the NBA, both literally and figuratively. Fans had a better chance of guessing his rebound total than what shade of the rainbow might shoot through his hair on any given night.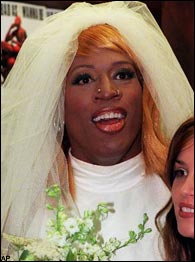 Rodman dressed as a bride for a book signing.
Rodman added body piercings and tattoos to the mix, only bolstering his image as a bad boy. On the court, the lanky 6-foot-8 forward was a savage rebounder and defender who forged a standout career by leaving the scoring to others.
In 14 seasons, Rodman averaged 7.3 points and 13.1 rebounds. For seven consecutive years he led the league in rebounding, an NBA record.
"There's nobody out there who can do what I do," Rodman wrote in his autobiography, Bad As I Wanna Be.
Only Wilt Chamberlain, with 10, won more rebounding titles than Rodman, who played for five championship teams and appeared in two All-Star Games. Twice the league's defensive player of the year, Rodman made the all-defensive first team seven times.
But for all his accomplishments, Rodman is remembered more for creating controversy and trouble, especially his 11-game suspension in 1997 for kicking a cameraman in the groin. His outrageous behavior peaked in the mid-1990s when he became romantically involved with pop icon Madonna and later appeared at a book signing wearing a wedding dress.
Rodman's moodiness - besides suspensions he missed practices and games with the Detroit Pistons and San Antonio Spurs because he was upset with management - made him one of the game's most unpredictable players.
"He scares both coaches every time he steps on the court," said Bob Hill, who coached Rodman with the Spurs.
The oldest of Philander and Shirley Rodman's three children, Dennis was born on May 13, 1961 in Trenton, N.J. But Philander, who was enlisted in the Air Force, lived up to his name and abandoned the family. Shirley took the children and moved to Dallas in 1965 and filed for divorce. She then took odd jobs - as many as four at once - to support the family.
Dennis was an introvert who showed little athletic inclination. Only 5-foot-6, he was cut from the football team his freshman year at South Oak Cliff High School. He later quit the basketball team midway through his freshman season, unhappy with riding the bench.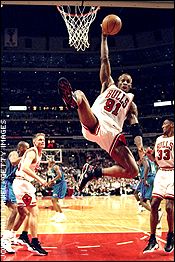 Rodman led the NBA in rebounding for a league-record 7 consecutive years.
With no prospects after graduation in 1979, Rodman took a series of menial jobs. While an overnight janitor at the Dallas-Fort Worth airport, he was arrested for stealing watches from a store in the airport. When the police recovered the watches and learned that Rodman gave them away, the charges were dropped.
A friend of Rodman's family alerted the coaching staff at Cooke County Junior College in Gainesville, Texas, that Rodman, who spurted from under six-foot to 6-foot-7 after high school, had developed into a force on the playgrounds. He lasted one semester at Cooke County, averaging 17.6 points and 13.3 rebounds, before flunking out.
In his brief stay, he was noticed by Southeastern Oklahoma State, and went there. Named first-team NAIA All-American three straight seasons, he averaged 25.7 points and 15.7 rebounds for his career.
At the Portsmouth Invitational, a pre-draft camp for NBA hopefuls, Rodman's stock soared as he won MVP honors. In 1986, the Pistons made the 25-year-old their second pick (No. 27 overall) in the draft.
Rodman played sparingly as a rookie, averaging 6.5 points and 4.3 rebounds. He made waves after Detroit was eliminated by Boston in the 1987 playoffs when he criticized Larry Bird's game and said that the only reason Bird won three MVPs is that he's white.
In 1987-88, Rodman averaged a career-high 11.6 points and increased his rebounding average to 8.7.
After leading the league in field-goal percentage at 59.5 percent the following season, in which the Pistons swept the Lakers in the 1989 NBA Finals, Rodman emerged as a starter. He was selected to the 1990 All-Star Game as a reserve and was named defensive player of the year after averaging 9.7 rebounds. The Pistons repeated as NBA champions with Rodman averaging 8.5 rebounds in the playoffs.
In 1990-91, Rodman again received defensive player of the year recognition and he finished second to David Robinson by averaging 12.5 rebounds.
His first rebounding title came the following season, when he averaged 18.7 rebounds, the league's highest mark since Chamberlain's 19.2 in 1971-72.
Rodman's life encountered a tailspin in May 1992 when Chuck Daly, whom the forward considered something of a father figure, resigned as coach. Rodman responded by skipping the start of preseason camp. After reporting, he was suspended without pay on November 20 and incurred $68,000 in fines.
That September, on his daughter Alexis' fourth birthday, Rodman had married Annie Bakes, with whom he had a relationship since 1986. By December, the marriage was floundering and Bakes took Alexis back to her hometown of Sacramento, devastating Rodman.
In February 1993, Rodman was found asleep in his truck in the parking lot outside the Palace of Auburn Hills with a loaded .22 caliber rifle. Rodman denied reports that he was considering suicide.
With all the turmoil, Rodman still averaged 18.3 rebounds to claim his second straight title. Despite missing 20 games, he collected a league best 1,132 rebounds.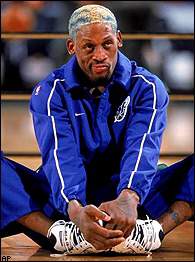 Rodman played for 5 championship teams and appeared in two All-Star Games.
Although he had three years and $11.8 million remaining on his contract, Rodman wanted a trade. He got his wish on Oct. 1, 1993, when the Pistons dealt him to the Spurs.
Before playing his first game for them, Rodman opted for a makeover by shaving his head and dying the remaining hair blonde. The new look only added to Rodman's growing bad boy image.
In December 1993, he was suspended one game and fined $7,500 for head-butting the Bulls' Stacey King. Less than two weeks later, Rodman was fined $10,000 for refusing to leave the court after being ejected. In March 1994 he head-butted Utah's John Stockton and was fined $5,000.
Despite these misadventures, Rodman won his third straight rebounding title, averaging 17.3. But his biggest catch was Madonna. The two had a highly publicized romance that lasted two months in 1994. Perhaps taking a cue from the Material Girl, Rodman got even more outrageous, adding cross-dressing to his resume.
Before the 1994-95 season, Rodman was upset when the Spurs refused to extend his contract. He took a leave of absence until December 12. After joining the team, he suffered a shoulder separation in a motorcycle accident, limiting his season to 49 games. He still qualified for the rebounding title, and won his fourth straight by averaging 16.8.
After the season, the Spurs traded him to the Bulls for Will Perdue. He won a fifth consecutive rebounding title by averaging 14.9 and helped bring a championship back to Chicago after a two-year absence. In Game 2 against Seattle, he tied a Finals record with 11 offensive rebounds.
Rodman received a $9-million contract for 1996-97 and responded by winning a sixth straight rebounding title, averaging 16.1. But he made more news for receiving an 11-game suspension - the second longest in NBA history - for intentionally kicking cameraman Eugene Amos in the groin after tripping over Amos while chasing a loose ball. Rodman paid Amos $200,000 to drop all legal charges. The Bulls won another title.
Rodman's string of rebounding championships reached seven in 1998 when he averaged 15 and the Bulls won their third straight title. A free agent after the season, he signed with the Lakers in February 1999, but was released after 23 games. In his final season (1999-2000), he appeared in 12 games for Dallas.
Since retiring from the NBA, Newport Beach (Calif.) police have gone to Rodman's home more than 70 times because of loud parties. He also was convicted of drunken driving. In 2002, he was arrested for obstructing officers investigating a code violation at his seaside restaurant. Prosecutors did not press charges.