Perfect for Once
Updated:
June 2, 2006, 2:56 PM ET
By
Mike Puma
| Special to ESPN.com
"Just the voice, the eyes, the way he just could snap back and could make you feel real small. And I'm not talking about just me. I'm talking about other NFL coaches and commissioners," said Mike Shula about his father on ESPN Classic's SportsCentury series.
Pro football was a flop in Miami before 1970. That changed when Don Shula arrived from Baltimore. Over the next quarter century, the Dolphins became a religion in South Florida, and Shula the deity to whom worshippers bowed.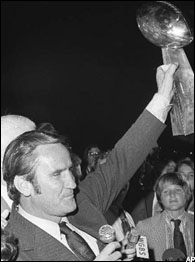 No NFL team has been able to match the perfect season of Shula's Dolphins.
When he left the sideline after the 1995 season, Shula had more victories than any coach in NFL history, having transformed the Dolphins into an elite franchise. In his 26 seasons with Miami, no professional sports team had a higher winning percentage than the Dolphins' gaudy .657. His reign was highlighted by the 1972 season, when Miami had the only perfect record in NFL history.
"We went from being a team that had absolutely no organization to one that was totally organized," linebacker Nick Buoniconti said. "Don was not going to put up with the mistakes of the past."
In 33 seasons with Baltimore and Miami -- a tenure that ranks only behind Connie Mack (53 years) and George Halas (40) in pro sports -- Shula compiled a 347-173-6 record. In 1993, he won his 325th game, surpassing Halas as the NFL's all-time leader. His teams won at least 10 games on 20 occasions. His Dolphins finished first or tied for first in the AFC East 15 times.
Shula won two Super Bowls and reached the title game a record six times, including once with Baltimore. Dan Reeves, Bill Parcells, Dick Vermeil and Mike Holmgren are the only other coaches to lead two franchises to the Super Bowl.
His innovations included three-a-day practices. He was also among the first coaches to employ a zone defense and to make situational substitutions.
"He was tough when he had to be," Colts tight end John Mackey said. "But the most important thing was, he treated us like men."
Shula's coaching strategy was flexible. When he had a bull in the backfield like Larry Csonka, his team ran the ball. When he had a passer like Dan Marino, his team threw it.
In 1997, Shula was inducted into the Pro Football Hall of Fame after being a unanimous selection.
Reflecting on his career in an interview with the Cleveland Plain Dealer that year, Shula said coaching was something that came natural to him, even before he knew he wanted to coach. "I felt if things weren't being done the right way, somebody's got to step in," he said. "I always felt that was my responsibility. I just seemed to have that inborn leadership."
He was born on Jan 4, 1930 in Grand River, Ohio, the fourth of Hungarian immigrants Dan and Mary Shula's seven children. Dan worked in a rose nursery before taking jobs in a fish house and a rayon plant. The Shulas' last three children arrived together, the first set of triplets born in Lake County, Ohio.
At Harvey High School in Painesville, Ohio, Shula played football, baseball, basketball and ran track, earning 11 varsity letters in three years. He starred as the left halfback in a single-wing offense and in his senior season, the team went 7-3, its highest win total in 18 years.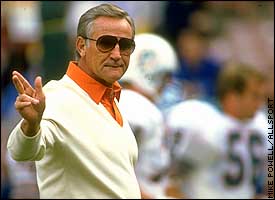 Shula won two Super Bowls and reached the title game a record six times.
Shula took his ability to John Carroll University, outside Cleveland. In 1950, the team upset Syracuse 21-15 with Shula rushing for 125 yards. The next year, the Cleveland Browns drafted him in the ninth round.
The only rookie on the team in 1951, Shula played defensive back and made four interceptions. After appearing in only five games the next season, he was traded to the Colts as part of a 15-player deal. He totaled 14 interceptions over the next four years before ending his playing days with Washington in 1957. He finished with 21 interceptions.
Although his athletic skills had diminished, Shula's passion for football never waned. He accepted an assistant coaching job at Virginia, where he stayed for one season before moving to Kentucky as an assistant in 1959. The next three years he was the defensive coordinator of the Detroit Lions. In 1963, at 33, he became the youngest head coach in NFL history when Baltimore hired him.
On a team that had Johnny Unitas as its quarterback, Shula didn't do much adjusting. The Colts went 8-6 his first season before he guided them to the Western Conference title in 1964 with a 12-2 record. But Baltimore was no match for Cleveland in the NFL championship game, losing 27-0. The Colts and Packers tied for the division title at 10-3-1 the following year, and Green Bay won a playoff game to decide the conference title.
In 1968, the Colts rolled to a 13-1 record under Shula, sparked by a defense that held opponents to an average of 10 points, and routed Cleveland 34-0 in the NFL championship game. But that team is more remembered for losing to the Jets, 16-7, in Super Bowl III, the biggest upset in the event's history (Joe Namath guaranteed it). The Colts were favored by 19 points. Years later, Shula called the loss the nadir of his career.
"I tried to learn from the fact that no matter who's favored or what's been said before the game you've still got to go out and win," Shula said. "You don't win by showing up. And maybe we were guilty of that."
After the Colts went 8-5-1 under Shula in 1969, he was released from his contract, allowing him to move to the Dolphins. The move cost Miami its first pick (No. 22 overall) in the 1971 draft. But it was a steal for the previously downtrodden Dolphins, who had finished 3-10-1 in 1969. In Shula's first season they went 10-4 before winning the AFC East in 1971 and losing 24-3 to the Cowboys in Super Bowl VI.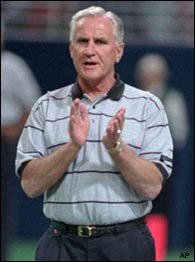 Don Shula finished his coaching career with an NFL-record 347 wins.
Under Shula, the Dolphins followed with the perfect season, 17-0, going unbeaten in 14 regular-season games and three postseason contests. Their campaign was capped by a 14-7 victory over Washington in Super Bowl VII. The Dolphins kept the title the following year, crushing the Vikings 24-7 in the Super Bowl. That gave Miami a 32-2 record over two seasons, a mark that hasn't been beaten.
Over the next two seasons, the Dolphins went 21-7, making it five straight years in which they won or shared the AFC East title. After a third-place finish in 1980, Miami began another reign of dominance in the division, winning five consecutive AFC East crowns.
Shula returned to the Super Bowl during the strike-shortened 1982 season, but Miami lost 27-17 to Washington. That spring, the Dolphins drafted Marino. But there would be only one Super Bowl appearance in the Marino/Shula era. That came in the 1984 season, when Miami, after compiling an AFC-best 14-2 record, lost 38-16 to San Francisco in Super Bowl XIX.
After going 12-4 in 1985, the Dolphins plunged into mediocrity, fading to 30-33 with one playoff appearance in four years. Included was Shula's second losing season as a head coach, in 1988, when the Dolphins went 6-10.
In Shula's final six years, Miami was 59-37 and reached the playoffs four times. But that wasn't good enough for management and he was persuaded to step down as coach in January 1996.
"The big regret is that I wasn't able to ride off into the sunset with another Super Bowl win under my belt," he said.
Shula, who became the Dolphins' vice chairman in 1996, joined a perspective ownership group in 1998 that hoped to bring back a team to Cleveland. He planned to serve as executive vice president and as a limited partner, but another group submitted the winning bid.
He has been a successful businessman, serving as an equity partner in Don Shula's Hotel and Golf Club and Don Shula's Steakhouse Inc.
Shula suffered a personal tragedy in 1991 when his wife of 32 years, Dorothy, succumbed to breast cancer. He remarried two years later, to Mary Anne Stephens.