Monster of the Median
Updated:
June 11, 2007, 6:01 PM ET
By
Hillary Wasch
| Special to ESPN.com
"You talk about a Jekyll and Hyde, that's Tony Stewart. Off the racetrack he's one of the most giving people that you've ever seen in your life. But on the racetrack, he has done some stupid things," says NASCAR broadcaster Benny Parsons on ESPN Classic's SportsCentury series.
He can be as cuddly as a cactus one moment, open and laughing the next. He is possessed of a volcanic temper that he is struggling to harness. He frequently acts on impulse, is capable of astonishing bursts of generosity, and is a prisoner of his own passion, which can make him, at times, tough to take off the track but a tiger on it. In a sport in which you go round and round, Tony Stewart often seems to be chasing his own tail.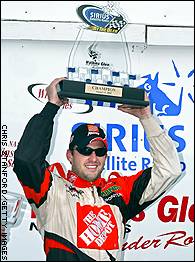 Stewart won the 1999 Rookie of the Year Award.
"Members of Stewart's inner circle paint a portrait of a man with two distinct personalities," wrote Sports Illustrated. "There's Tempestuous Tony, the driver blessed with electric talent but saddled with a combustible temper. And there's Regular Dude Tony, the down-to-earth, highly intelligent guy from a working-class neighborhood in Columbus, Ind."
A sparkplug of energy and determination, Stewart has won nine national racing series, with the most significant coming in NASCAR, which he has won twice.
"If you put four tires on a camel, Stewart would find a way to get that camel into first place," said Eli Gold, radio voice of the Motor Racing Network.
Stewart's favorite driver is four-time Indy 500 champion A.J. Foyt and many compare the two racers for their volatile, brash personalities. Stewart's obsession with winning -- fueled by fierce pride and fear of failure -- has triggered him to lash out against reporters, cameramen, NASCAR officials, fellow drivers and even fans. He has been fined more than $140,000 and placed on NASCAR probation four times since joining the circuit in 1999.
Stewart was born on May 20, 1971 in Columbus, Ind., 45 miles southeast of racing's Mecca, the Indianapolis Motor Speedway. For his first birthday, he received a pink plastic motorcycle. He first got behind the wheel of a motorized vehicle at two, when his father Nelson let him steer the family's riding mower. By five, Stewart was roaring around his family's two-car garage on a Big Wheel.
Recognizing his son's precociousness, Nelson bought him a yard-kart (an oversized go-kart) when he was six. With uncanny hand-eye coordination and determination, Tony started racing go-karts at eight. A year later, he won his first go-kart title (the four-cycle rookie junior-class championship) and at 12, his first national championship (the International Karting Federation). After winning the World Karting Association national title in 1987, he moved up to a faster breed of cars.
By 18 he was racing midgets and sprints. Within seven years, he had won just about everything. In 1994, Stewart captured the USAC Midget title and the next season, he became the first driver to sweep USAC's "Triple Crown," winning the Midget, Silver Crown and Sprint Car divisions.
In 1996 he moved up again, joining the Indy Racing League. Finishing eighth in the point standings, he was named the circuit's Rookie of the Year. He won the same honor at the Indy 500 when he came in 24th.
A year later, Stewart captured the IRL championship, mostly on consistency as he won only one of 10 races driving a Dallara Oldsmobile.
Stewart has raced his No. 20 car to two NASCAR championships.
Although he enjoyed the speed and sexiness of Indy cars, he knew that to reach the pinnacle of American racing meant joining NASCAR. In 1998, he signed a contract with Joe Gibbs' team and competed in 22 NASCAR Busch series races (getting two poles and five top-five finishes) and drove a full IRL schedule.
By 1999, he was ready for the big time. In his first year on NASCAR's main circuit, behind the wheel of his No. 20 Home Depot Pontiac, he amassed three victories, 12 top-five finishes, earned more than $3 million and was fourth in the point standings, the highest ever by a first-year driver. That November, he became the first rookie to win back-to-back races on his way to the Rookie of the Year award.
The highlight of his season was his "Double Duty" day in which he raced in both the Indy 500 and the Coca-Cola 600 (outside Charlotte, N.C.) in the same day. Driving 1,090 miles, he finished ninth at the first race and fourth in the latter before almost passing out from exhaustion and hunger.
Stewart repeated this feat in 2001 and had better results, finishing sixth in the Indy 500 and third in the Coca-Cola 600. Completing all 1,100 miles, he broke his own record for most racing miles driven in one day.
In 2000, Stewart had a successful second-year on the circuit. He won six races, had 12 top five finishes, banked more than $3.5 million and wound up sixth in points.
As Stewart's hot-headed personality started to show through over the years, the media portrayed those moments of anger or frustration as mammoth displays of his brash, aggressive personality. Stewart didn't do much to squelch that bad-boy image.
In 1999, after crashing fenders with Kenny Irwin Jr. at the Martinsville Speedway in Virginia, Stewart got out of his car, stood in the middle of the track and waited for Irwin to slowly come around under a caution. He then threw his heat shield at Irwin's car and reached into the window and tried to hit him.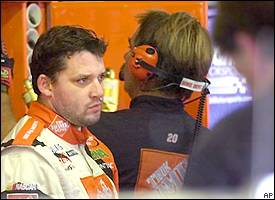 Stewart has been placed on probation, fined and nearly fired. But, through it all, he's been brilliant on the track.
The highlight of Stewart's aggression was unleashed in July 2001 at the Pepsi 400 at Daytona. Furious with officials after being black-flagged for driving his car below the yellow line with four laps left -- Stewart believed he was forced below the line when Johnny Benson pinched down in front of him -- he ignored the black flag and stayed on the track. When the penalty wasn't reversed, Stewart had to be restrained from punching Winston Cup series director Gary Nelson. After the race, Stewart slapped a tape recorder out of a reporter's hands. Stewart was fined $10,000 and put on probation for the remainder of the season.
He has also been involved in a few altercations with Jeff Gordon. At Sears Point in 2000, Stewart slid into Gordon's car and sent him into the guardrail. In 2001 at Bristol, Gordon shoved Stewart's car aside at the end of the race, and Stewart retaliated by bumping Gordon's car on pit road.
But there's also Stewart's more generous side. In July 2000, two days after Irwin died in a crash at New Hampshire International Speedway and one year after their altercation, Stewart won the race and gave his winning trophy to Irwin's family.
He lends his nine-seat jet to local families who need rides to the hospital, funerals or family gatherings, which can cost up to $5,000 a trip. In 2003 he formed the Tony Stewart Foundation to raise funds for organizations that help care for critically ill children and to support families of drivers who have been injured in motor sports.
Also in 2003, Stewart made a $1-million commitment to the Victory Junction Gang Camp, a camp that benefits children with chronic or life threatening illnesses started by driver Kyle Petty and his wife.
Back on the track, Stewart's star rose when he won the 2002 NASCAR championship. He beat Mark Martin by 38 points. In earning $4.7 million and becoming the first driver to win the title while on NASCAR probation, Stewart captured three races during the year as he overcame a last-place finish at the Daytona 500, which put him in 43rd place in the standings at the start of the season.
Stewart wasn't able to keep his title in 2003, as he finished seventh in points, winning just two races. And the next year, he came in sixth, winning twice. But he regained the NASCAR championship in 2005, sparked by a sizzling seven-race span in which he won five times.
In 2006, for the first time in his NASCAR career, Stewart failed to finish in the top 10 (he came in 11th). Still, he won five races and pushed his career earnings past $55 million.
After years of tantrums, Stewart has taken a few anger management classes in an attempt to curb his bad-boy side. But his love of racing remains strong.
"Passion works both ways," Gibbs says. "Tony shows the passion the fans want to see on the track. Well, that's not a show. He can't just turn that off."