The Ultimate Sacrifice
Updated:
May 31, 2007, 4:09 PM ET
By
Bob Carter
| Special to ESPN.com
"Some people think that Pat might have had a hero complex, which is why he wanted to go over and fight the battle that he fought. I believe that he did to a certain degree. I think that's not a bad thing; I think it's a great thing. But Pat always had that viewpoint that I'm going to be the one to step up and take charge in the situation," says Dan Bickley of the Arizona Republic on ESPN Classic's SportsCentury series.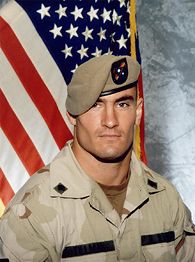 AP Photo/Photography Plus via Williamson Stealth Media SolutionsTillman died by friendly fire in southeastern Afghanistan on April 22, 2004.
As the windstorm arrived, whipping its full fury, the boy snuck out of the house, climbed onto the roof of the porch and wrapped his small body around a shaking tree. The boy held on tightly, his face feeling the storm's strength, his mind taking notes.
Pat Tillman was five and already pushing the limits of life. As time went on, he leaped limits with regularity, driven to succeed as a football player at Arizona State and with the Arizona Cardinals, then later as a soldier.
Life, in Tillman's non-conformist view, could best be measured by intense challenges, a riveting and risky path that ultimately led to Afghan battlefields, where -- at 27 -- he was killed in 2004 by friendly fire. Tillman was the first NFL player to die in combat in 34 years, and faulty accounts of his death were followed by investigations and hearings. His family had to wait weeks to find out that he hadn't died by enemy hands.
A patriot whose death gave a face to the sacrifices in the war on terror, Tillman openly squeezed life hard with both hands -- no peeking through closed doors. And he lived it unconventionally, the norm be damned.
"Pat's driving on the same highway as everybody else," said Barbara Beard, the athletic director at Leland High School in San Jose, Calif., his alma mater. "But he's just on the other side of the road."
Cases in point:

Defending a friend in a fight, a 17-year-old Tillman roughed up the assailant so badly that he served 30 days in juvenile detention for felony assault, a charge reduced to a misdemeanor. "I learned more from that one bad decision," he said years later, "than all the good decisions I've ever made."

After Arizona State coach Bruce Snyder discussed the benefits of a redshirt season, Tillman responded: "I've got things to do with my life. You can do whatever you want with me, but in four years I'm gone." In 3½ years, the linebacker graduated summa cum laude with a marketing degree and 3.84 GPA.

Looking for solitude, Tillman often climbed a 200-foot stadium light tower to relax and enjoy a panoramic view of the Phoenix area. "If you don't know Pat," said Phil Snow, Arizona State's defensive coordinator, "you would think he's crazy."

Bored between NFL seasons with the Cardinals, Tillman raced in a marathon one year and a triathlon the next.

Offered an average of $1.8 million annually for five years by St. Louis in 2001, he stayed with the Cardinals for $512,000, a statement of loyalty.

Deeply affected by the 9/11 tragedy, Tillman turned down a $3.6 million, three-year offer from the Cardinals in 2002 to enter the service with his brother Kevin. They became Army Rangers -- salary about $18,000 a year. It was his most head-turning choice of all, a choice he refused to speak about publicly.
"It's not just a snap decision," said then Cardinals coach Dave McGinnis. "You're dealing with a guy whose waters run pretty deep."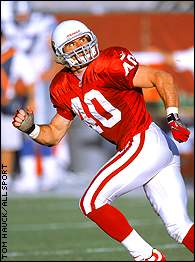 Tillman set a Cardinals' franchise record with 224 tackles during the 2000 season.

Patrick Daniel Tillman was born Nov. 6, 1976 in Fremont, Calif., the first of three sons to Patrick, a lawyer, and Mary, a teacher. Tillman started walking at 8½ months. His family had no television, and he and Kevin, two years younger, spent a lot of time playing outdoors. Pat had little fear of heights and enjoyed activities such as climbing trees and jumping from cliffs.

When cut from the baseball varsity as a freshman at Leland High School, Tillman turned to football. By his senior season in 1993, he was a star. The 5-foot-11, 195-pounder scored 31 touchdowns, mostly as a running back, and had 110 tackles. Removed from one game with Leland safely ahead, he snuck back onto the field and returned a kickoff for a touchdown.

Considered small for major college football, he drew little interest from Pac-10 schools, except for Arizona State. Tillman became a starting linebacker in his junior year, when he was the Sun Devils' second-leading tackler during an 11-1 season that ended in a last-minute loss to Ohio State in the Rose Bowl. As a senior, he led Arizona State in tackles and was the Pac-10's defensive player of the year.

The NFL largely ignored him, too, except for the Cardinals, who made him a "hometown" pick in the seventh round of the 1997 draft, No. 226 overall. When the Cards had scheduled a 15-minute, pre-draft workout, he made them stay for 45 minutes as he tried to improve every drill.

Tillman, switched to safety by Arizona, arrived at his first training camp looking like he'd come straight from Malibu, long hair flowing, wearing flip-flops and riding a bike. The mellow image melted on the field, where his trademarks were hard hits and high energy.

"We used to have to gear him down sometimes in practice," McGinnis said. "He only knew one speed."

The rookie started 10 games in 1998. Two years later, the strong safety set a franchise record with 224 tackles. The Cardinals, though, kept losing (25-39 from 1998 to 2001), which tested Tillman's leadership skills. "Don't tell me about the pain," he said in exhorting teammates. "Show me the baby."

The terrorists' attacks in 2001 brought Tillman a different pain. In an interview the following day with NFL Films, he talked about the relative unimportance of football. "My great-grandfather was at Pearl Harbor and a lot of my family has gone and fought in wars," he said. "And I really haven't done a damn thing."

Tillman and Kevin, a minor league baseball player, were determined to change that. Just weeks after Pat married his high school sweetheart, Marie Ugenti, he and his brother joined the Army, their goal the elite Rangers fighting corps. Pat turned his back on wealth and celebrity, telling friends he planned to return to football after duty.

Including basic training, Tillman trained for 28 weeks, in some phases enduring 20-hour days, before he and Kevin indeed became Rangers. The two had a tour of duty in Iraq in 2003 with the 75th Ranger Regiment. They returned to the United States that summer before going to Afghanistan as part of Operation Mountain Storm. The operation's objective was to disrupt and destroy the infrastructure of the al-Qaida terrorist organization and ultimately find Osama bin Laden, the group's leader considered to be the instigator of the 9/11 attacks.

On April 22, 2004, Tillman's platoon was ambushed in the early evening near Khost in a mountainous region near the Pakistan border. Fighting in difficult terrain in low light and with a disabled vehicle in tow, the platoon -- accompanied by allied Afghan armed forces -- battled enemy fire for 20 minutes, senior defense officials said. It was announced that Tillman was killed by the enemy after his heroic leadership helped to move a split section of his platoon to safety.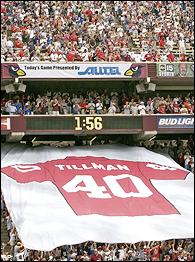 Among the tributes to Tillman was a giant jersey.

Five weeks later, the Army gave a different story, saying he died by probable friendly fire. The media reported that an army investigation indicated a Ranger squad leader mistook an Afghan soldier with Tillman as the enemy. The squad leader and other Rangers opened fire, killing both Tillman and the Afghan soldier.

In December 2004, The Washington Post concluded "that Tillman died unnecessarily after botched communications, a mistaken decision to split his platoon over the objections of its leader, and negligent shooting by pumped-up young Rangers -- some in their first firefight -- who failed to identify their targets as they blasted their way out of a frightening ambush."

Later, the Army conducted inquiries that found, among other things, that the circumstances of the death weren't revealed to Tillman's family until five weeks afterward, an Army rules violation. The Army concluded that soldiers and commanders involved suspected from the time of the incident that Tillman had died from friendly fire.

In March 2007, a Defense Department report said nine officers, including four generals, would face possible discipline. The report, though, cited no criminal wrongdoing or evidence of a broader coverup, and drew immediate criticism from Tillman's family, which said the action amounted to an "attempt to impose closure by slapping the wrists of a few officers."

Shortly after his death, Tillman was promoted from specialist to corporal and awarded the Silver Star and a Purple Heart. The honors were not revoked following the investigations of the incident.

An estimated 3,500 attended a May 3 memorial service in San Jose, one of many tributes to Tillman. "Pat's best service to his country was to remind us all what courage really looks like," Arizona Senator John McCain told the crowd, "and that the purpose of all good courage is love."