Reverend Head-Slap Reggie
Updated:
August 28, 2006, 7:41 PM ET
By
Kris Schwartz
| Special to ESPN.com
"Reggie talked always about how football was a platform for him to have a greater calling and to reach more people through a religious avenue. The fact was I think football to a large degree did identify Reggie White and it was terribly difficult for him to give the game up," says reporter Chris Havel of the Green Bay Press-Gazette on ESPN Classic's SportsCentury series.
He would bull-rush those poor souls who tried to block him, forcing them relentlessly backwards until it looked like they were on castors rather than cleats, and then he would engulf the quarterback in a sweaty embrace, body-slam him to the turf, then help him up with this benediction: "Jesus loves you." Reggie White was the premiere defensive end of his generation. He was the Minister of Defense, a man of stout, unwavering convictions off the field and an irrepressible force on it.
He was 6-foot-5, 305 pounds, so enormously strong and imposing that he seemed indestructible. And so it was a shock to most when, on the day after Christmas 2004, he died suddenly because of cardiac arrhythmia, an irregular heart beat. He was only 43.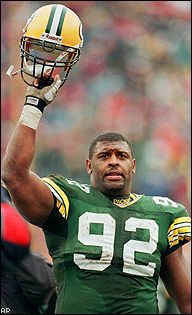 Reggie White finished his career with 198 sacks, an NFL record that stood until 2003.
Twice he was voted NFL Defensive Player of the Year. For a record 13 consecutive seasons, from 1986-98, he was elected to the Pro Bowl. When he retired in 2000 after 15 NFL seasons, no player had more than his 198 sacks. In 2006, in his first year of eligibility, he was elected into the Pro Football Hall of Fame.
Despite his formidable size, White could run 40 yards in 4.6 seconds. What he couldn't always outrun was the controversy of his beliefs and statements.
He once made a divisive speech denouncing a number of different cultures. Earlier, when he became a free agent, he said he wanted to play in a large city with a large minority population to whom he could minister. Then he signed with small market Green Bay, which fulfilled neither of his requirements - but did offer a lucrative contract.
Reginald Howard White was born Dec. 19, 1961 in Chattanooga, Tenn. His parents weren't married and he was raised mainly by his mother, Thelma Dodds, who was 19 when she gave birth. His father, Charles White, was a traveling man, playing semipro baseball and softball.
When Reggie was seven, his mother married Leonard Collier, who was in the Army and living in Kansas. She moved there with Collier for a year while Reggie decided to remain with his older brother, Julius, in Chattanooga and live with their grandmother.
Mildred Dodds walked her grandchildren five miles to church on Sundays and Wednesdays and White soon heard the calling. At 13, he told his mother he wanted to be two things when he grew up - a professional football player and a minister. At 17, he was ordained a minister at the St. John's Baptist Church.
As a senior at Howard High School, he was named an All-American in football as a nose tackle and tight end and selected All-State in basketball. He played defensive tackle at Tennessee, setting a school record for career sacks with 32. As a 264-pound senior in 1983, when he broke the Vols' season record for sacks with 15, he was named All-American and Southeastern Conference Player of the Year.
White remained in Tennessee for the start of his professional career, joining the USFL's Memphis Showboats in 1984 as a defensive end. In two years of spring football, he had 23½ sacks. After the 1985 season, which would be the league's last, White jumped to the NFL and signed with the Philadelphia Eagles, who had selected him fourth overall in a supplemental draft of USFL players in June 1984.
He was a star from the start, recording 13 sacks and making the All-Rookie team in 1985. Two years later, in a strike-shortened 12-game season, he totaled 21 sacks, just one shy of the record 22 held by Mark Gastineau - in a 16-game season. White was voted the NFL Defensive Player of the Year for the first time.
By 1992, he was among the leaders of the top-ranked Eagles' "Gang Green Defense," lining up outside on some snaps, inside on others. Opponents had to account for him every play, and frequently double-teamed him.
He also was the biggest star to include his name in a lawsuit that helped introduce unrestricted free agency to the NFL. The following year, he became a free agent.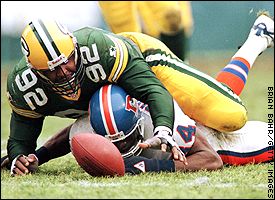 White was a 13-time Pro Bowler.
With 124 sacks in 121 games, White was in fevered demand. He embarked on a 37-day, seven-city tour to find a new franchise. "God will tell me where to go," he said. The 49ers and Redskins were considered leaders in the Reggie sweepstakes, but the Packers offered the best deal - a $17-million, four-year contract that made him the NFL's highest-paid defensive player - and he accepted.
"Money was important," White said, "because I needed resources to continue the projects I wanted to do."
In 1996, Green Bay's defense led the league in fewest points allowed (210) and broke the NFL mark of fewest touchdowns yielded in a 16-game season (19). White, who had 8½ sacks that year, was at his best in the biggest game. He set a Super Bowl record with three sacks as the Packers beat the Patriots, 35-21, for their first NFL title in 29 years.
The next season, despite struggling with back pain, a case of pneumonia, and a rare lung disease called sarcoidosis, White had 11 sacks and helped the Packers return to the Super Bowl. However, they fell short, upset by the Broncos, 31-24.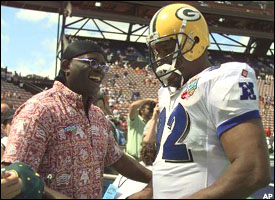 At the 1999 Pro Bowl, the retired L.T. greeted White.
In April 1998, White announced his retirement, but three days later reversed himself, claiming that God reminded him he gave the Packers his word that he would play through 1998. Recording 16 sacks, he earned his second NFL Defensive Player of the Year award. Then White left the game - but only for a year.
Released from his contract by the Packers, he played for Carolina in 2000 and had 5½ sacks, boosting his total to 198 (his record was broken by Bruce Smith in 2003). And then he retired - for good - at 39.
White was a leader in every locker room in which he dressed. He had a deep, raspy voice and did a variety of impressions, including Muhammad Ali, Howard Cosell and Rodney Dangerfield. When it came time to get serious, Packers teammate LeRoy Butler joked that White called "more meetings than Congress."
White worked with inner-city youths and created a number of programs to serve the community. In 1993, he helped found the Inner City Church in Knoxville, Tenn. In the early hours of Jan. 8, 1996, it burned to the ground. Kerosene, gunpowder and at least 18 Molotov cocktails were used. The brick walls were stained with racial slurs that included "Die, niggers, die" and "White is right."
An associate pastor at the church, White spoke out against the rash of suspicious fires of predominantly black churches that were burned in the South. He met with Vice President Al Gore, U.S. Attorney General Janet Reno, and Treasury Secretary Robert Rubin, who oversaw the ATF.
But he received more headlines for his remarks before the Wisconsin Legislature on March 25, 1998. Attempting to describe how people can come together, he used ethnic stereotypes saying that "white people know how to organize, run businesses and tap into money." He said that blacks rather than Native Americans were enslaved because they knew the territory and "knew how to sneak up on people." Speaking of Hispanics, White "complimented" them as "gifted at family structure. You can see a Hispanic person, and he can put 20 or 30 people in one home." He also denounced homosexuality, calling it "one of the biggest sins in the bible" and that the United States has gotten away from God, in part by allowing homosexuality to "run rampant."
In his final years, White became skeptical of the invitations he received to speak on behalf of the church. He stopped attending church and even gave up celebrating Christmas and Easter. He began studying Hebrew and traveled to Israel three times.
White's health deteriorated in his last few years. Besides sarcoidosis, he suffered from sleep apnea. He died in a hospital near his home in Cornelius, N.C. The autopsy stated that his irregular heart beat was caused by complications from sarcoidosis. He was survived by his wife of almost 20 years, Sara, and their two children, Jeremy and Jecolia.