Williams offensive on glass, off court
Updated:
May 24, 2004, 10:56 AM ET
By
Mike Puma
| Special to ESPN.com
"He wants it both ways. He wanted everybody to fear him and he wanted everybody to love him. He didn't know who he was. Are you the guy who's going to beat somebody's butt in a club. Or are you going to be the guy who goes to church with your mom and gets on your knees and prays for your sisters?" says Sports Illustrated writer John Ed Bradley on ESPN Classic's SportsCentury series.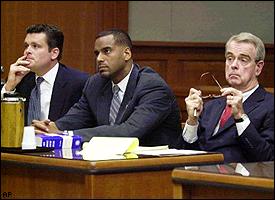 Jayson Williams was indicted in May 2002 for aggrivated manslaughter and other charges in the death of limousine driver Costas "Gus" Christofi.
In the NBA, Jayson Williams made his mark as a ferocious rebounder. After being forced to retire prematurely due to injury, Williams continued to play hard. Some would say too hard.
On the surface, few people seemed to have had it better than Williams. The former All-Star power forward was only 33, fabulously wealthy and starting a television broadcasting career that held promise because of his charisma. But Williams' life changed on Feb. 14, 2002.
In that morning's early hours, limousine driver Costas "Gus" Christofi was found shot to death in the master bedroom of Williams' mansion in Alexandria Township, N.J. Williams turned himself in to state police 11 days later after being charged with second-degree manslaughter.
He was indicted on eight charges, including aggravated manslaughter and reckless manslaughter. Prosecutors said Williams was recklessly handling a 12-gauge shotgun and that he and two friends tried to make Christofi's shooting resemble a suicide.
The night of the shooting began with Williams and some friends attending a Harlem Globetrotters game at Lehigh University, just a few miles over the Pennsylvania border from his home. After the party rang up a $627 bar tab at a restaurant, the group -- which included several Globetrotters -- went with Williams to his home.
Williams was giving a tour of his 40-room mansion and had invited their driver for the night, Christofi, to join them. Prosecutors contended that Williams was legally drunk at the time of the shooting.
In April 2004, a jury found Williams guilty on four counts, but was acquitted of the most serious charge, aggravated manslaughter, which carries a maximum sentence of 30 years. He also was cleared of aggravated assault and a weapons charge. The jurors couldn't reach a verdict on a second major charge, reckless manslaughter, which carries a sentence of up to 10 years. Williams will be retried on that charge in 2005.
Meanwhile, he remains free on bail and sentence will not be imposed on him on the four counts stemming from a failed effort to conceal the shooting until after the reckless manslaughter case is resolved.
In January 2003, Williams had settled a wrongful death lawsuit filed by Christofi's family. He agreed to pay $2.75 million, The (Newark) Star-Ledger reported.
In his nine seasons with the Philadelphia 76ers and New Jersey Nets, the 6-foot-10, 245-pound Williams was recognized for his work on the boards. In the 1997-98 season, when he made his only All-Star team, his 13.6 rebounds per game ranked second in the NBA.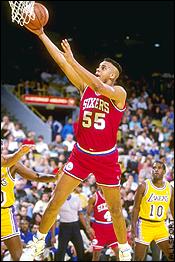 Williams didn't fulfill his potential with the 76ers and was traded to the Nets in 1992.
But just as Williams' career had begun to blossom, it ended. A little more than two months after signing an $86-million, six-year contract extension with the Nets, he suffered a broken leg and injured his knee during a collision with teammate Stephon Marbury on April 1, 1999. He would never play again in the NBA. He announced his retirement in 2000, finishing with career averages of 7.3 points and 7.5 rebounds.
Off the court, Williams made people laugh. A regular on the radio and television talk-show circuit, he released his autobiography Loose Balls in 2000 and it became a New York Times Bestseller.
"When I'm retired, I want people to say, 'That's a good man,'" Williams wrote. "Even the ones who say, 'Isn't that the guy who used to be so wild, who used to be drinking and fighting so much, who was always getting in trouble?'"
Before allegedly shooting Christofi, Williams had several brushes with the law, including a 1994 arrest on weapons charges; a handgun he owned was fired at an unoccupied vehicle in a parking lot.
"Ten years, and a lot of beers and barroom brawls and some scrapes with the law and too many fights, and some yelling matches with coaches and a bunch of headlines," Williams wrote.
He was born to an African-American father and white mother on Feb. 22, 1968 in Ritter, S.C., a town that was slow to accept E.J. and Barbara Williams' mixed-marriage. When Jayson was nine, the family relocated to New York City, where E.J. eventually took a job in construction.
E.J. had seven children from a previous marriage and Barbara, also remarried, had two daughters. At 12, Jayson had to deal with tragedy when his half-sister Linda was brutally beaten with a hammer, stabbed with a butcher knife and left for dead. She survived after receiving a blood transfusion.
Linda learned she had contracted AIDS and died in 1983, but not before passing the virus to her sister Laura. The sisters used intravenous drugs and shared needles.
Williams was not an immediate hit on the basketball court. He was cut from his junior-high team before playing at Power Memorial High School for two seasons. When the school closed, he transferred to Christ the King and made the team as a reserve. He started as a senior and showed enough promise to receive scholarship offers from major college programs.
He chose St. John's because he liked the exposure that would come with playing in his hometown at Madison Square Garden. But he lost his first season's eligibility after it was discovered another student had taken his SAT for him.
Williams got to play as a sophomore and wasted little time showing his rambunctious side, hitting a spectator with a metal chair when the man allegedly spit on him after Williams had been ejected for fighting. That summer, 1988, Laura died from AIDS complications.
Williams starred as a junior, leading St. John's in scoring (19.5 average) and rebounding (7.9). The team won the NIT and Williams earned the tournament's MVP award.
A broken right foot cut Williams' senior season in half. His scoring average dropped to 14.6 points, lowering his stock in the 1990 NBA draft. Twenty players were selected before the Phoenix Suns chose him. Williams was less than thrilled. "The only thing I knew about Phoenix when I came out of college was it was hot and it had a lot of pickup trucks," Williams said.
Instead of signing Williams, the Suns traded his rights to Philadelphia, where he became a late-night partner of Charles Barkley. As a rookie for the 76ers, Williams appeared in 52 games and averaged 3.5 points and 2.1 rebounds. During this time, he continued to live in New York, commuting for practices and home games. He boasted he could make the 82-mile drive between cities in less than 50 minutes. "I totaled a couple of cars and I walked right out of them," he said.
When Williams wasn't playing basketball, he tended to business in his new bar, "Big Daddy's," in Manhattan. He sometimes served as the bar's bouncer, one time spraying two unruly patrons with mace before punching one man in the face. Williams settled the ensuing lawsuit out of court for $30,000.
After getting scarce playing time and averaging 4.1 points and 2.9 rebounds for the 76ers in the 1991-92 season, Williams was traded to the Nets for two second-round draft choices.
"I don't think a player was ever happier to be traded from the 76ers than I was," Williams said. "I'd be close to home, close to family. And I thought this would be the place where I could finally start getting some playing time, proving I belonged in this league."
A dislocated ankle forced Williams to miss all but 12 games his first season in New Jersey, but the next year he played 70 games, averaging 4.6 points and 3.8 rebounds. In his free-agent season of 1993-94, his numbers improved slightly, to 4.8 points and 5.7 rebounds. The Chicago Bulls pursued him, but Williams decided to stay put, signing a three-year contract with the Nets for $7 million.
Playing 23.2 minutes per game in 1995-96, Williams averaged nine points and 10 rebounds to finish third in the NBA's Sixth Man Award voting. The next season injuries limited him to 41 games, but he averaged 13.4 points and 13.5 rebounds.
In his All-Star season of 1997-98, Williams got off to an outstanding start by setting a team record with 17 offensive rebounds in an opening-night victory over Indiana. For the season, Williams averaged 12.9 points to go with his 13.6 rebounds.
In January 1999, the team rewarded Williams with the $86-million contract extension. But then came the injuries that caused him to retire.
Williams became a studio analyst for NBC in 2001. That November he allegedly pushed a police officer outside a New Jersey bar and paid a disorderly conduct fine.