"Two-headed monster" Slams Competition
Updated:
July 24, 2007, 10:35 AM ET
By
Mike Puma
| Special to ESPN.com
"They're the Shaquille O'Neal of professional tennis. What I mean is, there's no other player out there that can compete physically with [their] power and speed on the tennis court," says former men's doubles specialist Luke Jensen about the Williams sisters on ESPN Classic's SportsCentury series.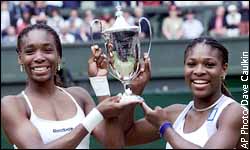 Venus, left, and Serena Williams display their doubles trophy after defeating Ai Sugiyama and Julie Halard for the 2000 Wimbledon title.
Their rival Martina Hingis has called them the "two-headed monster" of women's tennis. Not only do Venus and Serena Williams represent the top sister act in tennis history, they individually have become exceptional and controversial players.
If Venus and Serena have their way, Grand Slam events might become known as the Williams Invitational. Serena won the U.S. Open in 1999 before Venus won the tournament the next two years, highlighted by a victory over her younger sister in 2001 in the first meeting of sisters in a Grand Slam final in 117 years. It also marked the first time two African-Americans played in a Grand Slam singles final.
Venus won Wimbledon in 2000 and 2001, the first time starting a 35-match winning streak. Along the way she landed a record endorsement deal for female athletes: $40 million for five years from Reebok. "If you ask me," Venus said, "I'm worth it."
In 2002, Serena showed her worth, usurping her sister as No. 1 in the world by defeating Venus in straight sets in the finals at the French Open, Wimbledon and U.S. Open. Then she kicked off 2003 by beating Venus in the Australian Open final to give her the Serena Slam -- holding all four Grand Slam titles simultaneously. Her streak was snapped when she lost at the French Open semifinals in 2003, but Serena retained her Wimbledon title by defeating Venus in three sets in the final.
Off the court, the sisters are almost inseparable -- they own a home in Palm Beach Gardens, Fla., and share a hotel room on the road. On the court, they are almost indestructible. "They say they are sisters," said their father, Richard. "I think there was a mix-up at the hospital and they are really twins."
But they aren't identical. The 6-foot-1, 160-pound Venus is known for her hard serve and even temperament. The 5-foot-10, 145-pound Serena is more demonstrative.
The sisters have detractors, who label them arrogant and aloof. Among the criticisms is they don't take the game seriously enough while letting the rest of tennis know just how good they are. "They have made excuses and not given credit to their opponents," Martina Navratilova said. "They are afraid to show any kind of humility."
That's the way they were raised by Richard Williams, who has controlled his daughters' careers from the start. When the sisters were 13 and 12, he reportedly ordered them to stand six feet apart on opposite sides of the net and whack balls at each other. Dad then reportedly told Venus to take Serena's eye out.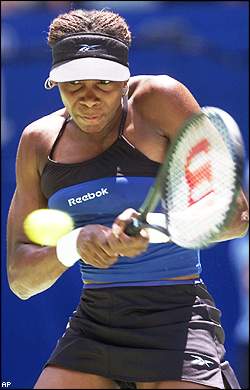 Venus won Wimbledon and the U.S. Open singles titles in 2000 and 2001.
Venus Ebone Starr Williams was born to Richard and Oracene on June 17, 1980 in Lynwood, Calif. The parents married after the birth. Serena was born on Sept. 26, 1981 in Saginaw, Mich.
Oracene, a nurse, had three daughters from a previous relationship. Richard was a high-school dropout who had five children from a previous marriage. He worked for a construction company in Chicago before moving to gang-infested Compton, Calif., and starting his own security company.
Richard, who taught himself tennis, began hitting balls to Venus on a daily basis shortly after she was big enough to grip a racket. Serena soon joined the exercise. At 11, Venus could hit the ball almost 100 mph. By the time she was 12, she was 63-0 in USTA sectional play in Southern California.
Serena entered her first tournament at 5½ and over the next five years, her father says, she won 46 of 49 matches.
The family relocated to West Palm Beach, Fla., after Richard sent Venus and Serena to Rick Macci's tennis academy in 1991. Richard insisted that Venus wouldn't play in a pro tournament until she graduated from high school. However, he changed his mind and announced her debut would come at 14 at the Virginia Slims of Manhattan Beach, 10 miles from where the sisters grew up in California.
Not satisfied with Venus' grades, Richard postponed her debut two months. Barely avoiding a WTA age eligibility rule that was in the process of being instituted, Venus made her debut at the Bank of the West Classic on Halloween 1994 and beat 59th-ranked Shaun Stafford. In the second round, she almost upset No. 2 Arantxa Sanchez Vicario.
Venus was an overnight sensation, at least as far as the advertising world was concerned. In May 1995, before she had even played in her second tournament, Reebok signed Venus to a $12-million, five-year endorsement deal.
That summer, the sisters discontinued the home schooling they had been receiving and enrolled in the Driftwood Academy, a private school in Lake Park, Fla. Richard Williams became Venus' head coach and manager.
Playing part-time on tour, Venus finished both 1995 and 1996 ranked No. 204. But joining the tour fulltime in 1997, she quickly moved up the ladder. Ranked 66th, the 17-year-old became the first woman since Pam Shriver in 1978 to reach the final in her U.S. Open debut. As the first unseeded female finalist since the tournament was opened to pros in 1968, Williams lost 6-0, 6-4 to Hingis. Venus was named Most Impressive Newcomer by the WTA, finishing the year ranked 22nd.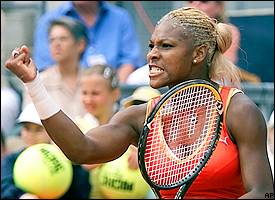 Serena defeated Venus in straight sets in the 2002 French Open and Wimbledon finals.
That year, the sisters played together in their first WTA doubles tournament, at Indian Wells. It marked Serena's first event. "Serena will be better than Venus," Richard Williams said in 1997. "She's more aggressive. She has a better all-around game."
Serena made a quick impression. Ranked No. 304, in Chicago she became the lowest ranked player to beat two Top 10 players in the same tournament when she defeated Mary Pierce and Monica Seles in her second WTA main-draw event. Four months later, Serena's ranking shot up to No. 30.
In January 1998, Serena signed a five-year deal with Puma that would be worth $12 million if she cracked the Top 10. (She reached that plateau 15 months later.) Later that January, the sisters collided for the first time in a tournament, in the second round of the Australian Open. Venus won 7-6, 6-1.
At the U.S. Open, Venus reached the semifinals before losing to eventual champ Lindsay Davenport. Serena finished the year as the WTA's Most Impressive Newcomer.
History was made on Feb. 28, 1999, when the sisters became the first to earn singles titles in the same week. Venus won in Oklahoma City and Serena gained her first victory, at the Paris Indoors. The next week Serena upset Steffi Graf in the final at Indian Wells. "I know I can win the big ones now," Serena said.
Then the sisters met in the final of the Lipton Championships. In the first meeting of sisters in a WTA Tour final, Venus successfully defended her title. At the French Open that year, they won the doubles championship and became the only sisters in the 20th century to win a Grand Slam crown together.
In somewhat of a surprise, it was little sister who was the first to win a Grand Slam title when Serena became the lowest seed (at seven) to win the women's U.S. Open in the Open Era, which dates to 1968. Defeating Hingis 6-3, 7-6 in the final, Serena gained the first Grand Slam singles title for an African-American woman since 1958, when Althea Gibson won her last of five.
Then it was Venus' turn. After missing almost four months in 2000 with tendinitis in her wrists, Venus beat Serena in the semifinals at Wimbledon before defeating Davenport in the final, 6-3, 7-6. Davenport got a rematch with Venus in the U.S. Open final, but the result was the same, Venus winning 6-4, 7-5.
Venus successfully defended her title at Wimbledon in 2001, beating Justine Henin 6-1, 3-6, 6-0 in the final. Serena was the last obstacle to a second straight U.S. Open title, but Venus rolled to a 6-2, 6-4 victory.
In February 2002, Venus reached No. 1 for the first time. "Being No. 1 was firstly my parents' dream, but it soon became mine too," she said. "So reaching it was great not only for me, but for them too."
Five months later, Serena fullfilled her father's prophecy by surpassing her older sister as No. 1, a ranking she kept for 57 weeks.
After winning Wimbledon in 2003, Serena underwent knee surgery and didn't rejoin the tour until February 2004. Her quest for a third straight Wimbledon title was denied when 17-year-old Maria Sharapova pulled off a 6-1, 6-4 upset.
Neither Williams sister won a Grand Slam tournament in 2004, when they still were recovering from injuries and not performing at their peak. But they regained their place among the sport's elite in 2005. At the Australian Open, Serena ended her 18-month drought without a major when she won her seventh Grand Slam singles title, defeating top-seeded Lindsay Davenport in the final, 2-6, 6-3, 6-0 by winning the last nine games. In July, Venus proved she was still a factor on the circuit, become the lowest Wimbledon seed, at No. 14, to win the championship. Surviving a match point, she defeated Davenport 4-6, 7-6, 9-7 in the final for her first victory in a major in 14 tries.
But 2006 would be another downer year for both sisters, with injuries plaguing them. Having played in only four tournaments in 2006, Serena entered the 2007 Australian Open ranked No. 81, unseeded and winless in 14 tournaments since winning the 2005 Australian Open. But she looked as brilliant as ever, capped by a stunning 6-1, 6-2 rout of No. 1-ranked Sharapova in the final. Her third victory at the Australian Open gave her eight Grand Slam singles crowns.
"It was an awesome win because I had so many critics, so many people saying negative things," Williams said. "Saying I wasn't fit, when I felt that I was really fit, and I could last three sets. It's always like, tell me no and I'll show you that I can do it. I get the greatest satisfaction just holding up the Grand Slam trophy and proving everyone wrong."
At Wimbledon in 2007, it was Venus' turn to prove her critics wrong. Despite having fallen to No. 31 in the world rankings and seeded 23rd, she won her fourth Wimbledon crown, routing little-known Marion Bartoli 6-4, 6-1 in the final.