Greatest Athletes: Jackie Robinson
Originally Published:
April 11, 2007
By
Bert Randolph Sugar
| Sports Historian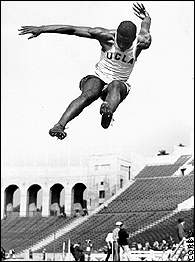 Robinson was the first to letter in four sports at UCLA.
Under the guise of establishing something called the United States Baseball League with an entry from Brooklyn to be known as the Brown Dodgers, Rickey in August 1945 sent head scout Clyde Sukeforth out to Chicago to watch the Kansas City Monarchs, a Negro league team, with special instructions to "go up to that fellow Robinson and introduce yourself." "That fellow Robinson" was Jack Roosevelt Robinson, an exceptional athlete. The younger brother of Mack Robinson, who had finished second to Jesse Owens in the 200-meter dash in the '36 Berlin Olympics, young Jackie had been introduced to sports at an early age and soon found he could excel in almost any sport he tried in high school. He played every sport offered, including tennis, basketball and track and field. Enrolling at Pasadena Junior College, Robinson broke the school record in the long jump set by his brother and gained such fame as a football star that crowds ranging from 30,000 to 60,000 came out to see the wing-footed running back described in the quaint trappings of the day as "one of the swiftest perambulators in the nation." Robinson would go on to even greater stardom at UCLA, where he became the school's first four-letter athlete. Called by a rival coach "the best basketball player in the U.S.," Robinson led the Pacific Coast Conference in scoring both as a junior and senior.
CLASSIC RINGSIDE
Jackie Robinson Day begins Sunday, April 15 at 6 p.m. ET on ESPN Classic.
On the gridiron he led the nation in 1939 in average yards gained with 12 yards per carry and in punt returns with 20 a return. To cap his collegiate career, Robinson won swimming championships, reached the semifinals of the national Negro tennis tournament and won the 1940 NCAA long-jump title.
Then came World War II and Robinson applied for admission to officer candidate school at Fort Riley, Kansas, where he won his commission as a second lieutenant. He won something else too -- a reputation as a fiercely proud man. And a reputation for being a troublemaker for fighting against injustice in any form. In a highly publicized incident, Robinson refused to "move to the back of the bus" although military buses had recently been desegregated. Army brass decided they could not control either his pride or his iron will and gave him a general discharge in November 1944, happy to get rid of the man they called "an uppity n-----." Mustered out, Robinson signed on with the Kansas City Monarchs at shortstop for the 1945 season at the going rate of $400 a month. At the time Sukeforth approached "that fellow Robinson" the 26-year-old was hitting .345 in 41 games. Robinson was skeptical of Rickey's intentions of signing him for something called the Brown Dodgers and pressured Sukeforth to repeat Rickey's instructions, word for word. Sukeforth could only say in response, "Jack, this could be the real thing." And, following Rickey's instructions to "bring him in," booked two berths on a train back to New York -- and Brooklyn. As Sukeforth ushered Robinson into Rickey's chambers, he began to make the customary introductions. But it was useless. Rickey, an orator by nature who could talk through 10 cigars on any subject, had already commenced his patter, patter that could sell anyone a combination watch and pocketknife for a dollar. Punctuating the air with his ever-present cigar and dropping ashes down the front of his vest, Rickey said, "Jack, I've been looking for a great colored ballplayer, but I need a man who will accept insults, take abuse -- in a word, carry the flag for his race."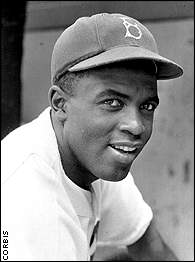 Robinson won the NL MVP in 1949.
Without missing a beat Rickey went on, the wrinkles on his face forming a smile of sorts. "I want a man who has the courage not to fight, not to fight back." And with that launched into a laundry list of insults. "If a guy slides into you at second base and calls you a black son of a bitch, I wouldn't blame you if you came up swinging. But" -- and here Rickey stopped to make his point with all the solemnity of Moses relaying the Tablets from the Mount -- "you'd set the cause back 20 years. I want a man with courage enough not to fight back. Can you do that?" Having finished, Rickey leaned back in his chair, his gnarled hand holding his cigar aloft as he stared at Robinson. Robinson sat silent, his face a closed fist, considering what Rickey had just said. Finally, after a moment or two, he said, "Mr. Rickey, if you want to take this gamble, I promise you there'll be no incidents." From that moment on Jackie Robinson became history in the making. And a baseball great in the making as well. In his very first game in professional baseball, playing for the Dodgers' top farm team, the Montreal Royals of the International League, he hit a homer and three singles. By the end of his first season, 1946, he had led Montreal to the International League pennant and led the league in batting and runs scored. After the last game of the Junior World Series, in which Montreal defeated the American Association champions, the Louisville Colonels, jubilant Montreal fans rushed onto the field to celebrate the Royals' victory, raising the players onto their shoulders and carrying them around the field. Breaking free of the adoring throng, Robinson made a headlong dash for the clubhouse, leading one sportswriter to comment, "It's probably the only time in history a black man ran from a white mob with love instead of lynching on its mind." Called by the Dodgers days before the 1947 season, Robinson was subjected to imprecations to imprecations impossible to brook or overlook. There were catcalls from the stands and black cats thrown on the field, beanballs thrown at his head and death threats phoned to his home, threatened boycotts by opposing clubs and under-the-belt bench jockeying in language that would have embarrassed even the most hardened sailor. But through it all Robinson kept his composure, his air connoting a quiet but conscious force and dignity. And kept his promise to Mr. Rickey as well, answering any and all such insults with his bat and his feet.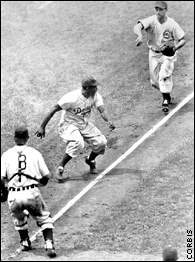 Robinson was a terror on the basepaths.
While Jackie Robinson was ever-dangerous at the plate, his bat dealing out line drive after line drive, it was the basepaths which brought him his greatest fame. Waging his own brand of cold war, he dominated the basepaths as no player since Ty Cobb, disrupting play and pitchers alike. With his patented pigeon-toed gait, he would barrel down the basepaths faster than you could say, well, "Jackie Robinson." Other times he would try fielders' patience and arms with his wide turns and a will-he-or-won't-he hesitation move, daring them to throw behind him and take off for the next base. And then there were the rundowns. When figuring it was a bad bargain that couldn't run both ways, he would jockey between the two would-be rundown men and before they knew it would be sliding safely into the base he had originally set out for. He was, one sportswriter wrote, "a man of many facets -- all of them turned on." By the end of his first year with the Dodgers he was named Rookie of the Year. By the end of his third, he was the National League batting champ and by his fourth season, he had become the spiritual leader of the Dodgers, leading them to six pennants in 10 years -- a National League record for success eclipsing the one set back in the 19th century by none other than Cap Anson and his Chicago White Stockings. Baseball's "noble experiment" had worked. But only because the man chosen to break the "gentleman's agreement" had been Jackie Robinson, who constituted a majority of one who believed he could do it. And that's all it took.
From "The 100 Greatest Athletes of All Time"
copyright 1996, Lyons Press

Boxing historian Bert Sugar is host of ESPN Classic's "Ringside" and a contributor to ESPN.com.
SPONSORED HEADLINES
ESPN TOP HEADLINES
MOST SENT STORIES ON ESPN.COM