Jolly old upset
Updated:
September 5, 2006, 11:31 AM ET
By
Mike Puma
| Special to ESPN.com
Signature Match
July 5, 1992 - Playing in his first Wimbledon final, 22-year-old Andre Agassi was an underdog against Goran Ivanisevic, regarded as perhaps the game's best server. But having beaten John McEnroe in the semifinals, the 12th-seeded Agassi was confident. His plan was to slow down Ivanisevic, who thrived on working fast.
"I kept telling myself Goran was capable of giving me a couple of free points," Agassi said. "If I could get him down to one final game, I liked my chances."
Overcoming 37 aces, Agassi registered a 6-7, 6-4, 6-4, 1-6, 6-4 victory for his first Grand Slam triumph. The appearance was only Agassi's third at Wimbledon, who disliked playing on grass and the all-white dress code.
Later, Agassi will admit that he made a mistake skipping the event from 1988-90. "I am really kind of sad," he said. "This tournament has offered me and my life so much. It is a shame I didn't respect it a little earlier."
Odds 'n' Ends

Andre's sister Tammee played tennis at Texas A&M and his brother Phillip played at UNLV. Phillip briefly tried the pro tour.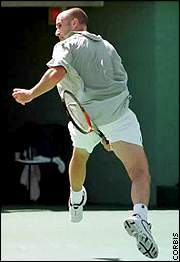 Agassi has always displayed showmanship on the court.
Agassi's oldest sister, Rita, married two-time U.S. Nationals champion Pancho Gonzales.

When he was three years old, Agassi was invited to play an exhibition match in the Robert F. Kennedy Tennis Tournament at Forest Hills, but couldn't go because he had a ruptured appendix.

By the time he was eight, Agassi had met most of the major tennis players in the world and had hit balls with many of them.

At the Nick Bollettieri Tennis Academy, Agassi's roommate was Jim Courier.

Agassi graduated high school by correspondence.

In 1986, his first year as a pro, Agassi won $24,938.

Agassi's first singles title came as a wild card, when he won the 1987 Sul America Open in Brazil.

From 1988-92, Agassi was ranked in the top 10 before falling to 24th in 1993.

Agassi won the inaugural ATP Tour World Championship in 1990.

Agassi added more than 20 pounds of muscle in the early 1990s. In 1990, he was listed as 5-foot-11, 155 pounds. The next year, 5-11, 175. "I decided to do this to counter the power of others," said Agassi, denying use of steroids.

Agassi never minded the attention his rebel image brought him as long as it didn't get out of hand. "Don't get me wrong, there was definitely something cool about all the publicity," Agassi said. "But you can get sucked in by it. It can become more important that anything if you let it."

When Bollettieri resigned as Agassi's coach in 1993, he notified Agassi in a letter. "I'm very disappointed with Nick and how he handled it," Agassi said. "I felt a strong sense of abandonment. It hurt me personally more than professionally."

Before Brooke Shields came into his life, Agassi drew headlines for his close friendship with Barbra Streisand.

In 1994, Agassi formed a foundation to benefit underprivileged children in Las Vegas and has donated and raised millions of dollars toward its success.

Agassi's record in 1995 was 73-9, including winning 26 straight matches.

In 1996, the only athletes who made more in endorsements than Agassi's $13 million were Michael Jordan, Shaquille O'Neal and Arnold Palmer.

In January of 1996, "USA Weekend Magazine" named Agassi one of five winners of its "Most Caring Athlete" award.

The only men other than Agassi with a career Grand Slam are Fred Perry, Don Budge, Rod Laver and Roy Emerson.

Agassi is an excellent golfer. Although he's a righthanded tennis player, he plays golf lefthanded.

In 2000, Agassi disclosed that his mother Elizabeth and sister Tamara have breast cancer. "It has given me the perspective that unfortunately sometimes only certain tragedies can bring, that I am trying to utilize in a positive way," Agassi said.

With his eight majors, he is tied with four others (including Jimmy Connors and Ivan Lendl) for sixth all-time.

Agassi was 14-20 against Pete Sampras, including 7-9 in finals.

In 2003, when he was 33, Agassi became the oldest player to be ranked No. 1.

Agassi and Steffi Graf bought a $23-million home in the San Francisco Bay area in 2001.

Four days after they married on Oct. 22, 2001, Steffi gave birth to a baby boy, Jaden Gil. They had a daughter, Jaz Elle, on Oct. 3, 2003.

In 2004, Agassi was the second-highest paid U.S. athlete, earning a reported $45.68 million, including endorsements.

In 2005, after Agassi's $10-year, $120-million deal with Nike expired, he joined Steffi in the adidas lineup.