Earnhardt wins his first Daytona 500
Updated:
February 15, 2006, 3:33 PM ET
By
Larry Schwartz
| Special to ESPN.com
Feb. 15, 1998
Dale Earnhardt is first -- at last. The winner of seven Winston Cup championships, he was 0-for-19 at the Daytona 500. But that losing streak ends today when he wins NASCAR's most prestigious event before 185,000 screaming fans.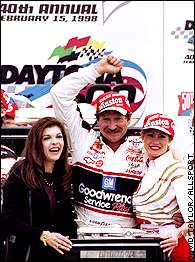 Dale Earnhardt (center) and wife Teresa (l) celebrate his 1998 Daytona 500 win.
Earnhardt leads five times for 107 of the 200 laps, but the victory isn't assured until John Andretti and Lake Speed tangle on lap 199 which brings out the caution lap. Earnhardt averages 172.7 mph and wins a record $1,059,105 as he ends his 59-race winless streak. Earnhardt savors his triumph. He takes a slow drive to Victory Lane, shaking hands and slapping high fives with dozens of crewmen from competing teams who line pit road at Daytona International.
Halfway down pit road, Earnhardt, 46, rides his black No. 3 Chevrolet onto the tri-oval grass, between the pit lane and the front straight, etching a number three in the grass with a couple of joyous donuts.
"Yes! Yes! Yes!" Earnhardt shouts before hugging crew chief Larry McReynolds. "We won it! We won it! We won it!"