Barnett, Brown find unique ways to motivate
Updated:
December 2, 2005, 12:31 PM ET
By
Pat Forde
| ESPN.com
In the Coaching 101 handbook, there is a fat chapter on motivational ploys.
Undoubtedly dating back to the ancient Olympics, when Thebes was getting no respect from Athens, coaches have searched endlessly for inspirational tricks and totems. In the college football realm, from Rockne's Gipper speech to the perverse thought process that led Jackie Sherrill to castrate a bull, they're always looking for a fresh way to galvanize their players.
Twenty-four years ago, I played for a high school coach who executed every ploy in the motivational chapter to inflate a flawed team until it reached the Colorado state semifinals. We had T-shirts. We got tear-away jerseys and a playbook full of new trick plays for the playoffs. The coach even rode a horse to practice one day, sending a message that I no longer recall -- but I do remember the horse getting the best of the moment.
"It did buck me off," my coach acknowledged this week.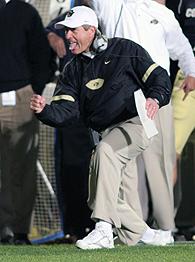 Scott Quintard/Icon SMIGary Barnett has found a variety of ways to motivate his teams.
His name is Gary Barnett. He faces a motivational task Saturday that is slightly larger than anything he faced way back at Air Academy High School in Colorado Springs.
My suggestion to my old coach, now charged with finding a way to lead Colorado to what would be a biblical upset of Texas: Try the magic drinking glass trick.
It worked one time before. Minutes before kickoff of one playoff game, Barnett kept drinking from a glass that appeared empty, telling us that we'd find more within ourselves than we knew we possessed.
"The magic glass always had more in it than you thought," Barnett explained. "So that it would appear to be empty and then there was always more. Like life or a game, there is more there if you believe it."
We believed it. We were sold on the magic drinking glass. And when Barnett smashed it on a wall before that playoff, we went out like crazed teenagers and scored a significant upset, dominating from the opening kickoff.
It might not be so simple Saturday in Houston. This is college, not high school. Those are the Texas Longhorns, not the Pueblo South Colts. This is the 21st century, not the 1980s.
But coaches keep trying to find the mental buttons, keep trying to push them. Look at what a rich, intelligent and otherwise sane man, working at the top of his profession, did last week.
This coach ran around for three days with a laminated picture of a rat trap hanging around his neck. He also put rat traps around the football office so his players would see them wherever they went.
The message, Mack Brown?
"Don't bite the cheese," the Texas Longhorns coach said.
The cheese, symbolically, is the praise that has been showered upon Brown's Horns during their undefeated rampage through the 2005 season. You eat the cheese, you buy the hype. You buy the hype, you drop your guard. You drop your guard, the trap comes down. You break your neck. You lose.
Brown said he actually got the cheese analogy from Bill Parcells, of all whimsy-less people. Parcells used to coach at Florida State in the early 1970s when Brown was a player there, so the two have a long-standing relationship. Last week, the Cowboys coach sent the Longhorns coach an e-mail congratulating him but also warning, "Don't let the players bite the cheese."
A motivational brainstorm was born.
"I started laughing at him," safety Michael Huff said of Brown. "Never seen a coach with a rat trap around his neck. Coach Brown will do whatever it takes to get us ready for a game."
And boy, did it not work.
Mack's rat pack played like rodents most of the day last Friday against heavy underdog Texas A&M and nearly blew the season. They were outgained by the Aggies and had to work a full 60 minutes to win, 40-29.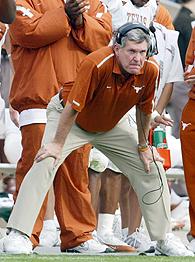 Bob Levey/WireImage.comMack Brown used rat traps to motivate the Horns before the Texas A&M game.
"We sniffed it and nibbled at it and got a little sick, but we didn't die," Brown said. "We didn't get caught in the trap."
Texas rallied in the end to preserve its first unbeaten regular season since 1983, setting up a second successive trap game: the Big 12 championship matchup with Colorado. It's the last thing separating Bevo from the big cheddar in Pasadena.
By every objective measure, it should be no contest. A walkover. A rout. Of all the championship games this week, this one should be over fastest.
Unless Barnett can somehow pull the ultimate motivational ploy and conjure up the magic of 2001.
Four years ago, we had a nearly identical situation: Third-ranked Texas kicked off against the underdog Buffaloes in the Big 12 title game needing only a win to play for the national championship. The Horns had blown out Colorado during the regular season by 34 points (they beat the Buffs by 25 this year). Texas blew the game and the title opportunity, losing 39-37.
But other than the coaches and the uniforms, there isn't much in common between then and now.
"I think Texas is a better team in 2005 than they were in 2001," Barnett said, "and we might not be quite as good."
He's correct on both counts. Don't anticipate a Vince Young meltdown like Chris Simms had in that game, and don't anticipate a Colorado running-game stampede like '01, either.
That Buffs team came into the title game on a roll, having just shockingly crushed No. 1 Nebraska the week before 62-36. This one comes in after being rolled, and faces an overpowering opponent with no obvious weakness.
"To say we have any sort of advantage in this game would be a little naive, given the kind of team Texas has," said CU quarterback Joel Klatt.
Colorado lost at Iowa State 30-16 Nov. 12, then followed that with a miserable performance in a 30-3 loss to Nebraska in Boulder last Friday. But, same as last year, CU wound up winning the Big 12 North because the Cyclones couldn't handle their big chance.
Last year, Iowa State gagged against Missouri and gave the division to the Buffs. This year, it gagged against Kansas in overtime Saturday, 24 hours after Colorado had presented the 'Clones with another golden opportunity.
For most of the Iowa State-Kansas game, Barnett didn't even watch the television.
"I didn't seem to have much of an interest in it because I was feeling sorry for myself from Friday," he said. "Then, as it went on into overtime … I changed my whole outlook. I'm sure it was the same for our team."
Now the outlook is the same as last year: How does a seemingly overmatched team try to stop an undefeated juggernaut? In 2004, Colorado was utterly trampled by Oklahoma in the Big 12 title game, 42-3.
"Hopefully we can put on a little better show than we did last year," Barnett said.
When in doubt, go the motivational route.
Ten years ago, he somehow got Northwestern's players to sing "High Hopes" on a daily basis. What sounds beyond hokey to the outside world must have been pure gold inside the Wildcats' program because the team made one of the all-time miracle runs to the Rose Bowl.
Everyone knows an ant can't move a rubber tree plant. And everyone is pretty darned sure Colorado can't beat Texas this Saturday in Reliant Stadium. For Gary Barnett, this looks like a time for the magic glass.
Pat Forde is a senior writer for ESPN.com. He can be reached at ESPN4D@aol.com.
MOST SENT STORIES ON ESPN.COM