Will three teams dance after hard-nosed semis?
Updated:
March 6, 2006, 1:34 PM ET
By
Pat Forde
| ESPN.com
RICHMOND, Va. -- It was this kind of day at the Colonial Athletic Association semifinals: The two best guards on the floor earned battle scars on the way to the final.
John Goldsberry, the no-quarter-asked, none-given defensive specialist from UNC Wilmington, walked out of Richmond Coliseum with stitches in his chin, a gift from a dust-up with frustrated Northeastern guard Jose Juan Barea. Loren Stokes, the fluid scorer from Hofstra, limped out singing soprano after a flagrant cheap-shot punch to the groin by George Mason guard Tony Skinn. (A punch that could have far-reaching effects upon the Patriots, but we'll get to that later.)
But they're the survivors of a ferocious day in Richmond Coliseum. Both should be on the floor Monday night for the CAA championship game, after the league's ideal scenario unfolded Sunday.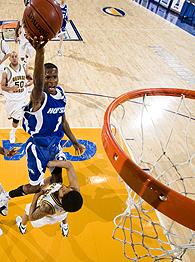 Stokes was able to soar before Skinn made him sore.
Hofstra (24-5, RPI 33 heading into Sunday) and UNC Wilmington (24-7, RPI 43) both needed victories in the semifinals to feel better about their chances of making the NCAA Tournament. Both got them. The one CAA team that should be a lock, George Mason (23-7, RPI 22), was beaten.
That combination of results was a figurative punch to the collective groin of Creighton, Missouri State, Texas A&M, Syracuse and other bubble teams everywhere, because now the NCAA Tournament Selection Committee will consider doing something it has never done before: taking three teams from the Colonial into the field of 65.
It's been 20 years since the tournament has made room for even two from the CAA. Now three?
"They've positioned themselves very well," said beaming conference commissioner Tom Yeager. "Those three teams haven't lost to anybody but each other since mid-January."
For the record, George Mason hasn't lost to someone else since Dec. 30, Wilmington dates to Jan. 3 and Hofstra goes back to Jan. 21. That includes Mason's BracketBusters win at Missouri Valley Conference regular-season champ Wichita State and Hofstra rolling Siena in the same event.
After the final Monday night, the Colonial honchos will watch the rest of Championship Week with held breath.
"You're rooting for every favorite in every league to hold serve," Yeager said, shortly before leaving the arena and no doubt sweating out Gonzaga's overtime squeaker against San Diego.
When the night was done, CAA coaches and officials were lining up to stump for three bids for their league. You get the feeling they're a little bit tired of the Missouri Valley hype.
"We played Wichita State, and they're not as good as we are," George Mason coach Jim Larranaga said.
"George Mason deserves to play in the NCAA Tournament," Hofstra coach Tom Pecora said. "They went to the best team in the Valley and won. We've beaten [the Patriots] twice in 11 days, and our RPI is in the 20s [presumably, after this win]. How can we not be in the Tournament?"
"We're 24-7 and we've only played 13 home games," Wilmington coach Brad Brownell said. "Number of home games is the most overlooked stat in college basketball and the most unfair. If we had 18 home games, who knows what our record would be?"
(Texas A&M played 17 home games this year. You don't think he had the Aggies in mind, do you?)
Wilmington has been great on neutral courts, winning the BCA Invitational at Wyoming to open the season and making the final here in Richmond. The guy who might be most responsible for guiding the Seahawks this far scored just three points yesterday.
Belying his Ohio roots, Goldsberry has surfer-dude blond hair and visits the nearby beach in Wilmington three times a week during the summer. But he's hardly a basketball pretty boy.
"John Goldsberry is the player we all wanted to be," Pecora said. "Every six-foot white guy in the world wanted to play like him."
Here's how Goldsberry plays: with exorbitant pride in his defense and a minimal concern for glamour stats. He's the two-time CAA Defensive Player of the Year, and he's been Barea's personal nightmare in Northeastern's first season in the league.
Barea, the CAA Player of the Year, was held to a career-low five points at Wilmington, discourtesy of Goldsberry. On Sunday, Barea scored 17 -- but it took him 19 shots to get there (he made just six) and he turned the ball over six times.
"He's a great competitor," Barea said of Goldsberry. "He makes me better."
He also brought out the worst in Barea. Cutting through the lane at one point in the second half, Barea apparently grew so tired of Goldsberry's ever-present defense that he tossed an elbow at his chin.
Goldsberry didn't like that much, and the two commenced jawing. Shortly thereafter, Barea took Goldsberry down hard on a rebound, banging his chin off the floor and requiring a separation of combatants by the officials.
Goldsberry said he had no idea how his chin was split and minimized his conflict with Barea. But there was no minimizing the impact Goldsberry had on the game.
"John's as tough as they come," Brownell said. "At one point in the game I asked him, 'You want me to switch you off [Barea] for a minute?' He glowered at me and I knew the answer. I said, 'OK, stay on him.' John did a great job of making him work for every bucket."
Goldsberry said that when he picks up a stat sheet after the game, the first line he checks belongs to the guy he guarded, not his own.
"That's the biggest thing I take pride in," Goldsberry said. "Guarding the other team's best player. I've never been a big stat guy."
The one shot Goldsberry made Sunday, though, was simply the biggest of the game.
Northeastern had cut 13-point deficit to five in the second half, and the shot clock was on empty when the ball wound up in Goldsberry's hands. He swished a 3 and the Seahawks never were threatened again.
"That was a huge basket," Brownell said.
Stokes made several huge baskets while scoring 20 points in the nightcap. The question is whether he'll be whole for the title game Monday night. He should be fine, but what happened to Stokes on Sunday night was an outrage.
The Pride had slowly and inexorably exerted their will upon the Patriots, choking the life out of their offense and taking a seven-point lead into the final minute. George Mason point guard Skinn then drained a three-pointer from the top of the key to cut the deficit to four.
Mason immediately jumped into its full-court press, with Skinn shadowing Stokes. When Stokes attempted to separate himself, Skinn responded with a blatant punch below the belt.
It happened quickly and eluded detection by the officials or the ESPN cameras in the gym. But Stokes, who was writhing in pain on the court for several minutes, apparently was able to croak out what happened. According to one courtside observer, officials told the George Mason coaching staff what transpired, and under questioning from the staff Skinn admitted to it.
Larranaga said after the game that he wasn't sure what happened, but his actions belied that statement. He removed Skinn from the game at that crucial juncture and never brought him back.
The big question is whether Skinn will be eligible for George Mason's next game, whether it's the NCAA Tournament or an NIT game. A videographer from a Wilmington, N.C., television station captured the incident perfectly on tape. If/when that tape gets into the hands of the league office, it will have to make a decision on whether Skinn will be suspended.
Pecora viewed the videotape in the media work room after the game but had little reaction to it.
"You can't let a little incident mar a great game like this," he said.
It was, at least, a great defensive effort from Hofstra in the second half. The Pride played just six players all night and worked three of their starters the full 40, but simply locked up George Mason in the final 20 minutes.
Hofstra held Mason to 16 total points, 17 percent shooting and just five made field goals. It was reminiscent of the night in late November when the Pride held St. John's to 11 second-half points in a 13-point victory.
"That's what it's all about," Pecora said. "Stepping up."
Coming out of halftime, the coach issued his team a direct invitation to step up and grab and NCAA bid.
"I didn't bring it up until we came out [of the locker room], in the huddle at the start of the second half," Pecora said. "I said, 'I'm not thinking about tomorrow night. I'm thinking about tonight. If we win today, we're going to the NCAA Tournament.'"
He's probably right. The big question is how much CAA company Hofstra brings with it to the Big Dance.
Pat Forde is a senior writer for ESPN.com. He can be reached at ESPN4D@aol.com.
SPONSORED HEADLINES
ESPN TOP HEADLINES
MOST SENT STORIES ON ESPN.COM