National title can't buy love for coaches
Updated:
August 28, 2006, 11:12 AM ET
By
Pat Forde
| ESPN.com
Michigan football coach Lloyd Carr would love to tell Shug Jordan what he missed. There was no Internet when Jordan was at Auburn.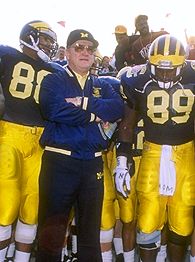 Mike Powell/Getty ImagesLegendary coach Bo Schembechler set the bar high at Michigan.
If there were, he undoubtedly would have been the subject of UnplugShug.com, a site dedicated to running him off campus during the latter half of his 24 years as head coach of the Tigers. After all, what exactly did he get done after winning the 1957 national title? He held on another 18 autumns, including two losing seasons and two .500 years. Today, WarEagleLarry and BamaHater would be scurrying to the computer to post proclamations about Jordan's unfitness to lead.
Instead, they let Jordan reach retirement age and walk away. They named the stadium after him, and a major street in town, too. Some nerve. Would never fly in Message Board America, would it, Lloyd?
Tennessee football coach Phil Fulmer could explain to Dutch Meyer the joys of sports talk radio. There was no such animal when Meyer was at TCU.
If there were, the lines in Dallas-Fort Worth surely would have been jammed with fans wanting to dump Dutch throughout the 1940s. He won a national title in 1938 with the Horned Frogs, then had the unmitigated gall to coach another 14 largely mediocre seasons at TCU (record in that time: 65-68-9). "Frog Man" would have been calling in nightly to roast the guy for failing to keep the program rolling.
Not only did TCU fail to fire Meyer, it made him athletic director. Crazy.
Miami football coach Larry Coker could offer a similar tutorial to Syracuse legend Ben Schwartzwalder (won the national title in '59, went 87-57-1 in 14 subsequent seasons). On the basketball side, Kentucky's Tubby Smith might want to share the facts of modern life with Indiana icon Branch McCracken, who was allowed to put in nine seasons and a three-year World War II tour of duty between his two NCAA championships without statewide outrage.
Lloyd Carr
Position Football coach, Michigan
Est. 2006-07 salary: $1.1 million
Head coach at current school since: 1995
National title: 1997
Good news since the title: Four Big Ten titles won or shared; four 10-win seasons; three BCS bowl appearances
Good wins since the title: 27-25 over Penn State last year, only team to beat the Nittany Lions; 35-21 over No. 4 Ohio State in 2003; 35-34 over No. 5 Alabama in the 2000 Orange Bowl; 31-27 over No. 6 Penn State in 1999; consecutive easy wins over No. 9 Penn State and No. 8 Wisconsin in 1998
Bad news since the title: Has been eclipsed by bitter rival Ohio State during Jim Tressel's tenure; three-year bowl losing streak; has lost seven of last 10 games decided by a touchdown or less; has lost at least one Big Ten game every year
Bad losses since the title: four losses in the last five years to Ohio State; three losses in the last four years to Notre Dame; 12 losses as a favorite the last five years, half of them when favored by a touchdown or more; lost to both Minnesota and Wisconsin in 2005, first time that's happened in the same year since 1962
Record since the title: 72-26 (50-14 in conference play)
Last season: 7-5, Michigan's worst record since 1984
How safe is: Both offensive and defensive coordinators turned over since last year, usually a sign of turbulence for the head coach. But administrators insist that Carr is bulletproof -- at least as long as Bo Schmbechler is alive and Bill Martin is the AD.
Times have changed in college sports, and coaching timelines have changed with them. With a startling number of ring-wearing coaches under fire this 2006-07 season, it's a legitimate question: What is the goodwill expiration date on a national championship?
We could be on the verge of finding out.
Used to be, a national title was the ultimate employment security blanket -- a veritable lifetime contract extension. These days, it might not even buy you a decade.
Carr and Smith are entering their ninth season post-championship, Fulmer his eighth, Coker just his fifth. Fan bases at each school are divided into warring factions of loyalists and subversives. Rivals have sped past. Athletic directors are trying to sound supportive while keeping their options open. Kingpin programs are approaching a crossroads.
"Every year it gets harder to win the national championship," Miami athletic director Paul Dee said. "Yet at the same time, people's expectations of winning a national championship get higher every year. That's sort of the neighborhood we live in."
The living's not easy in that neighborhood right now at four Cadillac programs. The three football coaches all made significant staff changes this offseason, while Smith vowed changes last March, but then kept his full-time assistants intact. All four are coming off deeply dissatisfying seasons, and all four need a bounce-back year to change the subject.
Here are some of the common themes that heat the water Carr, Coker, Fulmer and Smith are simmering in:
• None are program architects. They've been maintainers who hit a high note, not builders.
Carr followed Gary Moeller, who followed Bo, at a school that hasn't had a losing season since the '60s and ranks as the winningest in history. Coker took the baton from Butch Davis, who did the heavy lifting of restoring the Miami dynasty before leaving one season short of the big payoff. Fulmer rode the coattails of Johnny Majors. Smith will never have the hero status of a Rupp or a Pitino at the winningest basketball school in history, in part because the program was in mint condition when he arrived.
• None were big names when hired. In fact, all were current or former assistants at their schools, considered safe hires more than sexy hires.
Larry Coker
Position: Football coach, Miami
Est. 2006-07 salary: $1.9 million
Head coach at current school since: 2001
National title: 2001
Good news since title: Two Big East championships; two BCS bowl appearances; an average of 10.2 victories per season; ranked in the Top Ten 42 of 48 games the last four seasons
Good wins since title: 14 victories over ranked opponents, half of them against in-state rivals Florida and Florida State
Bad news since title: No ACC championships in two years in the league; three losses to unranked opponents the past two years; four home losses the past three years; creeping recurrence of off-field issues that had all but disappeared earlier in Coker's tenure
Bad losses since title: 40-3 to LSU in the 2005 Peach Bowl, Miami's worst loss since 1998 and worst bowl loss ever; 14-10 to unranked Georgia Tech at home last year, ruining BCS chances; consecutive losses in 2004 to North Carolina and Clemson, neither of which had winning records a the time; 31-7 to Virginia Tech in 2003 while undefeated and ranked No. 2 in the nation
Record since title: 41-9 (24-5 in league play)
Last year: 9-3
How safe is he: Coker made sweeping staff changes after last season, bringing in six new assistants. The old adage is that the next change to make is in the head coach -- but with his record it's hard to imagine he'd go after this year. Unless a collapse occurs.
Only Smith already had gone off and earned a reputation as a successful head coach, working first at Tulsa and then at Georgia before coming to Kentucky. But even then he was still Rick Pitino's old assistant, just as Carr, Coker and Fulmer were trusted lieutenants who persevered into a promotion.
That can make a subtle but substantial difference in fan attitude toward the coaches. Most of them probably felt that their schools were doing these guys a favor by hiring/promoting them, not the other way around.
• They're all making seven figures -- and with the exception of Carr, all are making in the neighborhood of $2 million this year (Smith tacks a $1.5 million loyalty bonus onto his salary this season, jacking him up to near $3.5 million). Lavish contracts only increase the expectation levels, and accelerate the creeping pro mentality on the college level.
Salaries are the other side of the story that these guys would have to tell old-time coaches like Jordan, Meyer, Schwartzwalder and McCracken. None of them ever made anything near that kind of money coaching college sports.
Paying for those salaries and the Taj Mahal facilities the coaches say they must have trickles down to the ticket-buying public. And the more you ask for from Joe Fan's wallet, the more say he'll feel entitled to having.
"Over time, the expectations of the fans have intensified," Michigan athletic director Bill Martin said. "As a result, there's far more pressure. And if you look at the compensation levels, some of it is probably justified."
• They all won titles early on, cranking anticipation of a dynasty run to unrealistic levels. With the notable exception of Coker, they haven't come terribly close to winning one since.
A late and questionable pass interference flag is the only thing that separates Coker from starting his head-coaching career 25-0 and with two national championships. If he had that, he'd be absolutely untouchable. That's how fine the line is.
But Coker hasn't won a league championship in two years, much less played in a BCS bowl, much less played for a national title. Tennessee hasn't played in a BCS bowl since the '98 title, and hasn't been in the title discussion late in the season since 2001. Michigan has lost at least two regular-season games every year since '97, often recusing itself from contention by midseason. Kentucky hasn't made a Final Four since winning it all, losing twice in regional finals.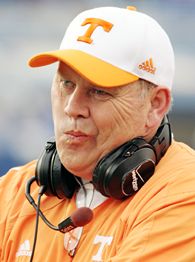 AP Photo/James CrispPhil Fulmer has received a bigger paycheck -- and higher expectations -- since winning a title at Tennessee.
• They're coming off seasons that ranged from subpar to flat-out lousy at institutions with incredibly high standards -- and not only that, they almost uniformly ended those seasons on a sour note.
Michigan blew a late lead and lost to Ohio State -- again -- then lost as a 10-point favorite to Nebraska in the Alamo Bowl. Miami was favored by three against LSU in the Chick-Fil-A Peach Bowl and wound up crushed, 40-3. Tennessee lost to Vanderbilt for the first time since 1982 in its penultimate game, knocking it out of a bowl game. Kentucky was unceremoniously dumped early in the SEC tournament, then lost in the second round of the NCAAs.
Talk about the seeds of discontent. Those are not exactly the games you want playing on fans' internal highlight reels the entire offseason.
"When you go 5-6 at a place like the University of Tennessee, obviously, emotions are heightened," Tennessee athletic director Mike Hamilton said. "To get those emotions tempered, let them go out and see our players on the field. They've had to wait 10 months to do that."
Now the wait is over, and prove-it time has arrived for the four embattled champions.
Carr, whose Michigan team won the 1997 AP national title, has been taking shots for a couple of years in Ann Arbor -- especially after going 7-5 last year, the Wolverines' worst record since 1984, and losing to Ohio State's Jim Tressel for the fourth time in five years. He has new offensive and defensive coordinators in place for this, his 12th season as head coach. But he also has an AD and a Michigan icon who fiercely have his back.
"Anybody that wants to get rid of him has to get rid of me first," Martin said. "He's not on the hot seat with me."
Phil Fulmer
Position: Football coach, Tennessee
Est. 2006-07 salary: $2.05 million
Head coach at current school since: 1992
National title: 1998
Good news since the title: Three 10-win seasons; three SEC Eastern Division championships won or shared; five AP Top 25 finishes (two in Top Ten)
Good wins since the title: 30-27 last year over No. 4 LSU in Baton Rouge; 38-7 over Texas A&M in 2005 Cotton Bowl; 19-14 over No. 3 Georgia in 2004 in Athens; 10-6 over No. 6 Miami in 2003 in Miami; 45-17 over Michigan in 2002 Citrus Bowl; 34-32 over No. 2 Florida in 2001 in Gainesville; consecutive wins over Top Ten Georgia and Alabama in 1999.
Bad news since the title: Zero SEC overall titles; zero BCS bowl appearances; five losses the last six years to Georgia; 3-4 record against Florida; 2-4 bowl record; persistent off-field problems have given program an undisciplined image.
Bad losses since the title: Ten as a favorite the last five years; 28-24 to Vanderbilt last year was first loss to the Commodores since 1982; 6-15 loss to South Carolina last year dropped Fulmer to 3-8 against Steve Spurrier; 27-point loss to Georgia in 2003 was Tennessee's worst home defeat in nine years; consecutive bowl losses by a combined 40 points in 2002 and '03.
Record since title: 61-26 (39-17 in SEC play)
Last year: 5-6, Tennessee's worst record since 1988.
How safe is he: Another losing season probably would be doomsday, and anything less than eight victories -- which the Volunteers attained every season from 1989-2004 -- could make it uncomfortable.
That could be arranged at a lot of locales. But getting rid of Carr
and
Martin would mean taking on Bo Schembechler -- and that still seems like a scary proposition, even in Bo's near-dotage.
"There isn't one [critic] out there with guts enough to come up to me and say we need to change coaches," said Schembechler, who hired Carr decades ago. "I know there's some of that talk out there, but they don't tell me.
"The guy is quite a guy, so I don't mind standing in front of him. I'm not going to let those people do that to him, and I still do have some influence with some people up here. So he'll quit when he wants to."
Coker merely has the best record of any active coach in America -- 53-9, an .855 winning percentage after five years at Miami. The only way to go from his debut season -- 12-0 in 2001 -- was down, and that's where the Hurricanes have gone.
Not dramatically, but appreciably. And there has been some off-field slippage as well at The U, with more disciplinary issues cropping up around a program that had worked diligently at rehabbing its outlaw image.
The latest came Saturday, when Coker suspended receiver Ryan Moore indefinitely hours after he was reportedly involved in an altercation at an on-campus nightclub. Moore already was suspended for the '05 Peach Bowl and the first two games of '06.
That's not what Coker needs going into an important season.
"The important thing is to keep things in perspective," Dee said. "I go back to the overall record: He's 53-9 and been to two national championship games. In our opinion he won both, although some disagree.
"Coach did make some changes in his staff, and we have to wait and take a look at what the results re when you make changes like this. We take a long look and see what happens. But overall, coach has done a good job.
"Any coach at the University of Miami is on the hot seat. Everyone lives there. That's where coaches live at successful programs."
That's where Fulmer is living in Knoxville, perhaps even more than Carr and Coker. Last year wasn't just a bust on Rocky Top, but a colossal bust.
Tennessee entered 2005 with national championship aspirations. Those were quickly clouded by a tawdry run of discipline problems, then dashed by Fulmer's inability to settle on a single quarterback. That made 5-6 even worse, knowing that it wasn't simply caused by a dip in talent.
"The talent is here," Hamilton said. "Is there a sense of urgency about returning to that level? Frankly, I've seen that. We know 5-6 was a failure by our expectations.
"I think we will be better across the board, and I think that will translate to wins and losses. The line of success or failure in our league is a very fine line. Two years ago, we won six games by six points or less in the SEC. Last year, the ball didn't bounce our way sometimes."
And what if it doesn't bounce Tennessee's way again in 2006? What if 5-6 is, Smokey forbid, followed by 5-6?
Tubby Smith
Position: Basketball coach, Kentucky
Est. 2006-07 salary: $3.5 million (includes a $1.5 million loyalty bonus that comes due in April)
Head coach at current school since: 1997
National title: 1998
Good news since the title: Four SEC regular-season championships; four SEC tournament championships; 51-4 SEC record from 2003-05 was the best three-year run in league history; 36 straight weeks in AP Top Ten from 2003-05; two No. 1 overall NCAA Tournament seeds.
Good wins since the title: Six victories over Top Ten Florida teams, including a No. 1 Gators squad in 2003; 103-91 over No. 2 Maryland in December 1998; victories over top five teams from Tennessee, Louisville, Auburn and Michigan State; a last-second victory at Louisville in 2004 after trailing by 16 points with 11:10 remaining.
Bad news since the title: Rivals Louisville (2005), Indiana (2002) and Florida (2000, 2006) all have been to the Final Four since the Wildcats last appeared in '98; four seasons of double-digit defeats, earning Smith the nickname "Ten-Loss Tubby" in some corners; three NCAA Tournament losses to lower-seeded opponents in the last five years.
Bad losses since the title: Upset by No. 6 seed USC in 1999 Sweet Sixteen; upset by No. 3 seed Marquette in 2003 regional final; lost by nine in Rupp Arena to Louisville and former coach Rick Pitino in December 2003; upset by No. 9 seed UAB in NCAA second round; lost by 26 to Indiana in December 2005, worst loss in 16 years -- until losing by 27 to Kansas four weeks later.
Record since the title: 330-129 (112-27 in conference play)
Last season: 22-13, Kentucky's worst record since it was on NCAA probation in 1989-90
How safe is he: Should be OK, provided the record improves from last year. Probably has two years left to reach a Final Four before heat becomes intense.
"I don't deal in speculation," Hamilton said. "If we have another 5-6 season, we'll deal with it when it happens. But I don't think it'll happen again."
Kentucky athletic director Mitch Barnhart is hoping he won't see 22-13 again from his basketball team.
"Expectations at certain programs are at a higher level," Barnhart said. "Kentucky basketball is certainly one of those programs, as is Notre Dame football and Alabama football and UCLA basketball. There's been some pretty good sports programs out there that have had a lot of success in their history and haven't had a championship recently.
"Over the last three years going into last year, nobody in the country had a better record than Tubby Smith. All of a sudden you stub your toe for one year and people go, 'Oh my gosh, the world's falling apart.' It's not. It's not.
"Now, you've got to make sure the speed bump you hit doesn't become a mountain."
There is nothing Barnhart could want less than the specter of firing the first African-American coach in the history of a school with a charged racial past -- especially in a year when Barnhart could be firing his football coach first.
But for all the institutional support given to Smith -- it was Barnhart who bestowed an eight-year, $20 million contract on him in 2003 -- popular support is iffy right now.
You know the climate was bad last year when longtime booster Seth Hancock, owner of Claiborne Farm and choice Rupp Arena seats behind the Kentucky bench, ditched the Wildcats' January home game against South Carolina to attend Florida at Tennessee in Knoxville the same night. He's not alone.
It took years of trying to raise money for a basketball practice facility, and only this month has Kentucky landed a donor willing to offer enough for naming rights on the facility. For historical reference, this is the program that raised the money to build Wildcat Lodge, a dorm for the basketball players, in about 15 minutes in the 1980s.
Part of that is because Smith has never warmed to being the face of Kentucky basketball. The job has always been bigger than him, whereas Rupp and Pitino were at least as big as the job.
"At Kentucky, I think you're always on the hot seat," Barnhart said. "It is, in my opinion, the most high-pressure basketball job in the country, without exception. There is no state that demands more of its head coach -- that's a blessing and a curse.
"Tubby handles that platform extremely well. But are we where we want to be? Not yet."
Michigan, Miami, Tennessee and Kentucky all were where they wanted to be less than a decade ago -- but that might as well be in dog years for some fans. They don't give national champions lifetime contracts anymore in college sports.
Pat Forde is a senior writer for ESPN.com. He can be reached at ESPN4D@aol.com.
SPONSORED HEADLINES
ESPN TOP HEADLINES
MOST SENT STORIES ON ESPN.COM
2006 College Preview
Get ready for the 2006 college football season with an in-depth look at the teams, trends, players and coaches.
Index
Features
• Maisel: State of the game
• X & O Men Cometh
• Schlabach: Hot and not for 2006
• Maisel: Does D still rule?
• Schlabach: Blueprint for a title
• Schlabach: 10 teams to watch
• Schlabach: Seven surprise teams
• Maisel: 20 reasons college rules
• Schlabach: No snap QB decisions
• Forde: Survey says …
• Maisel: Incredible shrinking RBs
• Maisel: Lynch makes Cal golden
• Forde: True Hollywood Story
• Forde: Statute of limitations

SportsNation
• Vote: State of the game
• Chat wrap: Ivan Maisel

• Chat wrap: Mark Schlabach

• Chat wrap: Todd McShay


Watch
• Who will be the stars in '06?

• Louisville's Bush, Brohm are Heisman hopefuls